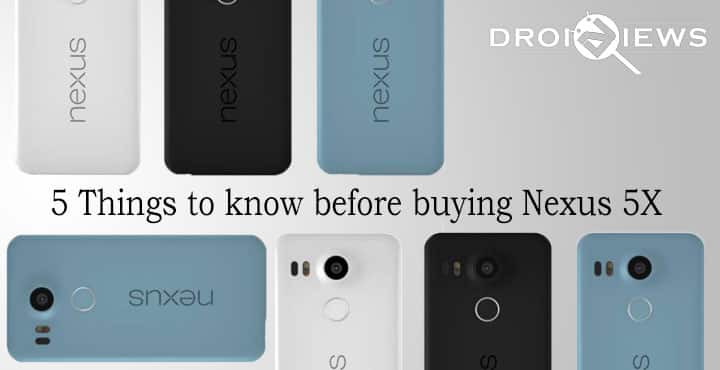 If you haven't already browsed online websites, Nexus 5X has already rolled out in countries including the US & India just in time for festivities. While Nexus fans are beyond excited to get their hands on the device or compare it with its premium rival release [the Huawei  Nexus 6P]. Although the difference is quite amply clear in configurations but both devices cater to different audiences.
The Nexus 5X caters to the compact and budget android fans who need the best of Android in a budget while Nexus 6P opens horizons & caters to the premium flagship audience. But before you decide on purchasing the Nexus 5X over 6P or any other phone you do need to an unbiased opinion. As much as we love Android, it's always good to have specs & features clearly laid out. Here are the 5 surprises we got when we purchased the Nexus 5x, & we don't want that to happen to you.
Graphite Dust Magnet:

If you like the black [aka Graphite] Nexus 5X and are really going ahead with the purchase, we'd like to warn you that the Nexus 5X polycarbonate is essentially a dust magnet. Although this affects all 3 color variants but dust is much more visible on the black.

Mono front-facing speaker:

Please don't be fooled by the appearance. The two set of speaker-ish patterns you see on the top & bottom of the front of the device are not both speakers. After the Nexus 6, most users might preconceive that the 5X too has a dual front facing speakers. The top one just houses the on-call low volume speaker. The device just has one speaker on the bottom front face so don't expect loud stereo sound.

USB Type C:

There are a couple of things that need to be mentioned here. USB Type C on the Nexus 5X does not just mean that it has a reversible port on the device. Even the USB Cable provided is Type C on both ends, which means you cannot use it with PCs/Macs that don't already have Type C port. You may have to purchase a Type C to a normal adaptor or a Oneplus 2 –type cable. Moreover, the USB on the device is 2.0 which means you can forget fast file transfers.

Fast charging:

Both the Nexus P and 5X, support rapid or fast-charging 'via USB Type-C' and are capable of grabbing hours of juice in just a few minutes of charge. Unfortunately, the current Qualcomm Quick Charge 2.0 & 3.0 use different technology and hence cannot be used to quick-charge these devices.

Earphones:

None of the previous Nexus devices [both tablets & phones] we've used in the past got any earphones shipped. However, the Nexus 5X came with a white set of earphones from LG in the box. While they still might not beat the sound quality of Beats or SkullCandy but a compatible set of earphones preloaded is certainly welcome. We did find earphones on our purchase from Amazon India, but cannot confirm that the same is true for other regions.
There you go. If that hasn't affected your decision [in favour or against], probably nothing will. Do let us know what else affects your decision on the 5X.