Always On Display is quite a popular feature on Android devices from Samsung, Google, LG, etc. that primarily use OLED display panels on their devices. OnePlus, an OEM that only uses AMOLED displays on its devices though has refrained from adding an Always On Display feature to its devices, citing battery drain. But there's a new Xposed module in town and it promises a Pixel like Always On Display for the OnePlus 7 Pro. Download and install the Always On Display APK from below.
The module also works for OnePlis 7 and OnePlus 6T. It should theoretically also work on other OnePlus devices without an in-display fingerprint scanner like the OnePlus 6, and older devices. There are a few downsides though which may make you want to hold back. For one, the module is entirely in Chinese so unless you know the language, you'll need some guidance.
Another problem is that the in-display fingerprint icon also stays on along with the clock and other things. Unlike other elements though the fingerprint icon is fixed in place and doesn't move around. This can very easily result in the popular AMOLED screen burn-ins. There is a way around it, and it requires using Substratum to theme the fingerprint icon transparent.
But then you won't see the icon anywhere, not your lockscreen or any other screen where you're supposed to authenticate your fingerprint. You'd have to guess its location every time. If those don't sound like deal-breakers to you, you can go ahead with this tutorial.
Requirements
A rooted OnePlus device.
Xposed Framework installed. Read our tutorial to install Xposed Framework on any Android Pie device.
Install Xposed Module
Be default, the said Xposed Module displays a 24-hour clock on the Always-on Display. This isn't everyone's piece of cake so a user (TheDemonLord) has modified the module to have a 12-hour clock with and without AM and PM indicators. We've linked all the three versions of the module below.
Original: 一加息屏增强1.5.apk
12-hour clock: OPAoDMod 12hour.apk
12-hour clock with AM-PM: OPAoDMod 12hour AM-PM.apk
Download either of the modules linked above as per your preference.
Tap on the download complete notification once the download is complete.
On the package installer age, tap on INSTALL.
Tap DONE.
Enable Always On Display Module on OnePlus 7 Pro
Once installed, all that is left is to enable the Xposed module. Launch the EdXposed Manager app on your phone. If you've used the Xposed Framework installation tutorial we've linked above you'd know what EdXposed Manager is.
If you're using another version of Xposed Framework without SafetyNet integrity, you're probably using the traditional Xposed Installer app. In that case, launch the Xposed Installer app.
From the side menu drawer, head to the modules section. You should find the OPAoDMod listed here. Turn on the toggle next to it and reboot your phone for the module to be enabled.
Configure Always On Display on OnePlus 7 Pro
When your device reboots, find the OPAoDMod app in your app drawer and launch it. The app is not in English as mentioned before so you'll probably not be able to configure all that much. That said, the default settings are pretty Pixel like and should be thus fine for almost everyone.
XDA Senior Member Kylynx has made some screenshots available with some translated text that might help you figure out the options. We've shared them below, but you can always check out the original screenshots in full-size by following the source link.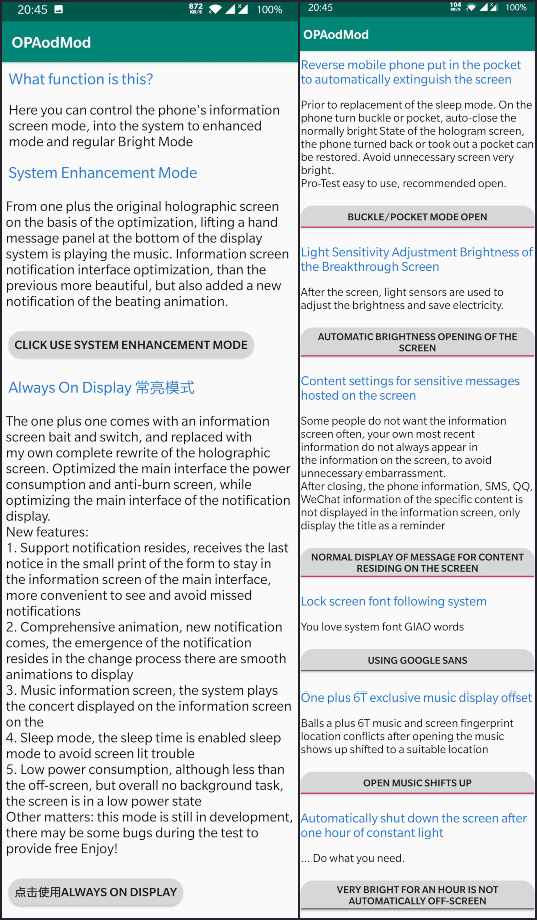 Great! You now have Always On Display on OnePlus 7 Pro. Enjoy!
Read Next: How to Use Zen Mode on OnePlus Devices