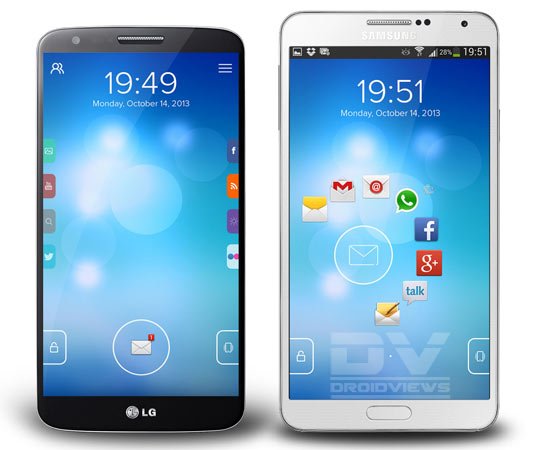 Yesterday we talked about a very interesting lockscreen app called Invisible Lock that lets you enjoy a transparent lock screen. All Android devices come with a default lock system that supports various levels of security. You can have a simple swipe lock, or a pattern, face lock or password based lock. Try Start Lockscreen app now!
Android 4.2 brought a huge change to the lock screen of Android devices by adding the ability to add pages, widgets and a camera shortcut. Thus, by swiping your fingers from left to right on the screen, you can easily access your favorite widgets and by swiping from right to left, you can quickly launch the stock camera.
You might have a good lock screen on your Android device that shows various kind of info and notifications and supports shortcuts, but there is no limit to how much better a good lock screen can be. The LS app that we are going to see today looks pretty neat and clean but it still manages to put so much useful stuff right on your phone's lock screen.
Start Lockscreen, as the app is named, has a minimal layout and yet it comes up as a very promising lock screen alternative for Android devices that run Android 2.2 or above. It is an all-in-one hub where you can access almost all required info, features, apps and shortcuts. It puts together everything on the start screen of your Android device.
In the view of the very fact that lock screen is the first and most frequently viewed screen of our device, the existence of an app like Start fills the void with a smart solution to do things easily and quickly. It has some or other features that will appeal to most users. Here are some of the features of the app:
Fast and responsive
Can launch up to 24 apps of your choice
Social media feeds from Facebook, Twitter, Flicker, RSS.
Launch search and photo gallery
Shows weather condition.
Quick camera launch
Switch between your phone's sound profiles (ring/vibrate/silent)
Call, message and email notification
Access call-log from the lock screen
Choose from hundreds of themes and plugins
Many others
Start offers a wide range of customization options that let you personalize your Start Lockscreen your own way.
As we mentioned above, Smart will not let you get bored of the same look all the time. It supports themes which are more that one hundred in number and can be downloaded from the Play Store for free. Besides the default social media plugins, you can also download more from within the app's interface.
TryStart Lockscreen if you want a versatile lock screen for your Android phone or tablet. It's free and yet loaded with premium features. Give it a shot and do not forget to share what you think about it. Cheers
Read Next: Hook: A Minimal Puzzle Game You'll Get Hooked On