It's true that root privilege can do wonders on an Android device. If you have a rooted device, there is nothing that you can wish and not have on it. Of course, we're talking about getting some missing feature, adding new functionalities, modifying system files, debloating the device, theming it, forcing the CPU to yield best possible performance and enjoying better battery life. Dr.Ketan's Utilities lets you enjoy a lot of features on your rooted Galaxy Note 3.
Then there are custom frameworks like Xposed and 3Minit that completely redefine the way rooted Android devices can be customized in. Just a few hours ago, we talked about a very good app that lets you control CPU and GPU frequencies for individual apps.
The Samsung Galaxy Note 3 is a popular phablet device with good specs and features, but if you own a rooted Galaxy Note 3, you can do amazing things on it. While there are already some really good apps for your Galaxy Note 3 with root access, we now have another useful app that every Note 3 user must have.
Dr.Ketan's Utilities is a free app that collects together a bunch of handy tools presented in a simple user interface. The app is compatible with Galaxy Note 3 SM-N900 and SM-9005. Having installed this app, you can enjoy several features. Besides, the app also makes some tough things, like backing up EFS, pretty easy.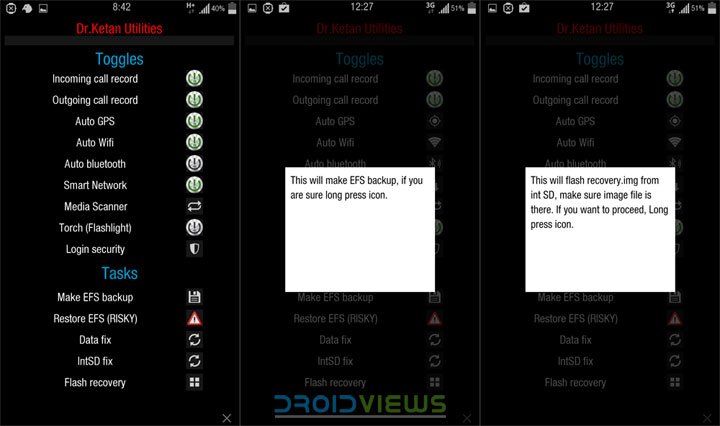 Features for Dr.Ketan's Utilities
Here is a list of features Dr.Ketan's Utilities offers.
Enable auto call recording for incoming and outgoing calls. Recorded files are saved to Sounds folder on Internal SD.
Auto GPS- enables GPS when apps require it for syncing location. GPS is turned off when you exit apps like Maps, Camera,S Note, Scrapbook, etc.
Auto WiFi- turns WiFi off when there is no active connection for 10 minutes.
Auto Bluetooth- turns off Bluetooth when a connection is inactive for 10 minutes.
Smart Network- turns mobile data off when the screen goes off and turn it on when the screen is on.
Turn automatic media scanning on or off manually.
Torch- when it is enabled, you can turn on the flashlight by shaking the device.
Login security- this will stealthily capture picture if someone attempts to unlock your device 2 times with the wrong password.
EFS Backup/Restore (works only on SM-N900).
Data Fix- use these features if you face issues after restoring backed up data with Titanium Backup.
IntSD Fix- can be used to solves issues after moving to TouchWiz ROM from an AOSP ROM.
Recovery Flasher- flash recovery.img file on your rooted device. Make sure to copy the .img file to the root directory of the internal SD.
Downloads:
Ketan's Utilities for SM-N9005
If you like the app, you can purchase its donate version to support the developer.