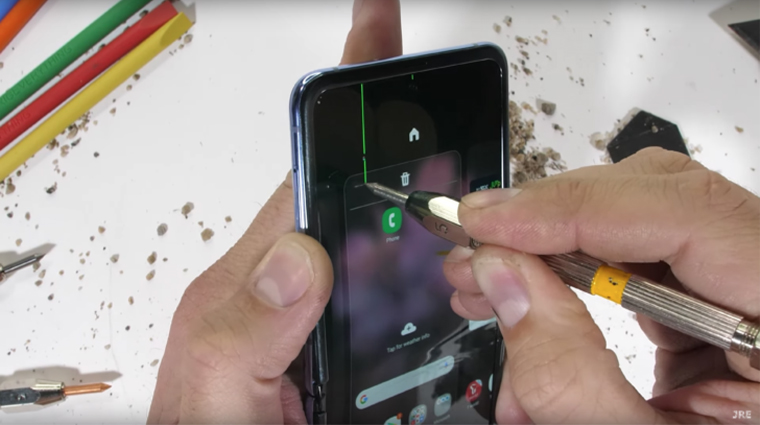 When Samsung unveiled the Galaxy Z Flip, it wanted people to know that the foldable screen on it was made of glass, not plastic. In interviews later, the company officials talked more about the ultra-thin glass display. A few days later, popular YouTuber Zach Nelson of JerryRigEverything fame has unfolded the intricacies in Samsung's claims in a Galaxy Z Flip durability test.
Samsung had previously billed the Galaxy Z Flip as the first phone with a folding glass screen. Samsungs website also describes the Galaxy Z Flip like this:
"Meet the first-ever folding glass screen on a Galaxy. Yeah, we said folding glass. Made of Samsung Ultra Thin Glass, it sets you up for an epic view with a smooth, flat screen."
After all of that, you would think that the display would be more durable than plastic. Its, in fact, one of the many reasons reviewers are considering the Galaxy Z Flip as better than the Moto RAZR. The latter clearly says it uses a plastic screen whereas Samsung's is a glass display. But when Zach begins to test out the Galaxy Z Flip's durability, the display scratches at a Mohs' level 2.
Galaxy Z Flip Durability Test
If you're wondering what that means, this is the same level at which a plastic display gets scratched. So the Galaxy Z Flip's UTG (ultra-thin glass) display is about as durable as plastic when it comes to scratches. While nobody expected this display to be as durable as the one on the Galaxy S20, considering it was glass people expected a bit more. This is what Samsung told The Verge:
"Galaxy Z Flip features an Infinity Flex Display with Samsung's Ultra Thin Glass (UTG) to deliver a sleek, premium look and offer an immersive viewing experience… Samsung's first-of-its-kind UTG technology is different from other Galaxy flagship devices. While the display does bend, it should be handled with care. Also, Galaxy Z Flip has a protective layer on top of the UTG similar to Galaxy Fold."
Turns out, the Galaxy Z Flip has a similar "protective" layer on the screen as the Galaxy Fold had. And this protective layer is made of plastic. That explains why it would get scratched as easily as plastic. Later in the JerryRigEverything durability test of the Galaxy Z Flip, the screen also later takes indents from a fingernail. Those of you with long nails might want to be careful if you decide to buy the device.
In case you do manage to damage the screen, Samsung is offering screen replacements at $119. The company is also offering one free replacement of the aforementioned protective layer. The YouTuber says that "it is dangerous to let people walk around with that false sense of security." It totally is, wouldn't you agree?