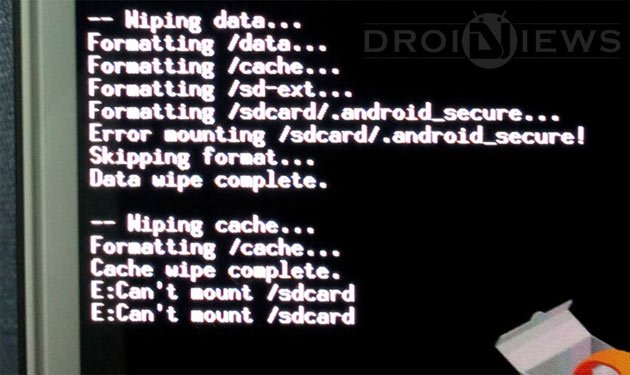 Android is really a great operating system with immense flexibility and that is why it is the most popular platform in the world. Owning an Android device gives you access to millions of amazing apps and, if you are an adventurous user, also lets you flash custom ROMs, kernels, mods and ported apps via a custom recovery.
There is a huge custom development community that keeps toiling for giving us stuff that enhance our mobile experience. Involving in such activities might add some adventurous flair to your mobile experience but, at the same time, they might also pose issues and risk to the device. Nobody would like to turn his/her phone into a costly paperweight and that's why one should always take utmost care while flashing custom ROMs, mods, and kernels.
Anyway, if you are addicted to flashing mods and ROMs on your Android device, or even if you are a novice to such things, and happen to encounter SD card mount issue in recovery, we have come with some possible solutions to fix the problem. When the error occurs, you might see one of the following messages on the recovery screen:
CWM can't mount SD
SD Card Not Mounted
Can't mount external micro sd-card
SD card won't mount
Can't mount sdcard
Can't mount emmc
Can't mount external micro sd-card
E:Can't mount /cache/recovery/command last_log emmc external micro sd-card
E: Can't mount /sdcard/
E:failed to mount /sdcard (file exists)
E:failed to mount /sdcard (no such file or directory)
E: Can't open /cache/recovery
Here's an example screenshot of the issue:
Fixing "E: Can't mount /sdcard/" Issue
Method 1: Format SD Card to a Different File System
Actually, the "E: Can't mount /sdcard/" issue is closely related to the file system type of your SD card and the inability of the device recovery system to read a particular file system.
Pull out your phone's SD card.
Put in a memory card reader and plug it into the computer.
Create a backup of the contents of the memory card on your computer.
Now open My Computer and right-click the drive that shows represents your memory card.
Select Format… option.
Then click Start button.
Now copy the backed up files back to the SD card.
Insert the card into the device, boot into recovery to check if the problem is fixed.
In case the SD card issue mount issue is not fixed, try formatting the memory card again with a different file system (those you did not try yet). If formatting the card using the NTFS or exFAT or FAT32 file systems does not work for you, try SD Formatter tool (it really works, guys!).
Method 2: Update CWM or TWRP Recovery
Formatting the SD card did not help you at all? Don't worry, this might be a recovery related issue! Just download the latest version of CWM/TWRP recovery and flash it. You can also try switching to a different recovery than the one installed on your device. In other words, if your device has CWM, try TWRP and vice versa.
Download ClockworkMod Recovery
Download TWRP Recovery
Flashing ROMs When SD Card is Not Mounted
If you got an urgent need to flash a ROM but after booting into CWM or PhilZ or TWRP recovery, you are not able to access the external SD storage because of E: Can't mount /sdcard/ issue, there is still a way you can install the ROM using ADB commands. Here's how:
Set up Android SDK (ADB and Fastboot) on your computer. Alternatively, you can download the minimal Fastboot tool and unzip it.
Now copy the ROM zip file to the platform-tools or mfastboot-v2 folder.
Get into CWM recovery mode.
Make sure that USB Debugging is enabled on your phone. Just to make sure that you device is detected by ADB, connect you phone to computer, launch a command window from the ADB and fastboot folder and type the following command:

adb devices

If you see your device's serial number in the command window, you are good to go.
Now type this:

adb shell

You should see "#" (hash) somewhere in front of your command line.
Now type the following command and press Enter key:

ls

Now you should show you the folders on your device. Try to navigate to the directory /data/media using the following command:

cd /data/media/

Now push the ROM file to the above directory via the following command (replace ROM.zip with the name of your ROM file):

adb push ROM.zip /data/media/ROM.zip
The ROM file will now be installed to your phone and it should boot properly. This tip can be helpful if your device gets into a boot loop and you are not able to access your ROM backup or flashable Zip on the SD card.