Back in December last year, we covered the announcement of the Escobar Fold 1. Escobar Inc. that is run by Roberto De Jesus Escobar Gaviria has now launched the Escobar Fold 2. The bizarre folding phone now seems to be a replica of the Samsung Galaxy Fold that is priced around $2000. On the other hand, the Escobar Fold 1 was clearly a rebranded Royole FlexPai. And if you've read the title, the Galaxy Fold clone is priced at just $399. However, before you grab your debit/credit card and head over to purchase the new "folding phone", there are few things you need to know.
The OG Escobar Fold 1 still isn't being delivered to customers, even though Escobar Inc. began taking orders for the device. And like we mentioned in our coverage for the Escobar Fold 1, we'd also suggest staying away from the latest folding phone from the company. What's even more interesting is that the Escobar Fold 2 product images show the device running Samsung's One UI. This can be noticed by looking at the icons and the navigation bar.
Moreover, in a press release, Roberto Escobar gave the following statement. "My goal is to become the overstock kingpin of electronic devices this year. All these factories simply have too much technology laying around, nobody is buying anything in China from secondary factories. We cut the prices and give clients direct discounts under the Escobar brand umbrella."
Escobar Fold 2 specifications
The device specifications identical to what we have on the Samsung Galaxy Fold. This is no surprise since the entire smartphone is just a pimped out Galaxy Fold.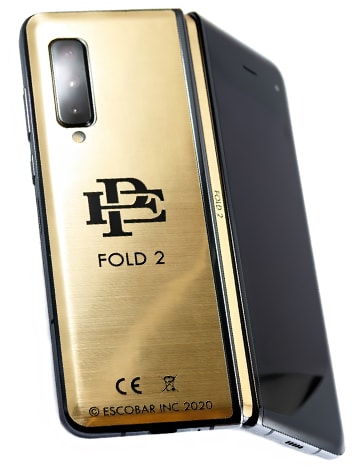 7.3-inch Super AMOLED display.
Qualcomm Snapdragon 855 SoC with the Adreno 640 GPU.
8GB or 12GB RAM.
128GB or 512GB internal storage.
Rear cameras: 12 MP, f/1.5-2.4 (wide), 12 MP, f/2.4 (telephoto), 16 MP, f/2.2 (ultrawide).
Selfie cameras: 10 MP, f/2.2 (wide), 8MP, f/1.9 (wide).
4,380 mAh battery.
Android 10.
Well, these are the specifications of the Samsung Galaxy Fold… wait, I meant the Escobar Fold 2. If it wasn't clear already, this seems to be one giant scam. And if you still have any doubts, you must check out the official launch video from Escobar Inc. The video shows off models smashing the Samsung Galaxy Fold 5G variant with a sledgehammer.
Escobar Inc. is taking orders for the Escobar Fold 2 on their official website. As we mentioned earlier, the 128GB model is priced at $399 whereas the 512GB model is priced at $549. Escobar Inc. is offering free shipping worldwide. Needless to say, the shipping is probably free because the company isn't shipping anything anyway. Nevertheless, if you thought of randomly throwing away $399, only then consider buying the Escobar Fold 2. The folding phone is supposed to be unlocked and can work on all networks.