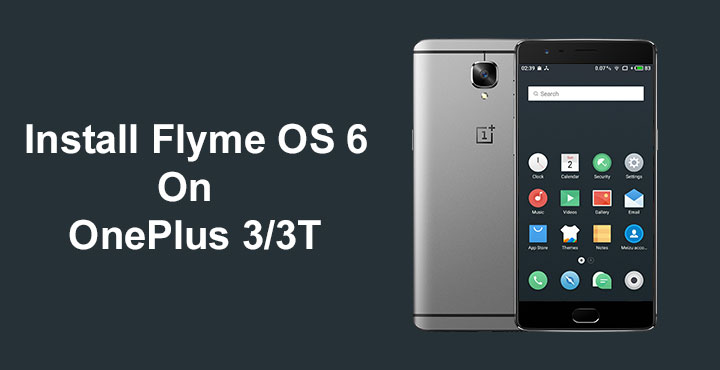 Flyme OS, or Meizu's Android skin, has been available for a number of other smartphones other than those from Meizu's. This is done is quite a similar fashion to Xiaomi and it's MIUI where the smartphone manufacturer itself ports it's own Android skin to other Android devices. Sometimes, the ports can also be unofficial. But when you have a device which has been really popular, there's a good chance there is an official port available for one of these ROMs. The OnePlus 3/3T, for example, are quite popular smartphones and unsurprisingly, an official port of Flyme OS 6 is available for the devices.
Due to the heavy skinning involved though, these ROMs are not always running on the latest version of Android. That is also the case with Flyme OS 6 for OnePlus 3/3T as it is running on top of Android 6.0.1 Marshmallow. It is about to become a two-year-old version of Android in a few months. But with so many features and a totally different looking version of Android, you'll probably never even notice. More importantly, if you're a fan of the Xposed Framework, that works with Flyme OS 6, it being only a version of Android Marshmallow.
Also read: Upgrade to Snapdragon Camera on Your OnePlus 3 and OnePlus 3T
Features of Flyme OS 6
Improved battery management.

Improved Bluetooth connectivity.

Updated video version.

Improved system stability.

Enhanced system agility.

Refined system translations.

Improved compatibility with some third-party apps.

Adjusted font style and spacing to improve the reading experience.

Notification shade

Share contacts via QR code.

More Camera Features and effects.
Screenshots
Downloads
Warning
Installing custom ROMs is not a process covered under a warranty of any kind. And even though it does not void the warranty of a OnePlus device it still is one of the risky processes. In case anything goes wrong, you mind end up with a bricked device. It is therefore advised that you do your research before moving ahead if you've never flashed a ROM before. DroidViews, or even the developers of the ROM aren't responsible for anything that happens to your device while flashing the ROM.
Prerequisites
Your OnePlus 3/3T must have an unlocked bootloader.
You don't need a rooted device to flash a custom ROM but you sure will need a custom recovery installed on your device. TWRP is the preferred custom recovery for many.
Make sure your device has enough battery left so that it doesn't run out of juice during the process.
In case things don't go as planned, or you just don't like the new ROM, you might want to have a full Nandroid backup of your current setup. This way you can restore it and get your device back to how it was before flashing the ROM.
Your device should already be running on an Android marshmallow based ROM.
Don't miss: Fix DM-Verity Warning on OnePlus 3/3T in 5 Minutes
How to install Flyme OS 6
Installing Flyme OS 6 is as much of a hassle as installing any other custom ROMs, if not easier. That is to say, if you've ever flashed a custom ROM this should be familiar.
Download and transfer the flashable ROM to your OnePlus 3/3T. OnePlus 3 users should also download and transfer the OnePlus_3T_To_OnePlus_3.zip to their device.
Now boot your phone into recovery mode. To do this, power off your device first. Then press and hold the Power and Volume Down buttons together for a few seconds past the OnePlus boot logo. Let the buttons go once your device boots into recovery.
In the recovery mode, you can create a Backup if you haven't already. Otherwise, just tap the Wipe button. Now select the system, data and cache partitions then swipe to wipe them.
Go back to the TWRP main menu and select Install.
Navigate to the custom ROM zip you downloaded earlier and select it.
If you're flashing the ROM on a OnePlus 3, tap on Add more zips and select the OnePlus_3T_To_OnePlus_3.zip as well.
Swipe to initiate the process.
The flashing shouldn't take long but the first boot will. It might even take about 15 to 20 minutes even for some so be patient before jumping to conclusions. For more information or to take part in the development process, visit the source link below.