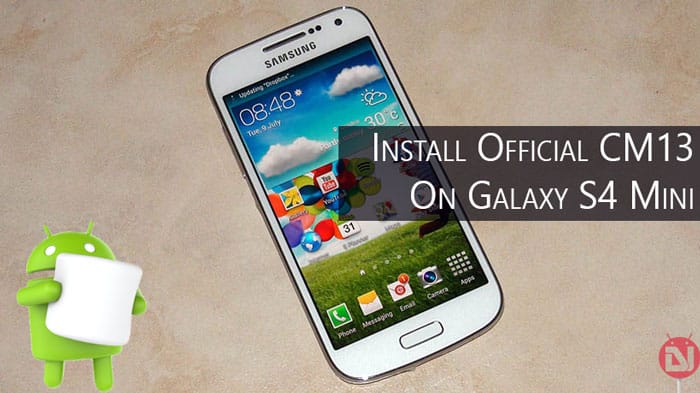 Galaxy S4 Mini was released back in July 2013 as a Mini variant of the Galaxy S4. Back then it came pre-installed with Android JellyBean 4.2.2. and, later on, received an update to Android KitKat 4.4.2. But the device failed to  receive any future official updates by Samsung.
Luckily, due to awesome dev community, S4 mini device owners can enjoy latest versions of Android on their device. The users of S4 Mini have been lucky to receive the support of many good developers over the years, and, this time, due efforts of them you can now enjoy Marshmallow on your device.
Official nightlies of CM13 have started to roll out for Galaxy S4 Mini for both 3G as well as the LTE variant. The new CM13 is based on the latest Android version Android 6.0 Marshmallow. Android Marshmallow comes with many performance-improving optimizations and some battery improving changes.
The most talked about feature of Android Marshmallow are Doze mode, which lets you have a longer standby time, App permissions and Google Now on Tap and few minor UI tweaks are other features introduced in the Android M update. Without further ado let's start with the installation procedure.
How to Install Marshmallow on Galaxy S4 Mini
This section will guide you on how to install Cm13 on your Samsung Galaxy S4 Mini. Let's start with the things you will require before beginning the process.
WARNING: CM13 for Galaxy S4 Mini is provided with no warranty. You are installing this software at your own risk. You may be voiding your warranty.
Things You Will Need
ROM
Your device should have a Custom Recovery like TWRP/CWM installed on your device.
Read: How To Root And install Custom Recovery on Galaxy S4 Mini
Steps To Follow
Now let's proceed with the step you will have to follow to install CM13 on your device. This section is divided into two sections first one deals with the backup of your device and the second one guides you to install ROM on your device. You could skip the backup portion if you don't have any important files on your device and you want a fresh start for your device.
Backup
It is very important to make a backup of your important files on your device before flashing any custom software on your device. Follow the following steps in order to backup your files safely.
Install Easy Backup & Restore from Market, run it and backup your stuff.
If using CWM or TWRP recovery,

Boot into recovery.
Make a full backup.
You will need this backup later if you decide to go back to your previous ROM and data.
Flashing ROM
Download the ROM for your device model and the Gapps from the links given above.
Copy them to your device.
Now boot your device into custom recovery.
Once the recovery has booted, select Wipe data and cache and confirm to perform the action.
Now select Install zip, then browse for the downloaded zip file(cm-13*.zip).
Similarly, flash gapps*.zip. You must flash gapps after every upgrade to CM-13.0 since /system is formatted, wiping your previous add-ons.
Reboot your phone.
After you set up your Google account, reinstall Easy Backup & Restore from Market in order to restore most of your apps, call log and SMS history.(Only if you made a backup before flashing the ROM)
Warning: Do not restore backup data of system apps!
If you restore a bad backup with cached settings in telephony.db in data/data/com.*.*.telephony it can break MMS.
It seems that restoring backups can also break Calendar sync.
Enjoy! Android Marshmallow on your S4 mini with CM13. Do let us know how it runs on your device in the comments section below. Also, drop your queries regarding installation procedure if any. We will be happy to help you out.