YouTube is a great place to enjoy all the mainstream audio and videos. You can watch all the latest trailers, albums, and much more captivating videos to kill some time. However, you can't simply play a song and put the phone in your pocket or do some other tasks on your device. Well, you can do that if you're willing to you pay an absurd amount of $9.99/month for YouTube Red subscription. You'll only get to enable YouTube background playback and ad-free video streaming with YouTube Red. I would take a pass as it doesn't offer much value to the amount it's charging.
If you're running Android Marshmallow or below on your device, you can enable YouTube background playback using many Xposed modules. It's too bad that Xposed framework hasn't extended its support to Android Nougat yet. So, Nougat users can't enjoy the benefits of Xposed modules and their awesomeness. However, you can simply enable YouTube background playback feature on Nougat devices by a simple trick. The below process requires a working root on your device. So, make sure you've rooted your device before proceeding further.
Downloads
How to Enable YouTube Background Playback on Android Nougat
Download the Lucky Patcher app on your device and install it. You need to enable "Unknown Sources" from your device settings before installing the app.
Once installed, launch the app. You'll soon receive a popup requesting for SuperSU permissions. Grant it.

In the Lucky Patcher app, you'll see the list of installed apps on your device.
Select "YouTube" app from the list and hit "Open menu of patches" option. You might get a warning that it's a system app if YouTube is installed as a system app on your device. Click Yes when asked.
Tap on the "Custom patch" and hit "Apply" to patch the YouTube app on your device.

It'll take some time to patch the app, so wait until you see a success message.
That's it! You've patched the YouTube app.
Now, open YouTube app and play a song or video, then hit the home button to get out of the app. You'll soon see a "YouTube background playback" notification in the notification bar with options to pause/play and previous/next buttons.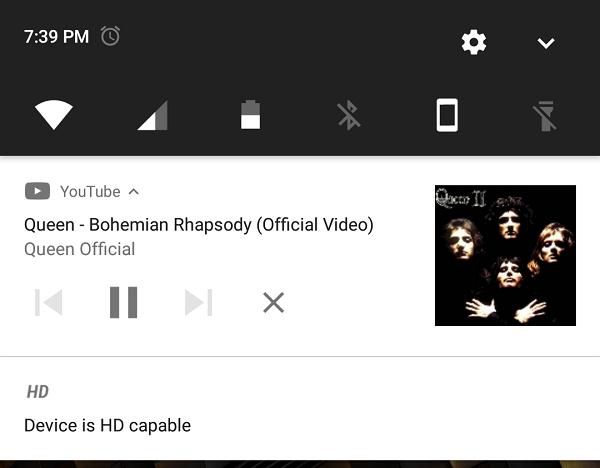 You can now enjoy your favorite music on YouTube in the background without paying a hefty subscription fee.