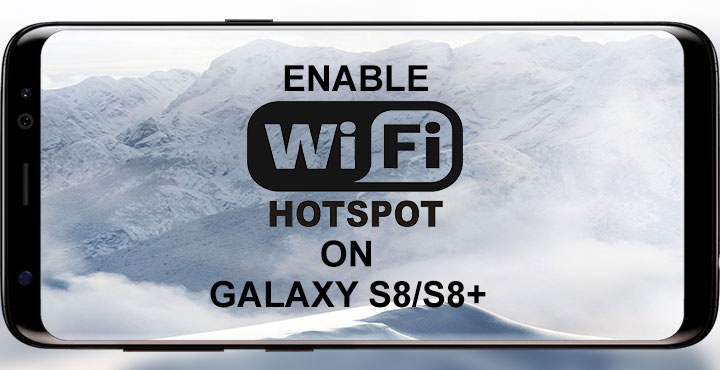 Setting up Wi-Fi hotspots is one Android feature that we sort of take for granted these days. Almost every smartphone, if not all of them, have the ability to create a Wi-Fi hotspot to share mobile data with other devices. But some carriers don't want you to be able to share your mobile data so easily. They want to charge consumers an extra subscription fee to allow sharing mobile data through mobile hotspots. As a result, if you buy a carrier locked device, the chances are that the Wi-Fi hotspot ability is either removed or locked down so you may not use it unless you pay. Same is the case with Verizon locked Samsung Galaxy S8 and S8 Plus. But it's Android, and it is your Android. So yes, you can still enable Wi-Fi hotspot on the Galaxy S8.
The advantages of being able to share mobile data are evident. It acts as a portable W-Fi hotspot when you're on the move. Also, in a family, it means you don't have to buy data plans for every member of the house who owns a smartphone. This means more savings for you and less profits for your mobile network operator. It is not surprising that carrier companies want some benefit out of that as well.
Also read: How to Install TWRP and Root Samsung Galaxy S8 and S8+
Net Share-no-root-tethering
[googleplay url="https://play.google.com/store/apps/details?id=kha.prog.mikrotik&hl=en#details-reviews"/]
This can be done with an app called Net Share-no-root-tethering. Not just a Verizon Galaxy S8 but it should in theory work on any Android device running Android 4.0 and above. The app uses Wi-Fi direct to share your phone's mobile data. Unfortunately, it seems the hack used by FoxFi to share data through Wi-Fi does not work anymore on Verizon locked Android nougat devices. So if you're using one such Android device, and want to share data through Wi-Fi, Net Share-no-root-tethering is one of the available options. You can still share mobile data using Bluetooth if you're using FoxFi.
Screenshots
The app is fairly straightforward to use. When you first launch the app, all you have to do is check the Share internet connection option. It's right on top on the main screen. It will then create a Wi-Fi hotspot with a random name and password. Both of which you can see right on your screen. Go ahead and connect any device to this Wi-Fi hotspot using the password that is displayed to you.
Must read: Easily Remap Bixby Button on Samsung Galaxy S8 with These Apps
A list of connected devices is shown right below the hotspot name and password. You can tap on these and manage a few settings. These include setting the allowed bandwidth and speed as well as monitoring the usage. Net Share does have a few themes that basically change the color of the top bar and a few buttons between Blue, Red, and Green. This can be accessed via the menu button on the top right.