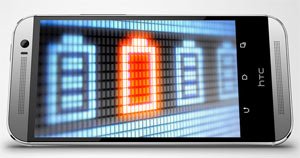 Verizon was one of the first US carriers to feature the HTC's latest flagship One M8 on its website. This new smartphone has already been released and, because of its beautiful design and premium feel, has been gaining much popularity. Well, I'll not talk about the specs and features of the HTC One M8 here as it would taste stale. It has become almost a trend among smartphone manufacturers to release their new flagships with bigger displays and heavier specs and more features.
Big screens are really good for better viewing, gaming web browsing and multimedia experience, but it is also a fact that the bigger display a device has, the faster the battery drain will be. Android users take various measures to get better battery on their device. You can find hundreds of battery saver apps for rooted and non-rooted devices.
Even if you do not use a 3rd party app to save battery, the Android OS has a built-in feature that lets the users to save battery by saving CPU power, lowering screen brightness, turning of haptic feedback, etc. The feature is called Power Saver Mode. This feature is found on almost all Android devices can be easily turned on from device settings.
Unfortunately, the features like WiFi Tethering and Power Save mode, that are commonly available to users in other parts of the world, remain hidden or prohibited to the users in the U.S. Anyway, if you own the Verizon HTC One M8 and wish to have the Power Saver Mode on your device, you can do it using the steps given below.
Please note that to enable Power Saver Mode on Verizon HTC One M8, you need to have a rooted phone. If you have not rooted your M8 yet, you can easily root it by following this tutorial:
How to Root Verizon HTC One M8 without Unlocking Bootloader
Enabling Power Saver Mode
Download SqLite Editor app from the Play Store: 
Open the app when it is installed.
Navigate to Settings Storage> Settings.db> Secure.
Now look for the following entry: hide_ui_user_powersave and hide_ui_powersaver_connectivity
Now long press the current value "1" and change both the values to "0".
Save the changes, exit the app and reboot your phone.
You should now be able to enable the Power Saver Mode on your Verizon HTC One M8. The trick can be used on any HTC One M8 on which this feature is not found under phone settings.
Do Not Miss !
How to Enable Extreme Power Saving Mode on Sprint/Verizon HTC One M8