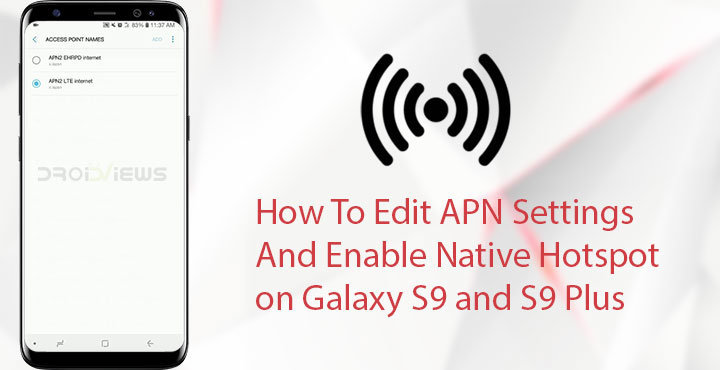 If you bought your brand new Samsung Galaxy S9 from a carrier, chances are you are blocked out of using the device's inbuilt network sharing features. It isn't uncommon for mobile carriers to lock the devices to their own network too, which means locking the users out of the APN settings as well. If you want to share your mobile network with other devices you have, or devices someone else has, you're required to pay for it. Whether or not you think that's acceptable is your opinion. However, the Galaxy S9 and S9 Plus are Android devices at their core and with Android, there's always a way. Usually, it is through rooting and custom ROMs. But to edit APN settings and enable native hotspot on your Galaxy S9 and S9 Plus, you don't need custom ROMs, not even root.
This can be done using an app available for free on the Google Play Store, called Shortcut Master Lite. The app wasn't actually developed for enabling native hotspot features exactly. Shortcut Master Lite is the Lite or free version of Shortcut Master, an app that reveals any hidden shortcuts or secret codes on your Android device. Since the carriers only disable the ability to launch APN settings or enable hotspot from the Settings app, one can use an app like Shortcut Master to do that instead. That's an oversimplification of the process but that is that, more or less.
This method was originally put together by BlueFox721 from XDA who tested it on his Sprint Galaxy Note 8 as well as an unlocked Galaxy Note 8. The method is very much the same as it was for the Galaxy Note 8. We've also written a guide for the Galaxy Note 8 that you can see instead if you have a Note 8. However, both the methods are the same so it doesn't make much difference. Note that even if you do enable hotspot using this method, the data shared through the hotspot is still counted as your mobile data and not hotspot data.
Another XDA member who goes by the name jygsaw has now tested this and found it to be working for the Galaxy S9 and S9 Plus as well. He also happens to be using Sprint but this method should work for any network. Some users have managed to enable the native hotspot and even edit APN settings while some others haven't been as lucky. So far it is hard to tell since there is no consistency between user reports even on devices with the same model number running the exact same firmware version. In some cases, you may be able to enable hotspot but not edit APN settings. You'll just have to try this on your own. This will not void your warranty and the method is risk-free so it can't hurt to try.
Install Shortcut Master Lite
[googleplay url="https://play.google.com/store/apps/details?id=org.vndnguyen.shortcutmaster.lite"/]
See also: How to Force Permanent Immersive Mode on Galaxy S9 and S9 Plus
Edit APN Settings
Launch Shortcut Master Lite.
Tap on the three-dot menu button in the top-right corner.
Select App Explorer. It may take a couple of seconds to load up all the apps.
Find com.test.LTEfunctionality and select it. You can do this by simply scrolling down or you can simply tap on the menu button and select search. Type com.test.LTEfunctionality to search for it. It's easy to identify because it has a gears icon next to it. 
Once you've selected com.test.LTEfunctionality, select the first item which is labeled as LTEFunctionalityTest. 

Select Launch from the menu that appears.
Now scroll down and select LTE APN Setting.
Then select the APN Setting that you want to edit. You can also add your own by tapping Add instead.
After you're done, tap on the menu button again, select Save and exit the app.
Don't miss: How to Disable Bloatware on Galaxy S9, S9 Plus and Note 8
Enable Native Hotspot
Select your carrier's internet APN setting in step 5 above. This is obviously different for different carriers. For example, it is listed as APN2 LTE internet for Sprint. It may be listed as something else for you.
Scroll down and select APN Type.

Add DUN to the setting to that it reads as default,mms, DUN as seen in the screenshot above.
Save the settings by tapping the menu button and selecting Save.
Exit the app.
Don't miss: How to Download Videos from Instagram, Facebook and Twitter