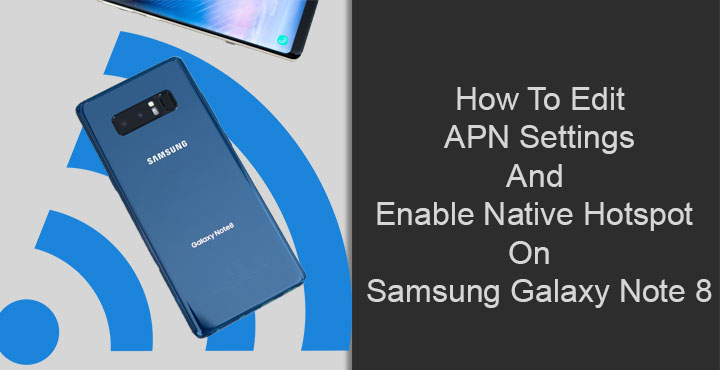 For those who don't know, all Android devices have a WiFi Hotspot feature built-in. Most Android users do know about that. Users in the United States though may not be so aware. Of course, those that visit sites like DroidViews definitely are but probably not the general masses. One of the reasons is those people never even dive as deep into Settings. Another reason could be how most carriers in the USA deliberately disable this feature on the phones they sell. They don't want users sharing their data plan unless the companies are paid a little extra. Naturally, as a result, there are various apps and methods that many people use to by-pass these restrictions without having to pay. With these methods, you can edit the APN Settings and also enable the native hotspot feature. Today, we'll see how that can be done on the Samsung Galaxy Note 8.
Install Shortcut Master Lite
[googleplay url="https://play.google.com/store/apps/details?id=org.vndnguyen.shortcutmaster.lite&hl=en"/]
Edit APN Settings
Launch Shortcut Master Lite and tap on the three-dot menu button in the top-right corner.
Select App Explorer. It may take a couple of seconds to load up all the apps.

Scroll down and find com.test.LTEfunctionality then select it. Alternatively, you can tap on the menu button and select search, then type com.test.LTEfunctionality to search for it.
Now select the first item labeled LTEFunctionalityTest then select Launch from the menu that appears.
Scroll down and select LTE APN Setting and then select the APN Setting that you want to edit. You can also add your own by tapping Add instead.
After you're done, tap on the menu button again, select Save and exit the app.
Enable Native Hotspot
Select your carrier's internet APN setting in step 5 above. This is obviously different for different carriers. For example, it is listed as APN2 LTE internet for Sprint.
Scroll down and select APN Type.
Add DUN to the setting to that it reads as default,mms,DUN.
Save the settings by tapping the menu button and selecting Save.
Exit the app.
You may have to reapply the settings everytime the app is updated. It'd be better to disable automatic updates for the app on Play Store.
Don't miss: How to Download Videos from Instagram, Facebook and Twitter on Android
Source: xda