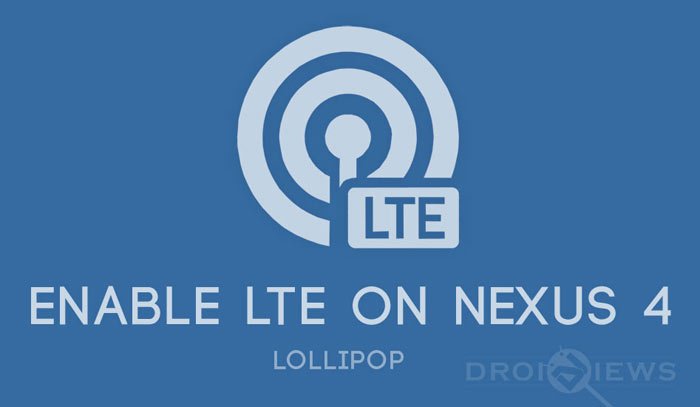 The Nexus 4 was the first of the two Nexus flagships Google brought in association with LG. The device was also the first Nexus smartphone to support LTE connectivity. When the Nexus 4 came out, it had the option to enable LTE network under Cellular Network Settings. However, Google was later forced to disable LTE connectivity feature of the Nexus 4 via a software update because the company could not obtain regulatory approval for LTE usage on the phone.
As a result, the users who had access to LTE in their region were not able to avail the lightning-fast data service despite the fact their device had the required hardware inside the hood. Fortunately, our developers came with custom mods to enable LTE mode on the Nexus 4 running Jelly Bean and later, KitKat.
It has just been a few days since the Nexus 4 received the Android 5.0 Lollipop update. If you had been enjoying LTE network on the previous software version, the Lollipop update might already have disabled the feature again. Now there's a good news for the Nexus 4 users who just upgraded the software to the latest Android 5.0 as XDA member beerbaronstatic has come up with a modified version of the Lollipop modem for the Nexus 4. Having flashed his hybrid modem to your phone, you can able to enable LTE connectivity once again. The hybrid modem with LTE enabled can be flashed through a dedicated application.
Downloads
Modified Modem: mako_hybrid_104_33.zip
Build.prop: EnableNexus4LTE.zip
Requirements
A rooted Nexus 4 running stock Android 5.0 Lollipop
TWRP recovery
Enable LTE on Google Nexus 4
Okay, if you want to unlock the full potential of your Nexus 4's network connectivity, just follow the steps given below.
Download the hybrid modem and build.prop files in flashable Zips from above and copy both the files to your Nexus 4.
Now turn off your phone and boot into recovery mode.
Having entered the TWRP recovery, tap the Backup button and create a nandroid backup of your current ROM.
Now select the Install option, navigate to EnableNexus4LTE.zip file and flash it.
Then return to the main menu in TWRP, tap the Install button again and install mako_hybrid_104_33.zip file.
Now reboot your Nexus 4, go to network settings and enable LTE.
Please note that the LTE option will be disabled after each reboot and you will have to enable it again. If you want your selection of LTE network stick, you'll have to perform a data factory reset from recovery. Alternatively, you can use the instructions given here.