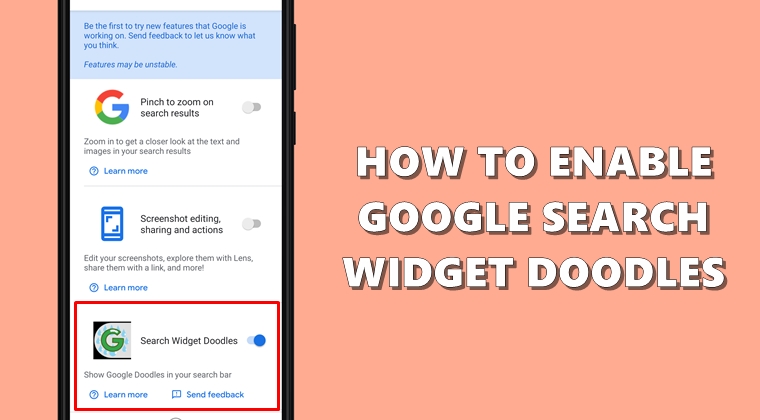 The Google App was recently updated with a Labs section. Every new and experimental feature that Google tests could be found in there. To try them out, all you have to do is just toggle on the switch next to that feature. Initially, it had two features: 'Pinch to zoom on search results' and 'Screenshot editing, sharing, and actions'. And now it has been updated with a third one: Google Search Widget Doodles. Let's see how to enable/disable the said feature and what this feature actually does. On that note, also check out Google App's built-in screenshot editor.
Google Search Widget Doodles
Google regularly updates its homepage with some special doodles to celebrate any special occasion or festive. And now, you could experience the same in the Google App's search bar as well. When you unlock your device, you will see a short animated doodle over the G logo in the search bar. Earlier, these doodles only made the way over to the handful of users. But these lucky ones didn't have a say in turning off this feature. Now, with the latest update to Google App, you could easily disable or enable the Google search widget doodle as per your need. So here is how you could try out this feature.
Availability
To begin with, the Labs section is only available in the app's beta build version 10.92.8 or later. But even if you download the said version, chances are you might not be able to try out this feature. This is because it is being rolled out as a server-side update. Although the update is live since the past two months in the beta build, many beta users have yet to receive this feature. However, if you have got the Labs section, here is how you could try:
Open the Google app and tap on More.
Head over to the Labs section and enable the toggle next to Google Search Widget Doodles.
Finally, restart your device once for the said effect to take place.
Now all you have to do is wait for Google to release any doodle. As soon as Silicon Valley giants do so, you'll see the same in the search widget.
That's it. These were the steps to enable the Google search widget doodles on Android. What do you think of this feature? Is it available or is it yet to make an appearance on your device? Do let us know the same in the comments section below.