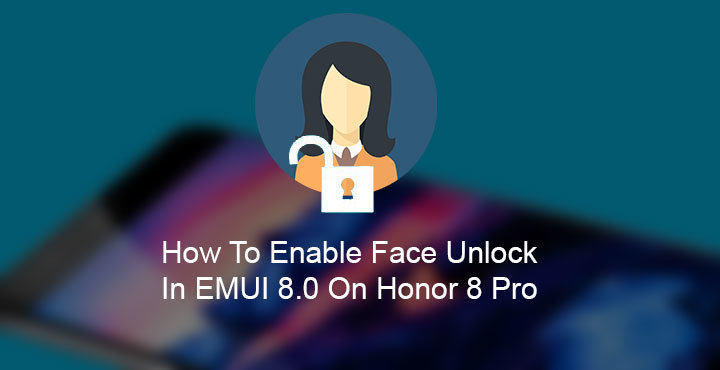 Face unlock has really gained some traction ever since Apple introduced it on their iPhone X. It had been available on Android devices for a very long time, albeit no progress was made. And the implementation wasn't very great either. You could actually see the phone scan for your face with that ugly camera sensor on the front. Unlocking with your PIN/password was actually faster, not to mention much more secure. Face unlock is back though, and it has made a lot of progress almost instantly, in terms of convenience. Newer Huawei and Honor devices are sipping with Face Unlock, and EMUI 8.0. The Honor 8 Pro has a pretty decent front-facing camera too by the way.
It's possible that some of you're wondering why the Honor 8 Pro or other devices that were updated to EMUI 8.0 did not get the Face unlock feature. The only possible explanation could be to create demand for the newer devices. Luckily though, no matter the OEM, Honor 8 Pro is an Android device with a good enough developer community behind it. XDA Senior member ante0 figured out a way to enable this feature on the Honor 8 Pro. According to him, Face unlock is already present on the device but simply disabled by the manufacturer. That does make sense, companies often do that.
If you're wondering, no, Face Unlock is not as secure as the Fingerprint or even Apple's FaceID. The security is still pretty much the same as it was a long time ago. The speed and implementation are vast improvements, however. You can choose whether you want the phone to unlock instantly upon detecting your face or unlock after you swipe the lock screen. In my brief testing in the past 24 hours, it does work quite well even when the lighting isn't that great. The device instantly unlocks even if you're looking at it from an angle. You just have to look at it. I wasn't expecting that and I'm surprised.
Requirements
An Honor 8 Pro running on the stock EMUI 8.0 firmware based on Android Oreo.
The device must be rooted, preferably with Magisk.
TWRP is needed if you don't have Magisk.
We already have a guide to help you install twrp and root your Honor 8 Pro running on EMUI 8.0.
Downloads
Enable Face Unlock on Honor 8 Pro Running EMUI 8.0 (Magisk Manager)
If you're rooted with Magisk, download the Magisk module from the link above.
Open Magisk Manager, and tap on the hamburger menu icon in the top-left.
Select Modules and tap on the floating + button at the bottom.
Select your module by long-pressing on it and tap OPEN.
This will install the module, and then you can simply reboot your device for the changes to take effect.
Enable Face Unlock In EMUI 8.0 On Honor 8 Pro (TWRP)
Download the TWRP flashable zip from above, or even the Magisk module if your device is rooted with Magisk.
Reboot your device into recovery mode. To do this, power off your phone first. Now press and hold the Power button and the Volume Up button together. Once you feel a vibration, let go of the Power button but keep holding the Volume Up key. Let go of the Volume Up key once you're past the Honor splash screen.
When in TWRP recovery, select Install and then select the zip file you've downloaded. Even if you have Magisk, you can choose to install the normal TWRP flashable zip. If you do have Magisk, you can simply select the Magisk module here to install it as well. It is the same as installing it via Magisk Manager.
Swipe at the bottom to flash your selected zip file.
Tap on the Reboot system button that appears at the bottom.
Use Face unlock
You can find the Face unlock settings in Settings > System and Security. Tap on Face unlock and you can enroll your face and change the other available options.
source: xda