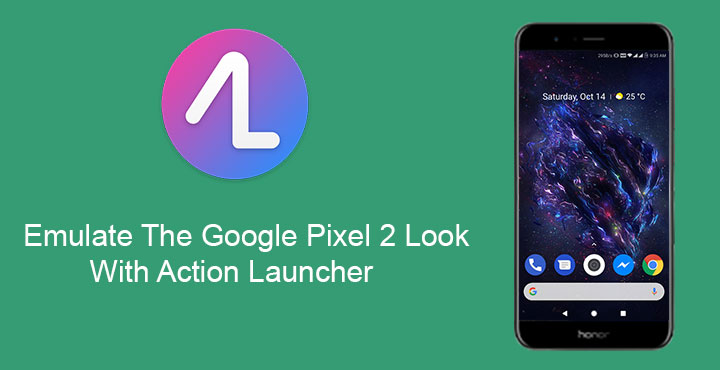 A new device from Google, new home screen changes and once again many of us if not all are drooling over it wanting to get out hands on it. Lucky for us, Android is quite flexible and quite open and the most popular mobile OS by far. That means developer love which in turn makes our lives easier. The devs know we want that Pixel 2 look on our aging phones, probably they wanted it too. We got the latest Pixel Launcher ported from the Pixel 2 only hours ago, with the bottom search bar and all. Also, continuing the trend of adopting Google Pixel features before anyone else, Action Launcher developer Chris Lacy does not disappoint yet again.
Action Launcher v29.0
In a recent update on October 6th, Action Launcher jumped to version 29.0 and brought features emulating the Pixel 2 look. But Action Launcher is so much more than simply a copy of the launcher from Google. Accordingly, you can not only emulate but improve upon the look or experience. You can add shortcuts to the omnipresent Google search bar. These shortcuts can be apps, app shortcuts, or anything else that you can add to your desktop.
[googleplay url="https://play.google.com/store/apps/details?id=com.actionlauncher.playstore"/]
In addition, you can also customize the look and feel of the search bar by changing its color, icons, transparency, etc. But of course, if you've used Action Launcher before, you're already familiar with all of these unique features it offers. So let's show you how exactly that can be done. It's quite simple.
Don't miss: Action Launcher's Latest Update Brings Google Feed Integration
Search bar to the dock
Since the developer intended for users to be able to get the exact Pixel 2 like home screen, it is actually much easier to do on Action Launcher. Long press on your home screen and then tap the Settings option that appears at the bottom. This will take you to the launcher settings where you can enable the Quickbar. It is already enabled by default but I had it disabled in favor of the google pill widget, which the launcher also has.
In the screenshots above you may notice I already have my Quickbar styles like the one on the Pixel 2. You can do that by simply tapping on the Style option at the top then selecting Search box (dock).
Now set the Corner size to a full 100% and you're good to go. If you want, you can also change the color and transparency of the search box by tapping on Color. Under the Layout sub-section, you can also change the Google icon, the voice search icon or even add icons to apps or anything else.
That's all
Well, that is pretty much it. Now when you go back to the home screen you'll find a Pixel 2 like search bar docked at the bottom of your home screen. But like I said, why stop there when Action Launcher will let you enjoy more use out of that pretty search bar.
Make it even better
To add something to the search bar, tap on the pink floating action button in the bottom right. Select Custom to add an app, shortcut or a custom action. You can also add a menu group instead. This can be done by selecting either Menu group or More. The difference is that you can not change the menu icon if you select the latter. Tapping on the horizontal three dot menu button and select Add to will let you add any apps, shortcuts or actions to this menu.
Complete your Pixel 2 look
So now you have a nice and handy search bar that sits comfortably at the bottom but something is a bit off is it not? Must be all the empty space up at the top of your home screen. The latest Pixel Launcher has a new and exclusive At A Glance widget to fill that space. There is no such thing built-into Action Launcher, for now at least. You can, however, make use of Another Widget.
[googleplay url="https://play.google.com/store/apps/details?id=com.tommasoberlose.anotherwidget"/]
Like the Pixel Launcher's At A Glance widget, Another Widget can display events from your calendar and more. Add the widget to your home screen at the top and your Pixel 2 look is now complete.
Nova Launcher user?
While TeslaCoil hasn't updated Nova Launcher with an official method to get the Pixel 2 look, thanks to the app's flexibility you can still get it done. Though it might not be as easy as doing it with Action Launcher, it is still quite easy. Here's how you can get the Pixel 2 look with Nova Launcher.