Elixir 2 is for those users who want to have very detailed information about what's going on in their beloved smartphone. The amount of information it provides is huge – battery information, device uptime, CPU usage and frequency, running applications and processes, signal strength, etc. The list is so huge that it can't be covered in a single post but I'll try to highlight some of its most important functions in no particular order.
The main screen of the app is simple and straightforward. You have a choice of: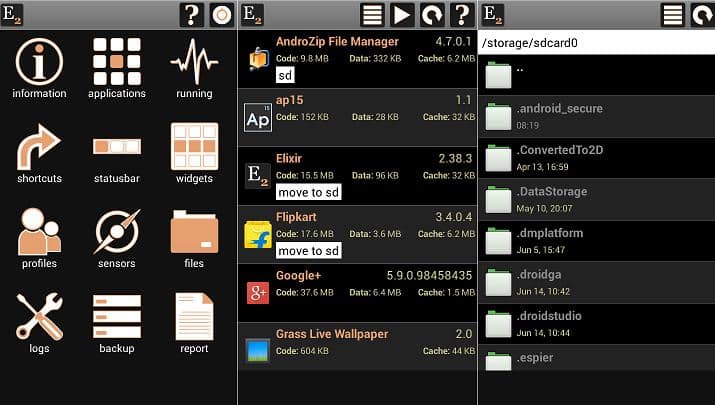 Information: This shows all the necessary information about your phone like battery, storage, memory, processor, bluetooth, display, audio, camera, Wi-Fi, etc.
Applications: This shows your all your applications in one list, and shows which apps can be moved to your SD card.
Running: This shows which applications are currently running in your phone.
Shortcuts: If you want to create multiple widgets, then all of them can be easily accessed by a single shortcut.
Statusbar: This function lets you create widget in drop-down notification bar.
Widgets: This provides a shortcut to your widgets, enabling you to manage existing or providing instructions on how to create new ones.
Profiles: This allows you to change settings, launch application, and turn something on/off with just one click.
Sensors: This lists all the sensors contained in your phone, like the accelerometer or proximity sensor. You can also test all the sensors available in you phone.
Files: It is a simple file manager.
Logs: Stores all the logcat information.
Backup: This makes a backup of all the information related to Elixir 2.
Report: This lets you generate a report regarding your device and applications. This report can also be shared.
Help: This provides a list of various how-to instructions and information about the app.
Add-ons: This provides information about the add-ons available for the app. For testing purposes, I installed personal, widget, and admin add-on.
Donation: This allows you to support the developer by sending a donation. If you choose to donate, some extra features of the app can be unlocked.
Translation: This contains a small request to help with translating the app to other languages.
The Add-ons
1. Admin add-on
Admin add-on, on the other hand, enables those features on the device that require administrative privileges. Once enabled, this add-on can only be uninstalled by disabling said privileges.
2. Personal add-on
Personal add-on enables features that are required to access personal data (contacts, missed calls and unread texts).
3. Widgets
Widgets lets you create Elixir widgets on the home screen. It can also be used as a standalone app i.e. it can be used without the Elixir 2 app.
Creating The Widgets
To create a widget in the drop-down notification bar, click on the statusbar icon in the main screen. After that, you'll be thrown into the configuration panel where you can configure what kind of information you want in the widget. Information like signal strength, battery and CPU temperature, missed call, texts, etc. can be shown on the widget. Widget, text, and icons are customizable.
Conclusion
Elixir 2 is a must have app for anyone who wants detailed information regarding their phones. It's easy to create widgets. The widget in the drop-down notification bar is very handy and puts all the information just a swipe away.