Usually, major manufacturers of Android devices release their flagships on yearly basis but the Japanese OEM Sony has been an exception in this regard for quite a while. The Sony's old flagship, the Xperia Z2 has just seen six months after its launch and the OEM is back again with its successor the Xperia Z3.
The small gap between the release of both the smartphones also points to the incremental difference between the hardware specs they offer. The Sony Xperia Z3 features a 5.2-inch display with 424 ppi density, 2.5GHz quad-core Snapdragon 801 processor, 3GB RAM, 20.7 MP primary and 2.2MP secondary camera and 3100 mAh battery all packed into a slimmer body that is less bulky.
Anyway, we are here today to share the all new goodies from the Xperia Z3. The phone brings some new wallpapers, tones and an improved version of Sony's experience live wallpaper that we saw on the Xperia Z2. As for the wallpapers, the Z3 introduces Sony's new Xperia signature ringtone.
We got hold of the full set of stock wallpapers and tones ripped from the Xperia Z3 system dump. There are 35 beautiful backgrounds in the wallpaper pack provided below. Among the audio files from the phone include the ringtones, UI, notification and alarm tones.
Besides, we also have the all new Xperia live wallpaper for you to download. The LWP comes with a range of colorful themes and displays beautiful transition when you swipe your fingers.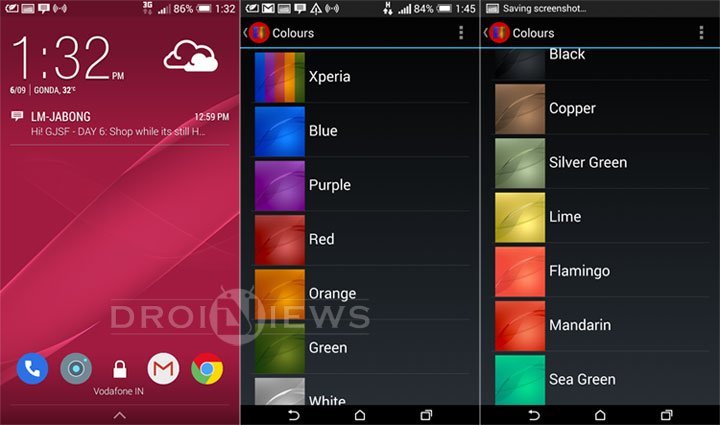 If you have a rooted device with a CWM/TWRP recovery installed on your phone, you can download the Zip file from below, flash it and enjoy it right away. In case you do not have a custom recovery, you can still install the Xperia Z3 live wallpaper by pushing the APKs of the flashable Zip to /system/app/ folder on the root of your device.
Download Xperia Z3 Stock Wallpapers, Tones & Live Wallpaper
Xperia-Z3-Stock-Wallpapers-DroidViews.zip