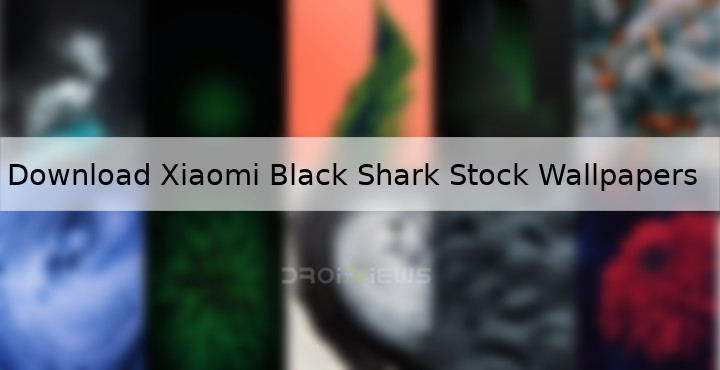 Following in the footsteps of Razer, Xiaomi launched its own "gaming smartphone" a couple of days ago called Xiaomi Black Shark. The Black Shark from Xiaomi is sure to hurt Razer because anything that others sell, Xiaomi sells at a lower price. The company knows its roots and thus, the Xiaomi Black Shark is more than reasonably priced as well. Of course, like every new device, it dons and brings some new stock wallpapers for our enjoyment. But this is a device that needs to be talked about. It's not just a normal smartphone with a "for gaming" tag.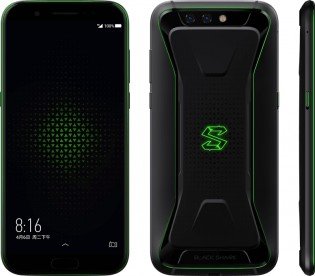 The Black Shark brings with it some innovations in the form of a new cooling system and new ISP. The latest Snapdragon 845 and a massive 4,000 mAh battery power the device. A gaming smartphone needs top of the line specs after all. Therefore, it shouldn't be surprising that the device comes in these two variants: 6 GB RAM + 64 GB storage and 8 GB RAM + 128 GB storage. The 5.99" 18:9 IPS LCD display with Full HD+ resolution covers the front of the device. If you've seen the Razer phone, Black Shark's black and green color scheming wouldn't surprise you either. Although, the rest of the design is nothing like the Razer Phone or any other phone on the market. It's a lot smoother and curvier in comparison, and quite unique with those green chamfered edges.
The multi-stage integrated liquid cooling system, Xiaomi claims is capable of bringing the CPU temperature down by 8° C. The company hasn't mentioned a high refresh rate display like the Razer phone so there is no reason to believe it will have one. But at a price of roughly $477 (₹31,100) and $557 (₹36,319) compared to Razer Phone's $700 launch price, you expect Xiaomi to cut some corners.
Xiaomi Black Shark earns its made for gaming title with the design of the phone that's meant to provide a better grip while playing games. Furthermore, you can attach a Black Shark Gamepad that is similar to what Nintendo did with the Switch. The first 50,000 can get this gamepad (which has a 340mAh battery of its own and attaches via Bluetooth) for free.
The Black Shark only has a single speaker but the earpiece acts as a second one for a Biso stereo sound. Unlike the mic on regular phones, the mic on this one is gaming oriented too. It can provide simple usage of voice calls and radio chat during the game without interfering with the gameplay. The display supports DCI-P3 wide color gamut that goes up to 97 percent. The phone runs Android Oreo under Xiaomi's new JOY UI. You could say its Xiaomi's take at a more resource friendly MIUI. The dual camera set up on the back consists of a 12 MP f/1.75 and a 20 MP f/1.75 sensor with a dual-LED flash.
Download Xiaomi Black Shark Stock Wallpapers
Talking about the wallpapers, you will not find any similarity with the Razer Phone's wallpaper. All of the wallpapers have a certain Xiaomi feel to them. You can download the entire wallpaper pack consisting of 15 stock wallpapers from the Xiaomi Black Shark. As you'd expect, the wallpapers have an aspect ratio of 18:9 with a resolution of 1080×2160. Click on either of the links below to download.
Xiaomi Black Shark Stock Wallpapers | Mirror
Download Xiaomi Black Shark Helo Wallpapers
You may also like: