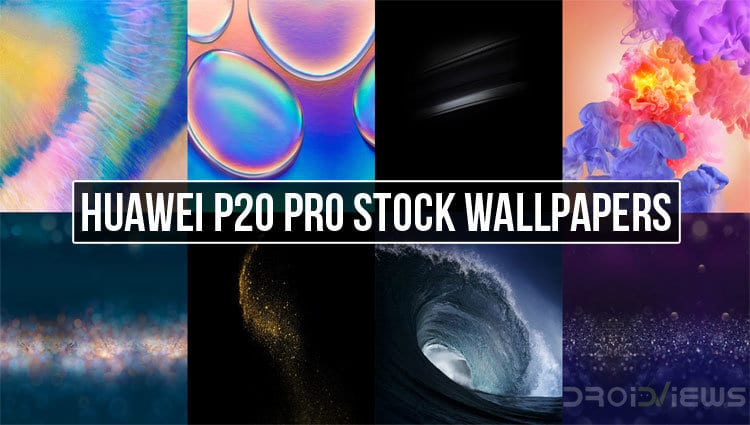 Huawei P20 Pro and the P20 have arrived in the market amidst quite the hype. The company had been teasing the smartphones to bring about a revolution in smartphone cameras. If the DxOMark scores are to be believed, that seems to have been the case. The devices have received extraordinary DxOMark scores. Even the smaller P20 leaves the likes of Samsung Galaxy S9 and Google Pixel 2 in the dust, strictly talking about DxOMark scores. While getting your hands on the two latest flagships from Huawei isn't very cost effective, you can definitely get the stock wallpapers from the Huawei P20 Pro and give your old Android phone a new refreshing look.
The P20 Pro has a distinct advantage when it comes to photography, the triple camera set up. It features a huge 1/1.78in 40MP main camera sensor, paired with a bright f/1.8 lens. Huawei has supplemented this with a smaller 1/2.78in 20MP monochrome sensor fitted with a f/1.6 lens and a 1/4.4in 8MP color sensor equipped with a f/2.4 telephoto lens. In terms of other hardware, the P20 Pro is powered by the HiSilicon Kirin 970 system-on-chip, 6GB of RAM and 128GB of internal storage to go along with it.  The device will have a 4000mAh battery to power its Always on Display feature. It arrives with EMUI 8.1 built on top of Android 8.1 which is the latest version of Android right now.
The triple camera system of the P20 Pro is naturally expected to do better than a dual camera set up. But the area where it should really shine is with zoom and bokeh effects. According to the DxOMark scores the P20 Pro outperforms the Galaxy S9 plus by 12% in zoom tests and by a staggering 40% in bokeh. Barring a single case where the P20 fell short by a margin of just 1 percent, the P20 outshines the Galaxy S9 plus quite comfortably. As we've said before, these ratings are not indicative of real-world performance. We will soon find that out when full tests and reviews are in. These ratings do give an idea of what to expect from the Huawei P20 Pro.
Huawei's made sure there's a wallpaper for almost everyone with the Huawei P20. There are some digital art wallpapers, some abstract photography wallpapers, some macro photography, and the usual beautiful landscape shots. The landscapes aren't exactly photos but mostly just artsy landscape images which can be good for some people. We'd have preferred some real-life photos of landscapes as wallpapers too. In fact, how about real-life photos shot from the Huawei P20 Pro itself? This might have even been a really cool way to showcase the prowess of the triple camera setup that scored a 109 at DxOMark. The company definitely missed an opportunity here.
Download Huawei P20 Pro Stock Wallpapers
The Huawei P20 Pro has an 18:9 aspect ratio. However, the wallpapers have an almost 1:1 aspect ratio (27:28, exactly). However, you shouldn't have a problem applying them onto your phones regardless of aspect ratios. You may just have to crop a little off the sides. Or you can just apply these as scrollable wallpapers. If you've been following us, you'd remember we have already shared some Huawei P20 stock wallpapers. This new pack from the Huawei P20 Pro contains more wallpapers than before, which weren't included in the previous pack.
Related post: Download Huawei P20 Pro Themes for Devices Running EMUI 5 & 8
There are 22 wallpapers here, with the resolution of 2160 x 2240 px. The images below are compressed to 60 percent. This will still be pretty good if you have a 1080p or a 720p display. You can click on the thumbnails below to expand the image. Then right-click and select Save image as to save the images to your desktop. We have packed these together in a zip file so that you can download them all at once. If you need the full-sized images you can download the zip file by clicking on either of the links provided at the bottom.
Update 13 December 2018
We just added the 3 wallpapers from the Huawei P 20 Pro's default theme. The zip file has been updated too.
Download links:
Huawei P20 Pro Stock Wallpapers | Mirror
Huawei P20 Pro Stock Ringtones
You may also like: