The IFA event held in Berlin witnessed the launch of two big releases this year. Sony launched its new flagship the Xperia Z3 and Z3 Tablet Compact and Samsung showcased the next avatar of its Note line phablets. The Xperia Z3 system dump was shared just yesterday at XDA and within 24 hours we not only have the media files from the device, but several apps ported to work on other devices. Unfortunately, we do not have much to share from the Samsung Galaxy Note 4.
The official wallpaper from the Galaxy Note 4 that we saw in the teasers leaked about week ago and even now we do not anything else from the new phablet. As we know, Samsung released two versions of the device, namely the Galaxy Note 4 and Galaxy Note 4 Edge. If you have seen both the devices and like the wallpapers shown on these phablets, we have them all to share with you. Thanks to XDA member Hitman-Creed for giving his talent a little flight and creating close imitations of the Galaxy Note 4 wallpapers.
Below, you can download four wallpapers from the Galaxy Note 4 in full HD quality. The resolution of 3 portrait wallpapers is 1080 x 1920 px while the big one is in 2560 x 2560 px size. Just click our link below to grab all wallpapers, extract the Zip and copy the wallpapers to your device. Enjoy!
Download Galaxy Note 4 Stock Wallpapers
Now here's the complete set of official wallpapers from the Samsung Galaxy Note 4. The pack consists of 9 wallpapers including the KNOX background. Download the Zip file from below:
Galaxy-Note-4-Stock-Wallpapers-Full.zip (61.9MB)  |  Mirror
Download Galaxy Note 4 Stock Apps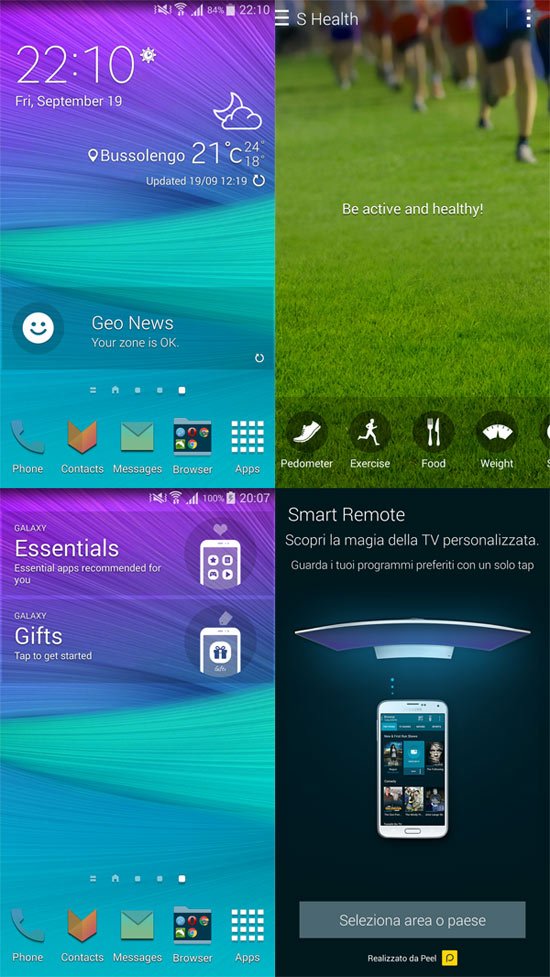 XDA member Albe95 has just shared a bunch of stock apps from the all new Samsung Galaxy Note 4. Most of these apps can be installed on a device like Galaxy S4, S5 and Note 3 like normal apps (as reported by some users).
Note 4 GeoNews Widget (transparent)
Also Download
Just a few hours ago, we shared the full set of stock wallpapers, live wallpaper, ringtones, system dump and some ported apps from the Sony Xperia Z3. Do not forget to download them too.
To download more cool wallpapers, browse our Wallpapers Section.