For those who're unaware, Google is constantly hosting sales on apps and games on the Google Play Store. This has been going on for a while although Google doesn't necessarily advertise this on the Play Store. There's no separate section where you can find all the premium apps for free or on sale. Therefore it's difficult to find them all. We've been bringing you several such paid apps that are temporarily free or on sale on the Play Store. Today, we're sharing another set of 5 such apps.
Download Premium Apps for Free
1. Prism Live Wallpaper
[googleplay url="https://play.google.com/store/apps/details?id=net.bohush.amoled.prism.live.wallpaper"]
Live Wallpapers have gained a lot of popularity over the years. At first, they were battery hungry and mostly of bad quality. These days though there are many quality live wallpapers on the Play Store and Prism Live Wallpaper is one of them. Although it looks amazing on almost any display which is good itself, Prism Live Wallpaper looks especially stunning on AMOLED displays. The true black background contrasts a lot better with the colorful prisms in the foreground.
Must Read: 5 Best Home Screen Widgets for Android
With paid apps, there are no ads or in-app purchases. Therefore, this app has none of those either, even if you grab it for free within the next 7 days. The app has a compact size, barely past 1 MB, is very customizable and the animations are smooth. Among other options, you can choose to show or hide dots/lines/prisms, change the speed and amount of elements and select background and elements color.
2. Simple Draw Pad
[googleplay url="https://play.google.com/store/apps/details?id=appinventor.ai_ewanwkso.DrawPad"]
Simple Draw Pad is, as the name suggests, a simple drawing pad. As you might guess from the screenshot above, it's not meant for professionals or people who're well-versed in the art. This simple app is meant for young kids to play around with or for people who like drawing silly things. Using it is simple enough too. Just draw using your finger, press to draw a filled circle. The app autosaves whatever is being drawn every 10 seconds so you can be sure your work is saved even if you have to leave your "artistic project" mid-way. You can grab it for free to try until the next 5 days.
3. Noizer
[googleplay url="https://play.google.com/store/apps/details?id=com.zlab.noizer.app"]
Noizer is not a very useful app for most people but you might still want to grab this premium app for free. The app is simply a collection of various sounds which can be played together. You can mix and match sounds to create a peaceful environment to your liking. If you prefer a noisy environment, there are options for that as well.
While we don't promote lying, there are times when you do have to. With some of these sounds, you can make your lies on the phone more believable too. Noizer is one of those paid apps with steep pricing but is currently free on the Play Store for the next 4 days. After that, the price will be back up to $2.99 which is a bit too much. The list of sounds available right now includes:
White noise
Brown noise
Cat purr
Intrauterine sounds
Wind
Storm
Rain
Fireplace
Birds in the park
A train
Noisy street
Bar
Wave
Leaves in the wind
Editor's Pick:  Try Simple Mobile Tools Apps for a Lightweight Android Experience
4. Win Circle
[googleplay url="https://play.google.com/store/apps/details?id=com.olivera.win_circle"]
Win Circle is an icon pack inspired by the flat look of the Windows Phone tiles. Instead of pointed squares though, this icon pack has rounded icons, suggested by the "Circle" in the name. It contains 4300+ wallpapers designed with the same aesthetics that will give your home screen a more uniform yet different look. The app also has about 85 wallpapers to go with the icon pack. With so many wallpapers you might even just download it for the wallpapers if not for the icons. If you still find any icons missing, you can request for them within the app. Win Circle is free for the next 5 days.
5. Win10 Flat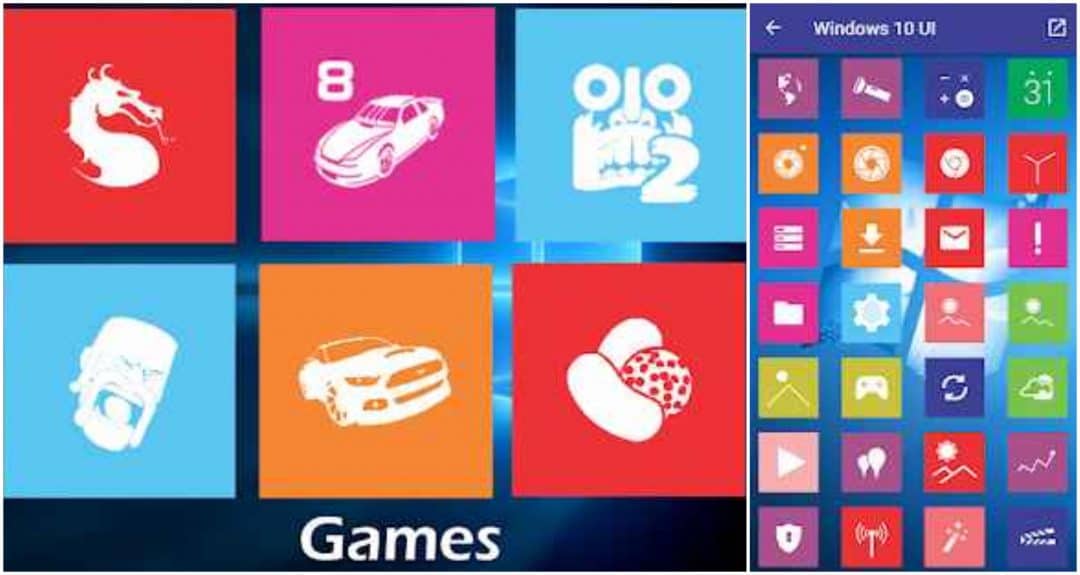 [googleplay url="https://play.google.com/store/apps/details?id=com.olivera.win10″]
If you prefer square icons that are more like Windows tiles you can get those for free as well. This icon pack is made by the same developer that put together the Win Circle icon pack. Since both these paid apps are from the same developer, one would think that the icons are similar and that the only difference is the shape. But one would be very wrong because these icons are quite different. There are slightly fewer icons here with 8200+ icons. This icon pack is also free for the next 5 days.
Just download these premium apps for free from the Google Play Store as they will only be available for a limited time.