After years of patient waiting, Android users will finally be getting a dark mode in Android Q. This will definitely please some people who were annoyed by the move to material design, and its use of white backgrounds. But one of the features stock Android will still lack is theme support. It's a feature EMUI has had for a while. Which means it has also had an unofficial dark mode for some time. Here are the 5 best dark themes for EMUI 9 on Huawei and Honor devices.
Best Dark EMUI 9 Themes for Huawei Phones
1. G-Pix [Android Q] Dark
[googleplay url="https://play.google.com/store/apps/details?id=emui.en.com.gpix2dark"]
G-Pix is a Google Pixel-inspired theme for EMUI 9/8/5. Instead of the usual whites though, this theme opts for dark backgrounds, thus, making this list of dark themes for Huawei and Honor devices. Many dark EMUI themes that I have tried don't come with an acceptable set of icons. I usually end up changing the icon theme but G-Pix has a good looking icon theme as well. It turns most parts of the system UI dark while retaining a bit of color in places.
This mix of mostly dark and a bit of color here and there makes it a really good looking theme. Fans of true black backgrounds will be disappointed though because the background has a bit of gray and isn't completely black. Although it shouldn't matter to most considering most Huawei and Honor devices have LCD displays.
2. Gradient EMUI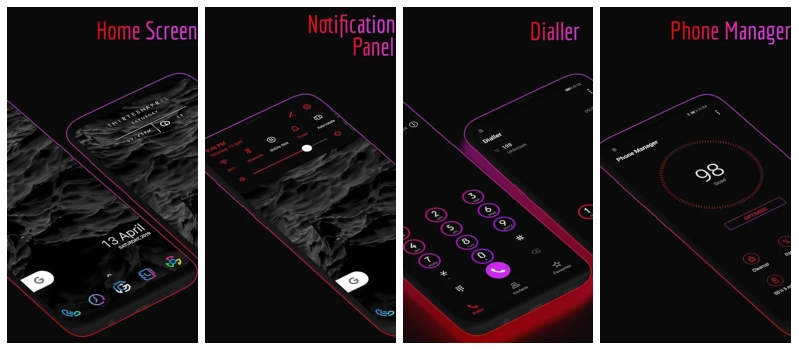 [googleplay url="https://play.google.com/store/apps/details?id=emui.en.com.darkred1″]
The Gradient theme is made by the same developer and this one does use true black backgrounds. The gradient is actually used for other UI elements such as the number pad in the dialer, icons inside stock Huawei apps, etc. This dark theme for Huawei and Honor devices comes with a beautiful set of icons as well. The theme is compatible with EMUI 5, 8 and 9.
Don't Miss: 5 Android Browsers with Dark Mode/ Night Theme
The icons are colorful and each one is created with outlines, using different gradients. Although the icons are beautiful, they may look out of place without a wallpaper that matches the style. Moreover, it does not mix well with other third-party apps that do not get themed. As far as the system theme is concerned though, this is an excellent dark EMUI theme.
3.  OS-XS EMUI 9.0 Theme
[googleplay url="https://play.google.com/store/apps/details?id=com.blogspot.androidmaxsource.os11dew"]
As the name says, this is clearly an Apple-inspired theme, with elements taken from the macOS and iOS. Although, the black backgrounds make it much better than the dark mode on macOS. Such dark themes for Huawei and Honor devices are also good for the battery in case of AMOLED displays with their truly black backgrounds. There is some use of color, specifically in the app and settings icons. In most other places, the theme uses a blue accent color which suits the background quite well.
Must Read: Get Edge Lighting Border Around Screen on Any Android
4. Guardian Theme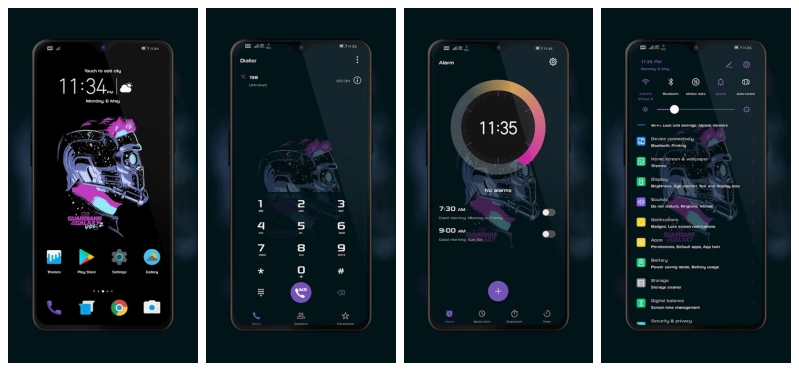 [googleplay url="https://play.google.com/store/apps/details?id=emui.en.com.fadered"]
Guardian is one of the best dark EMUI themes. Once again, an inspired theme but not by any other manufacturer's UI. The name hints at it but the screenshots above should leave no doubt as to what the theme is all about.
It uses an AMOLED friendly Guardians of the Galaxy wallpaper and it uses the same wallpaper with a less black background as the background on all stock Huawei apps. It's technically not black or gray but it does qualify to be called a dark EMUI theme. It's made by the same developer that created the G-Pix and Gradient themes.
5. Dark EMUI 9 Theme for Huawei/Honor
[googleplay url="https://play.google.com/store/apps/details?id=emui.en.com.darkemui9″]
This is a paid theme but it's the best dark theme on this list, arguably. It's not the blackest of them all, it mostly uses dark gray backgrounds, even the wallpaper is mostly the same color with a slightly lighter gradient. But this theme is more extensive than the others on this list. It themes not only the stock Huawei apps but also popular third-party apps such as WhatsApp. The icon set included in the theme also, naturally, has icons for a number of third-party apps like Spotify, Hike, Messenger, Facebook, Discord, etc. All that comes at a price, however, because this one is not quite free. It costs ₹80.