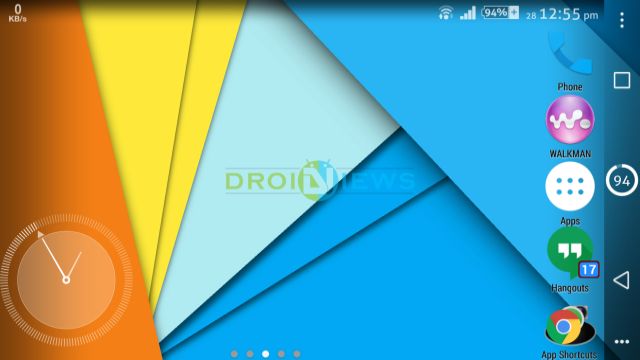 When Google announced Android Lollipop and the revealed the sea of change it had brought along in the UI, the navigation bar was one thing that had mixed responses. While the developer preview images contained a much more bland look, recent versions seem to tweak the design a bit. Whatever your thoughts are, it's no denying the fact navigation bar now is easy on the eye and more simplistic than ever. And even though we will have to wait for a while before we do get that look on our devices, developers have already kicked-in with their own implementations. One such custom implementation is the Battery Home Icon Xposed module. And today we'd be looking at just that!
In the past few weeks, numerous custom ROMs and MODs have implemented the new Android L navigation bar. But if you would like to go a step further in terms of customization, you should be reading on! Also, as we all know that Xposed Installer is one heck of a tool when it comes to a safe implementation of various MODs. And even though its future is in doldrums for Android Lollipop, we should enjoy the perks on Kitkat while they last. Every now and then, certain modules trickle in on the repository which we can't stop ourselves from stopping by and noticing. It's a painful wait for the latest Lollipop after all, and we are trying to be overly preoccupied till then!
Firstly, you will need to download the Xposed Module from the Xposed Module Repository. Then, enable the module from the Xposed Installer and reboot your device. That's all you need to get this (or any) module working. The app interface also provides you with a few customization options. You can change the portrait and landscape padding respectively for the battery orb and can also customize the battery circle thickness. Not just that, the latest update to it has also provided the users with a neat charging animation, which can be enabled or disabled depending on your personal experience with any effect on device performance. We didn't have any battery drain issues too during the time we had with it.
Impressive enough? Well for us it was. Just give it a try until the time you are stuck on Kitkat and maybe the wait won't be that sour!