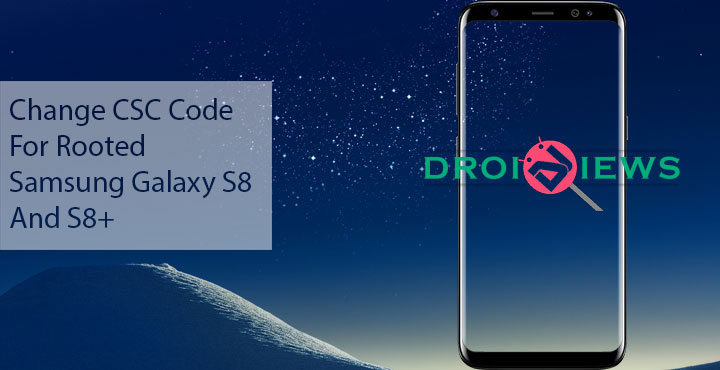 You might have already come across the term CSC if you've used Odin for Galaxy smartphones. Flashing the stock ROM on a Samsung Galaxy requires a set of files. Out of these, the one thing which users can tamper with is CSC. The Consumer Software Customization (CSC) plays an important role in the operation of a Samsung smartphone. And if you know how, you can actually change CSC code for your Samsung Galaxy S8 and S8+.
Different standards exist in different countries for both voice and data communications to a cell tower. As a result, there's a different CSC number for a European Galaxy S8 unit and an Indian Galaxy S8 unit. Most countries follow the international standard for WiFi connects, however, there are still some variations from the standard. The CSC code ensures that your mobile device complies with the standards for your country and your cell phone operator. The CSC code also determines the source for firmware updates, so you can get all the carrier specific or country specific features you're supposed to get.
Okay, so CSC code is important. But why would you want to change it? There can be a few reasons as listed below.
Must read: Install Viper4Android on Samsung Galaxy S8 and S8+
Why change the CSC code?
If you move to another country, you may wish to change the CSC / product code to one that matches your new home. Do note that not every Samsung model is sold in every country. Furthermore, not all models are available for every sales code, including the open (unbranded) codes.
If you purchased a branded phone, you may wish to change the CSC / product code to an unbranded sales code. Again, there is no guarantee that an unbranded version of firmware exists for your model that is compatible with the cell phone frequencies in your country.
If you've been with Android, you know how carriers are when it comes to updates. You may want to change the CSC code to an unbranded one if you wish to upgrade to a newer version of Android.
Recognized XDA developer Tkkg1994 has created easily flashable zips for the Galaxy S8 [SM-G950F/FD] and Galaxy S8 Plus[SM-G955F/FD]. The zip file contains an aroma installer which lets you select the CSC region of your choice during installation. The zips are about 1GB in size as they contain a large number of flashable codes. Do keep in mind that this is only for the above mentioned Galaxy S8 and S8+ models.
Warning: As always, try this at your own risk. DroidViews takes no responsibility in any worst case scenario.
Don't miss: Change DPI on Samsung Galaxy S8 and S8+ [No root required]
Requirements
Samsung Galaxy S8 [SM-G950F/FD] and Galaxy S8+[SM-G955F/FD]
These codes can be flashed on a stock based custom ROM or even the stock ROM as long as it is rooted.
TWRP recovery.
Supported Countries
OMC Multi-CSC:


"ACR", "Ghana unbranded"
"AFG", "Afghanistan unbranded"
"AFR", "Kenya unbranded"
"ARO", "Argentina unbranded"
"ATO", "Open Austria unbranded"
"AUT", "Switzerland unbranded"
"BGL", "Bulgaria unbranded"
"BNG", "Bangladesh unbranded"
"BRI", "Taiwan unbranded"
"CAC", "Uzbekistan unbranded"
"CAM", "Cambodia unbranded"
"CHO", "Chile unbranded"
"COO", "Colombia unbranded"
"DBT", "Germany unbranded (default)"
"DKR", "Senegal unbranded"
"ECT", "Nigeria unbranded"
"EGY", "Egypt unbranded"
"EON", "Trinidad and Tobago unbranded"
"ETL", "Czech Republic unbranded"
"EUR", "Greece unbranded"
"ILO", "Israel unbranded"
"INS", "Indian unbranded"
"ITV", "Italy unbranded"
"KSA", "Saudi Arabia unbranded"
"LAO", "Thailand (unknown)"
"LUX", "Luxembourg unbranded"
"MID", "Iraq unbranded"
"MWD", "Morrocco unbranded"
"MYM", "Thailand (unknown)"
"NEE", "Nordic Countries unbranded"
"NPL", "Nepal unbranded"
"ORX", "Slovakia unbranded"
"PAK", "Pakistan unbranded"
"PHE", "Spain unbranded"
"PHN", "Netherlands unbranded"
"ROM", "Romania unbranded"
"SEB", "Latvia unbranded"
"SEE", "South East Europe unbranded"
"SEK", "Ukraine unbranded"
"SER", "Russia unbranded"
"SKZ", "Kazakhstan unbranded",
"SLK", "Srilanka unbranded"
"THL", "Thailand unbranded"
"THR", "Iran unbranded"
"TPA", "Panama unbranded"
"TPH", "Portugal unbranded"
"TTT", "Trinidad and Tobago unbranded"
"TUN", "Tunisia unbranded"
"TUR", "Turkey unbranded"
"XEF", "France unbranded"
"XEH", "Hungary unbranded"
"XEO", "Poland unbranded"
"XEU", "United Kingdom EE & Three branded"
"XFE", "South Africa unbranded"
"XME", "Malaysia unbranded"
"XSG", "United Arab Emirates unbranded"
"XSP", "Singapore unbranded"
"XTC", "Philippines Open Line branded"
"XXV", "Vietnam unbranded"
"ZTO", "Brazil unbranded"

"H3G", "United Kingdom H3G branded"
"OPS", "Australia Optus branded"
"TEL", "Australia Telstra branded"
"VAU", "Australia Vodafone branded"

Vodafone Multi-CSC:
"ATL", "Spain Vodafone branded"
"AVF", "Albania Vodafone branded"
"CNX", "Romania Vodafone branded"
"CYV", "Cyprus Vodafone branded"
"MOB", "Austria A1 branded"
"MTL", "Bulgaria MTL branded"
"OMN", "Italy Vodafone branded"
"PRO", "Belgium Proximus branded "
"SIM", "Slovenia Si.mobile branded"
"SWC", "Switzerland Swisscom branded"
"TCL", "Portugal Vodafone branded"
"VD2", "Germany Vodafone branded (default)"
"VDC", "Czech Republic Vodafone branded"
"VDF", "Netherlands Vodafone branded"
"VDH", "Hungary Vodafone branded"
"VDI", "Ireland Vodafone branded"
"VGR", "Greece Vodafone branded"
"VIP", "Croatia VIP-Net branded"
"VOD", "United Kingdom Vodafone branded"
"XFV", "South Africa Vodafone branded"
USA Multi-CSC:
"ACG", "Nextech / C-Spire branded"
"ATT", "AT&T branded"
"BST", "BST (unknown)"
"CCT", "Comcast branded"
"GCF", "GCF (unknown)"
"LRA", "Bluegrass Cellular branded"
"SPR", "Sprint (CDMA) branded"
"TFN", "Tracfone branded "
"TMB", "T-Mobile branded"
"USC", "USA unbranded"
"VMU", "Virgin Mobile USA branded"
"VZW", "Verizon branded"
"XAA", "USA unbranded (default)"
"XAS", "XAS (unknown)"

Canada Multi-CSC:
"BMC", "Bell Mobile branded"
"BWA", "SaskTel branded"
"CHR", "Canada (unknown)"
"ESK", "EastLink branded"
"FMC", "Fido Mobile branded"
"GLW", "Globalive Wind Mobile branded"
"KDO", "Koodo Mobile branded"
"MTB", "Belarus branded"
"RWC", "Rogers branded"
"TLS", "Telus branded"
"VMC", "Virgin Mobile branded"
"VTR", "Vidéotron branded"
"XAC", "Canada unbranded (default)"
Download
Also read: Easily Remap Bixby Button on Samsung Galaxy S8 with These Apps
How to change CSC code
The installation is fairly easy if you've ever installed anything via the TWRP recovery.
Download the CSC selection zip and transfer it to your device.
Boot your Galaxy S8 to recovery mode.
In the TWRP menu, select Backup and backup every partition available. This is an optional step but it is an important one.

Swipe right to initiate the backup process.
When the backup is complete, go back to the main TWRP menu and select Install.
Browse to and select the CSC selection zip.
Swipe right to install.
When the process is finished, go back to the main menu and go to Reboot>System.
How to restore CSC code
During CSC installation via TWRP recovery, a backup of the EFS partition is automatically created.
To restore your CSC code to what it was before boot into TWRP again.
Select Mount and make sure the EFS partition is mounted.
Go back to the main menu and open the Terminal under Advanced.
Enter the following code in terminal –

dd if=/data/media/0/EFSBackup/efs.img of=/dev/block/sda3 bs=4096

Your previous EFS will be restored successfully.

When the process is finished, go back to the main menu and go to Reboot> System.