Samsung's Touchwiz has earned a name for itself and it's almost a brand in itself. No matter how many names Samsung changes for its skin, people are always going to call it Touchwiz. One of the things Touchwiz is known for is a plethora of features that are not available on stock Android. Many will agree that most of these features aren't really that helpful but then many of these really are. Throwing everything at the wall and watching what sticks, is Samsung's way of doing things. And there's history to prove this works for the Korean giant. Take big screens and multi-window for example, they stuck around. One such helpful feature, at least for us power users, is the hidden setting in the Galaxy S8 and S8+ that allows users to change DPI.
Changing such settings usually requires a rooted Android device, using ADB, or third party apps. The process is also a bit cumbersome, considering you have to reboot your device each time the setting is changed. But Samsung has brought DPI settings to its version of Android Nougat on the Galaxy S8. While we can't say whether it is one of those Samsung features that will become a part of stock Android going forward, it is certainly nice to have for those of us who want it.
Don't miss: Disable Nav Bar and Enjoy Pie Controls on Samsung Galaxy S8
DPI stands for dots per inch, that is another way of saying pixels per inch but in reference to the image being displayed on a display or screen. Whereas Pixels per inch or PPI is usually used in reference to the actual display. Increasing the DPI on a device makes everything on the screen smaller while decreasing the DPI makes things look larger on the screen. This is really helpful if you have an old parent who can't see small texts on his phone. It's also helpful if you would prefer things on your display to be a bit smaller so that you can see more of them at once.
The Samsung Galaxy S8 has an unusually large display, and that's even more true for the Galaxy S8+. So seeing more things at once shouldn't be much of a problem already but just in case you still want to see more or maybe you want to see less content at once for some reason, you can easily change the DPI. The setting to change the DPI is hidden under Developer options So you will first need to enable it in the settings.
Must read: Enable Immersive Mode on Android without Root or Any App
How to Change DPI on the Galaxy S8/S8+
On your Galaxy S8 or S8+, go to Settings> About Phone.
Scroll down and you'll find the Build number entry.
Tap on it 7 times and you should see a toast message saying you are now a developer.

galaxy-s8-developer-options

You won't magically turn into a developer, so don't worry. Just press the back button.
You will now see the Developer options at the bottom of the Settings list.
In the Developer options, toggle the switch up on the top and select OK on the warning dialogue that appears.
Scroll down until you find the Minimum width setting in the Drawing section.
By default, it is set to 411 on the Galaxy S8+ and 360 on the smaller Galaxy S8. You can change it to whatever you want.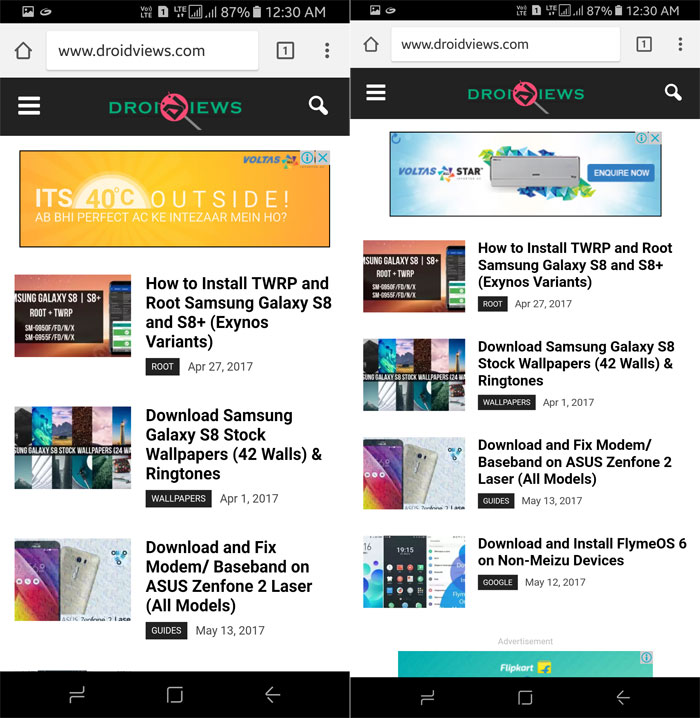 As mentioned earlier, a higher number means everything gets smaller. As a result, you see more content on the screen at once. While a lower number value means everything will get bigger. This means it will be easier to read texts and see icons but you will be scrolling a lot more.
Recommended for you: Install Viper4Android on Samsung Galaxy S8 and S8+
Be careful though and try not to swing too far off the default values. Set it too low or too high and you might end up making your screen useless. Everything could either get too small for you to even see or too big to even fit on the display. The only way to come back would be a factory reset. Generally, you should be safe anywhere +100 to -100 from the default value.