The HTC One was credited to be the most beautifully designed Android phone and its successor, the HTC One M8, continues to infatuate with it premium feel and good looks too. The device is already available on stores in many countries, while many people in some parts of the world are still waiting for it to arrive. Being a flagship smartphone, the HTC One M8 packs together the best possible specs from its manufacturer. And therefore, we expect stunning performance from it.
You must have seen leaked Antutu benchmarks of upcoming Android devices, showing higher scores on chart than other existing contenders. In many cases, the OEMs try to manipulate the benchmark results by clocking the device CPU to optimum in order to show better results. If you remember, Samsung has been charged with allegations of sinister manipulations to achieve high scores in benchmarks.
Some leaked benchmark results of the M8 showed the device topping the charts. The device is now in our hands and the question is— "why its Antutu scores are not the same as those shown on leaked or official screenshots?" The answer is this— the HTC One M8 has a hidden option for enabling high CPU performance on the device itself.
Today, we'll see how we can access and trigger the hidden High Performance Mode and ART on the device to boost HTC One M8 performance. This feature cannot be accessed from phone Settings menu because it is found under another hidden mode called Developer options. It means that without enabling Developer options on HTC One M8, you will not be able to enable High Performance Mode and ART on the device.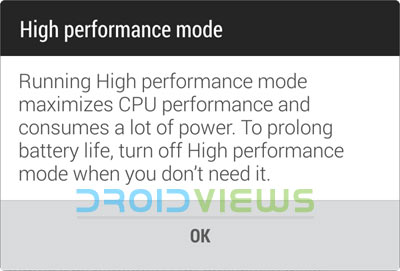 Enable Developer Options on HTC One M8
Open your phone Settings.
Scroll to the bottom of Settings page and tap About.
Then tap Software information.
On the next screen, select More.
Now tap Build number 7 times.
The Developer options will be enabled on your HTC One M8.
Congrats, you have successfully enable Developer options on your device and now you can easily access some hidden and useful features like USB Debugging, High Performance Mode and ART (Android RunTime).
Enabling High Performance Mode & ART
ART is a new runtime system for Android devices introduced with Android 4.4. By switching the default runtime from Dalvik to ART, you can enhance your phone's speed and battery performance significantly. On the other hand, High Performance Mode does clock the CPU to its optimum level, but it might demand more battery. Now let's see, how to enable these features on HTC One M8:
Open Settings on your device.
Go to Developer options and open it.
Now look for High performance mode and check it.
Then tap Select runtime and tap it.
Select ART.
The device will ask to reboot it. Allow it to do so.
When your HTC One M8 boots up, start using your phone. You should notice significant improvement in its performance. Cheers!