Smartphones have made life a lot easier in several ways. These pocket-sized computers allow us to interact with others around the world with ease. However, the small size isn't always positive especially if you consume a lot of media or need to share your screen with a larger audience. Fortunately, there are a bunch of screen mirroring apps for Android to solve the issue and here are 8 of the best in the category. The following casting apps will help you share your smartphone's screen with your smart TV or PC.
You could use these nifty apps to mirror/cast your smartphone's screen on a bigger display for viewing or sharing content. On the other hand, you can also use these apps to control your PC with an Android device. Not all screen sharing applications offer a pleasant user experience. To help save your time, we've picked the best screen mirroring apps for Android. Using these apps, you can not only cast your phone's screen to your PC or TV but can also access your Android device from another Android device or PC.
ApowerMirror – Mirror&Control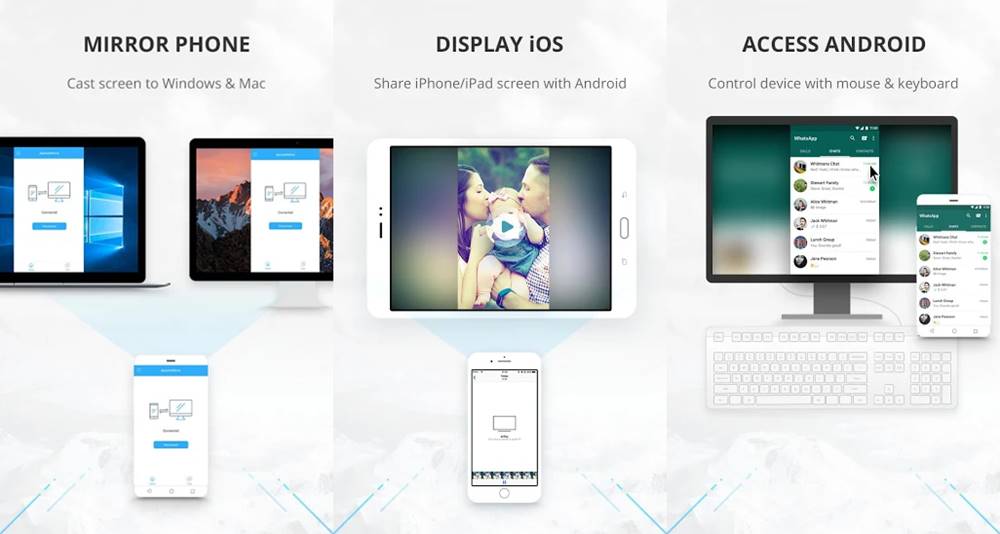 ApowerMirror allows users to share and control the screen of their smartphone without going through much of a setup process. You can control your device via a mouse and a keyboard once you've connected it to the desktop application.
Using ApowerMirror, you would be able to receive notifications from your phone directly on the desktop/laptop. This saves you the trouble of having to switch between your laptop and phone each time you need to check for a notification.
The app gives you the option to connect to your PC via two methods — Wi-Fi and USB. Therefore, you can opt for either based on your preference and situation at the time.
[googleplay url="https://play.google.com/store/apps/details?id=com.apowersoft.mirror"]
AnyDesk
AnyDesk can be considered as one of the best screen mirroring/casting apps currently available for Android. The app is fast, light, and reliable for everyday use. Users would have to use the passkey within the application to connect to their smartphone via any other supported device.
Unlike some other screen mirroring/casting apps, AnyDesk offers constant 60fps streaming hence you wouldn't notice any lag or stutters. Of course, it would require a decent internet connection. This sets it apart from the competition.
The app has good security measures as well with its TLS 1.2 encryption and 4096-bit RSA Key Exchange. Thanks to that, you wouldn't have to worry about attackers trying to steal your data by breaching the app.
[googleplay url="https://play.google.com/store/apps/details?id=com.anydesk.anydeskandroid"]
TeamViewer
TeamViewer is one of the most recognized and used screen sharing tool. The app supports file transfer between your phone and PC. This would allow you to quickly transfer files from your Android device to the PC and vice versa.
You can also control your phone or desktop via the application based on the situation. TeamViewer does not compromise on security and speed as well. It supports high-quality video sharing and has 256 Bit AES Session Encoding with 2048 Bit RSA Key Exchange.
Don't Miss: Top 5 Meme Apps for Android to Add Fun into Your Life
Another great feature is the Chat function which can be used to quickly communicate with the user on the other end without having to leave the app.
[googleplay url="https://play.google.com/store/apps/details?id=com.teamviewer.teamviewer.market.mobile"]
AirMirror
Here's another powerful screen sharing app for Android. AirMirror has a good list of features up its sleeve, most of which would be appreciated by those looking out for more functionality. The screen mirroring/casting app covers all the basics and also enables full-fledged Voice Calling.
You wouldn't have to sign up or create an account to use the begin using the app. There's an option for communicating via text as well. AirMirror would also allow users to access the phone's camera and remotely capture images.
[googleplay url="https://play.google.com/store/apps/details?id=com.sand.airmirror"]
AirScreen
This nifty screen mirroring/casting app packs in a lot of useful and functional features. It supports multiple wireless transmission protocols such as AirPlay/Google Cast/Miracast/DLNA. However, you also have the option to use a local network connection to share your screen.
The app allows users to record their screen which can be fairly useful to capture things on the screen while sharing it with others. Privacy concerned individuals would also be glad to know that the app supports encrypted transmission. This would help keep your data safe.
[googleplay url="https://play.google.com/store/apps/details?id=com.ionitech.airscreen"]
AirServer Connect
Now here's a screen sharing app that isn't really recommended for the average joe. If you're looking for an easy to use screen mirroring/casting app, then the other apps on the list would serve you well. AirServer allows you to connect and display your phone's screen over a corporate network.
This is useful for those working in companies who need to share their phones screen on to a bigger display. Although you can use AirServer for personal use too, its developers have chosen to target the corporate world.
It can be used to share the phone's screen to enjoy games, media, or content on a bigger display just like any other app here.
[googleplay url="https://play.google.com/store/apps/details?id=com.appdynamic.airserverconnect"]
Samsung Smart View
Samsung's Smart View screen sharing app is perfect for those who need to need an app for mirroring/casting their phones screen on their TV. The app has a straightforward user interface which lets you control which TV you want to share your screen with.
The only downside here is that not all TVs are supported hence we'd suggest checking the list of supported TVs in the app's description. You would also be able to play games on your TV while using the phone as a gamepad.
[googleplay url="https://play.google.com/store/apps/details?id=com.samsung.smartviewad"]
Microsoft Remote Desktop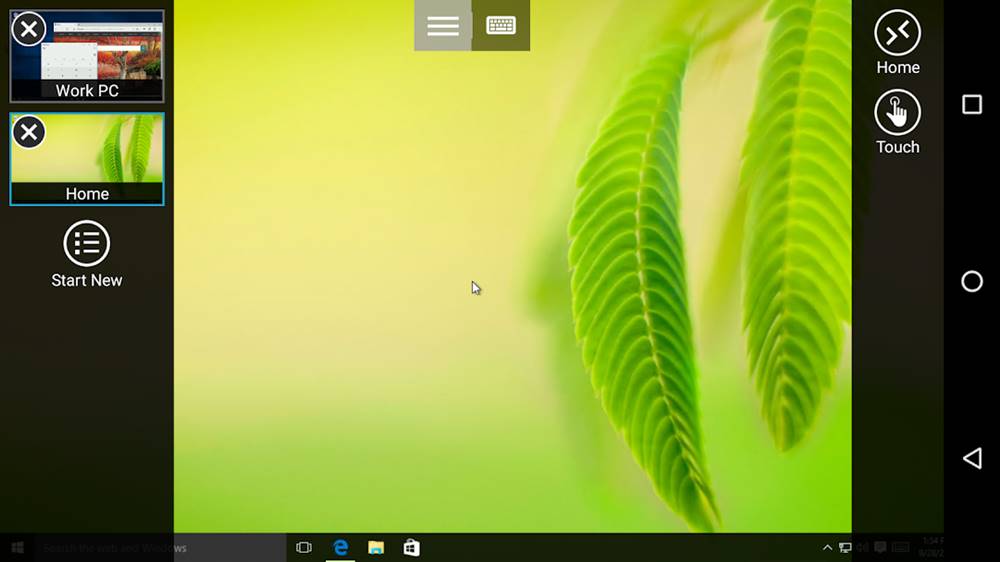 Microsoft has been optimizing and improving the user experience on their Android apps often. The Remote Desktop app from the software giant allows you to easily and seamlessly control your PC from anywhere. It might not pack in a few features which are available in other screen mirroring/casting apps. However, it does cover all the basics.
It does support high-quality video output which is comparable to just about any other high-end screen-sharing app. Setting up the app on the PC does not require any additional skills or efforts. It gets bonus points for having the ability to stream audio and video as well.
[googleplay url="https://play.google.com/store/apps/details?id=com.microsoft.rdc.android"]
Read next: Best Android Apps for Big-Screen Phones