Among the things that get viral online, funny things show remarkable consistency. Now, this is not a deeper commentary on the growing desire of humanity to find any little thing to feel momentarily happy about. What this is is though is a list of some of the best meme generator apps for Android available at the Google Play Store. Everyone needs some funny memes (no matter how they pronounce it) and these apps can help you deliver those.
1. Reddit Memes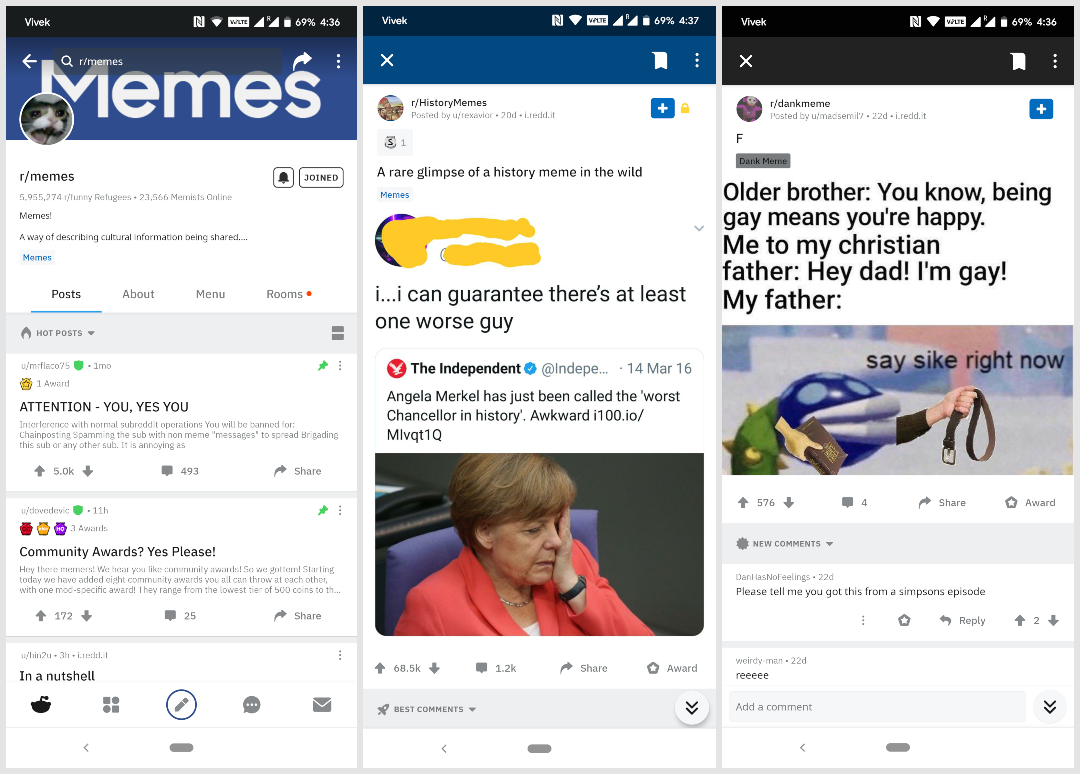 [googleplay url="https://play.google.com/store/apps/details?id=com.reddit.frontpage"]
Now Reddit is not necessarily a meme generator website or app. But there's probably nothing there isn't a subreddit about. And that includes funny things like jokes or memes. So if you want it can be a great meme app for you. There are a variety of meme related subreddits that you can follow. Moreover, once your drive for funny memes has gotten you over the learning curve, Reddit has a ton to offer. Some of the most followed and hilarious subreddits to find memes on are Memes the original, Dankmemes, HistoryMemes, etc.
You'll also find a lot of things that you may not like though so tread carefully. The official Reddit app actually has plenty of alternatives as well that may offer more features, better customization options, etc.
Don't Miss: 9 Best Email Apps for Android in 2019
2. 9GAG Meme Creator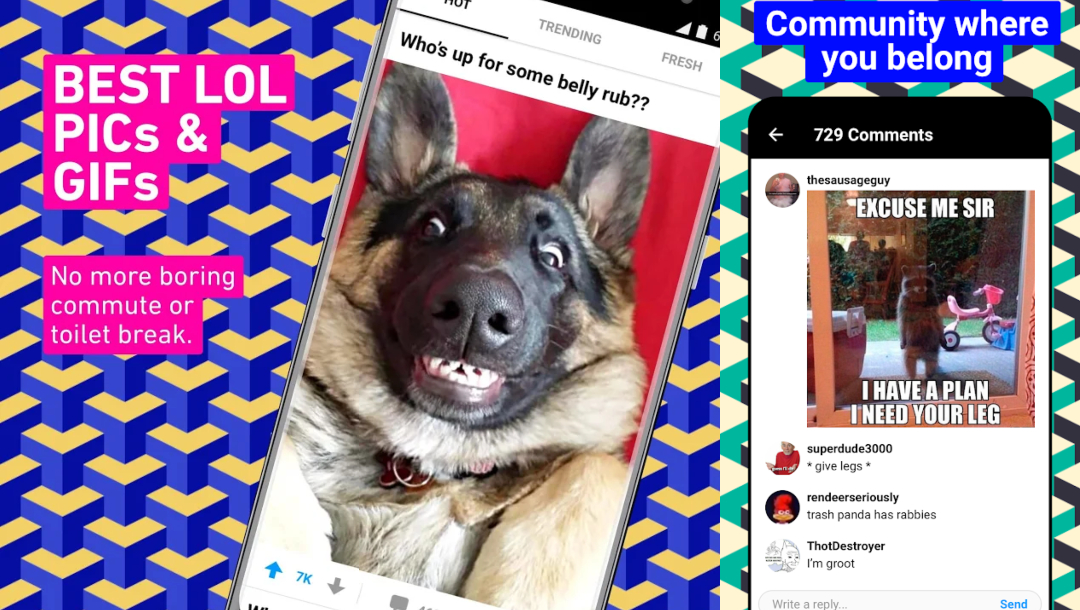 [googleplay url="https://play.google.com/store/apps/details?id=com.ninegag.android.app"]
Like Reddit, 9GAG is a website with an Android app which is not solely dedicated to memes. But 9GAG is dedicated to humor in the form of funny pics, GIFs, and the likes, including memes. The app is fairly easy to use and you can just browse around to find some funny memes. Although the free version of the app has some obnoxious advertisements included.
Once you learn to ignore them or get used to them it's not that big of a deal. However, if it does bother you enough and you don't want to delete the app, you can always pay to get an ad-free experience. It's really one of the best meme generator apps for Android and you must not miss it.
3. GIPHY Meme Generator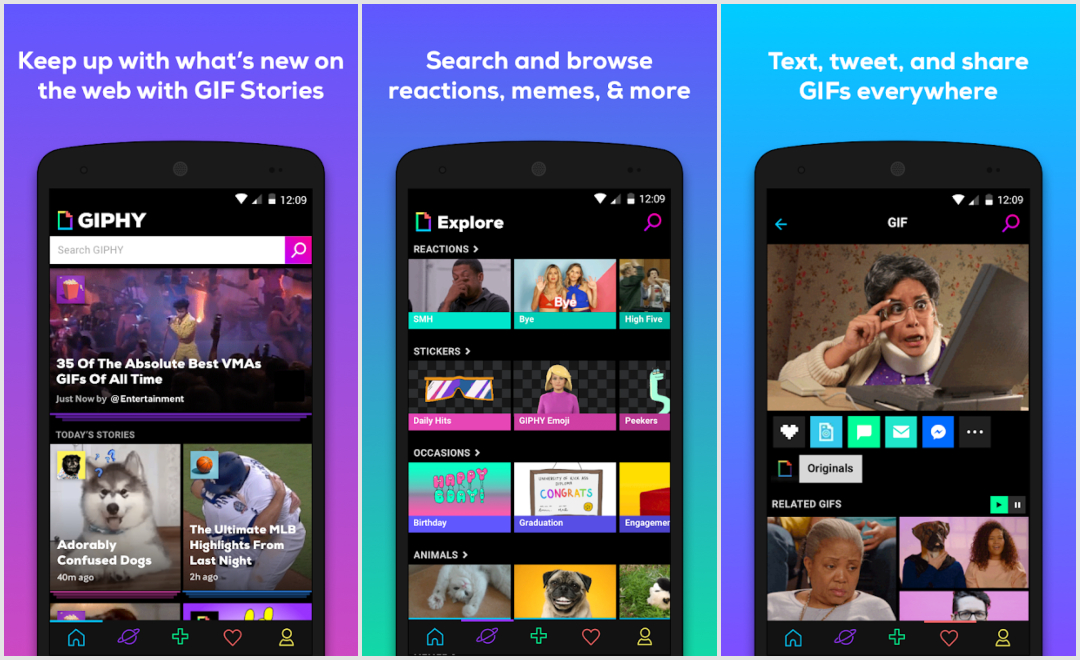 [googleplay url="https://play.google.com/store/apps/details?id=com.giphy.messenger"]
GIPHY is a very popular site for finding and sharing funny GIFs online. It's integration into popular messaging apps like Facebook Messenger has made it even more popular. Amongst the other kinds of funny GIFs, GIPHY is also home to a large number of meme GIFs. If you want something better than a static meme, it's an animated meme and that's what makes GIPHY one of the best meme apps on Android.
The meme generator app lets you share GIFs directly from within itself to popular services like Facebook Messenger, WhatsApp, Instagram, Pinterest, as well as lets you send them directly in an Email, tweet it on Twitter, or post it to Facebook.
Must Read: Best Android Apps with Fingerprint Scanner Support
4. Meme Generator (No Ads)
[googleplay url="https://play.google.com/store/apps/details?id=com.littlebeargames.memegenerator"]
As the name suggests, the Meme Generator app lets you create your very own memes. To make things simpler, it has a whole catalog of images that are popularly used in memes and it shows them right upfront. Once you've found the perfect image just tap on it and you can enter the text that should appear on the top and the bottom.
You are allowed to change the size and color of the text as well as whether it should be in all caps. You can even add a photo from your device if you'd rather have a more personal meme.
5. Meme Generator Free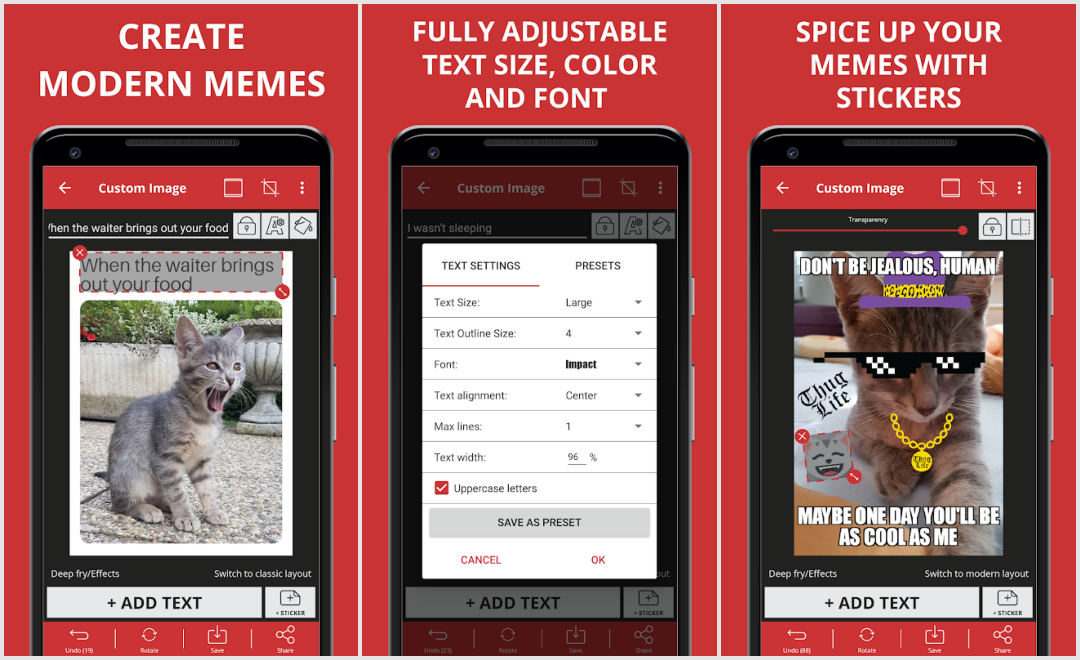 [googleplay url="https://play.google.com/store/apps/details?id=com.zombodroid.MemeGenerator"]
Meme Generator Free is a lot like Meme Creator except that it seems more polished. Not that it is one of the most beautifully designed apps, but in comparison, it's the better-looking app of the two. It also presents you with a stream of meme photos. Although the app divides these into four tabs or categories: All, New, Popular, and Favorite. This makes it easier to browse the gallery. If you know exactly what you're looking for you can use the search function.
It also lets you change the default view. As far as the meme creator part of the app is concerned, once you've selected a photo you can add some text, stickers, filters, etc. There are a lot of stickers to choose from. You can even change the border size, color, etc. And yes, you can use photos from your device's storage as well.
Read Next: Find Out the Best Android Launcher for You