Smartphones are our go-to devices for staying connected to the world. We use it for calling, messaging, and entertainment purpose. We often use smartphones to access emails also. Moreover, smartphones are the most convenient devices to manage emails on the go. With that said, please check out our list of the 9 best email apps for Android devices in 2019.
Emails are the most effective form of communication. Be it personal or professional use, emails are the best means of communication. Besides, it is so important that all the smartphones come with a pre-installed email app. Yet, there are a lot of email apps apart from Gmail that will help you manage your emails.
All of these different apps have different features. Furthermore, it helps the user to use and manage their emails in an efficient way. In this list, we will look at the best email managing apps for Android. Let us dig deep into each one of them one by one.
Best Email Apps for Android
1. Blue Mail
Blue Mail is the best mobile email managing apps on the Play Store. You can sync many mail providers in a unified interface. Moreover, it features a clean UI and a different variety of customizations. It works with all the mailing platforms like Google, Yahoo Mail, Outlook, etc.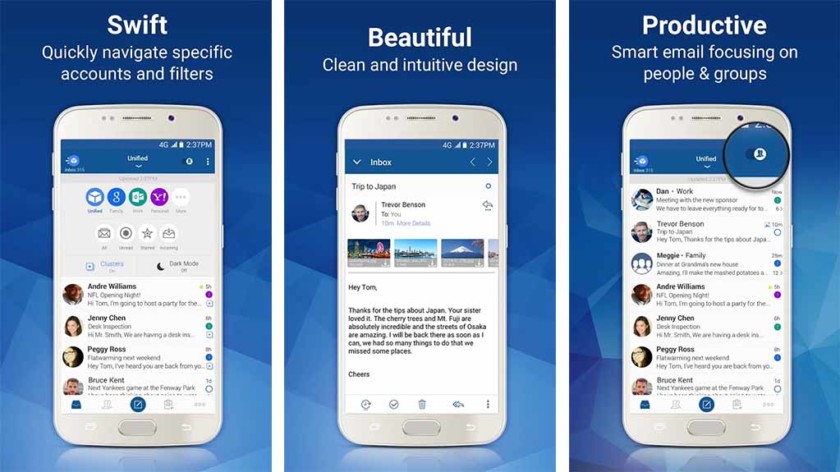 Besides, it is compatible with IMAP, POP3 and MS Exchange. Blue Mail has the "Smart Notification" feature. With this, you can set different types of notification for each account. You can customize the sound, LED light, vibration, etc. It also supports Android Wear.
You can also send and receive "Group Mails". It also comes with a dark mode option. You can even block emails from an address, domain or a whole URL. Blue Mail gives you complete control to manage your emails.
[googleplay url="https://play.google.com/store/apps/details?id=me.bluemail.mail"]
2. Nine Email
Nine is another great app to manage your emails. It comes with a subscription fee of $14.99. The key feature includes that all the data is stored in the user's device only. Besides, it lets you integrate your stock camera and calendar app with Nine.
Moreover, it supports Android Wear and Exchange ActiveSync to sync folders. Nine features SSL, Push Notifications, Notes Sync, and support for Office 365, etc. Give Nine a shot which, in my opinion, is one of the best email managing apps available for Android
Don't Miss: 7 Secret Gmail for Android Tips and Tricks You Should Know
It's UI is clean and simple to navigate. Besides, you also get support from different servers. Moreover, Nine lets you directly connect to the user server. But, the only downside is that it is an expensive email client.
[googleplay url="https://play.google.com/store/apps/details?id=com.ninefolders.hd3″]
3. Newton Mail
Newton Mail is another subscription-based email client. But, the features linked with Newton Mail makes it worthy of the price. It has features like undo send, read receipts, send later, snooze, etc. You get a 14-day trial to check its features.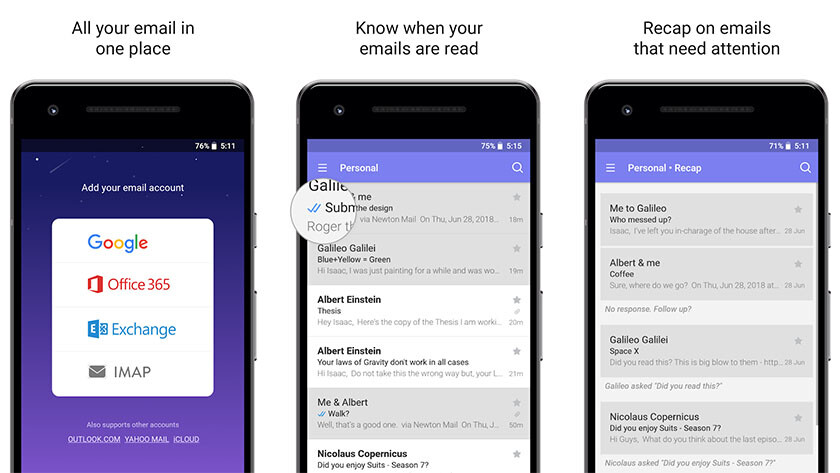 It works with Gmail, Exchange, Yahoo Mail, Outlook, etc. Besides, it also supports Office 365 and IMAP. The app has a clean UI and a minimal design. Moreover, it features smart searching, cross-platform support, etc to manage your inboxes.
Besides, Newton Mail also lets you connect third-party apps for better integration. It is a good email client for business owners because of the price.
[googleplay url="https://play.google.com/store/apps/details?id=com.cloudmagic.mail"]
4. Proton Mail
Proton Mail is the best security focussed email managing app. It features end-to-end encryption which makes it impossible for anyone to read. Moreover, it also includes self-destructing emails and OpenPGP support. Besides, with "Zero Access" encryption, even Proton Mail cannot read your emails.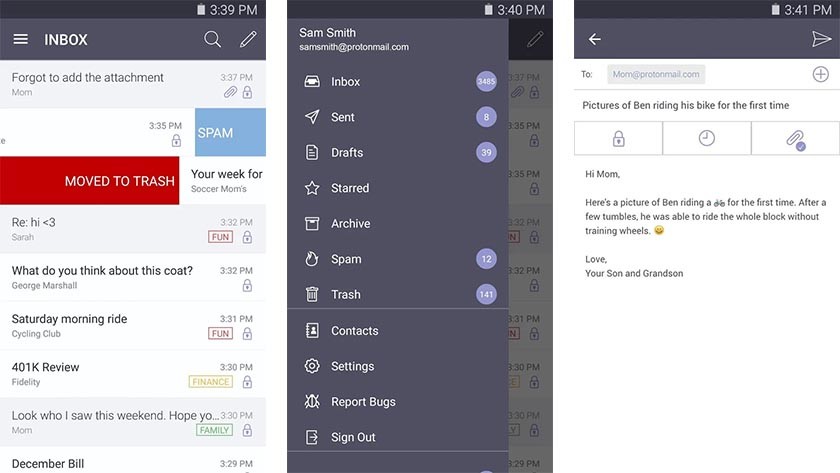 Similarly, you can also send password-protected emails. It has Gmail like interface which is easy to navigate. In addition, it also provides modern features like quick organize, and push notifications, etc. Thus, the main reason to use Proton Mail is the security that it provides to our email service.
[googleplay url="https://play.google.com/store/apps/details?id=ch.protonmail.android"]
5. Spark Email
Spark is the new email client for managing your inbox. It provides you full control over your inbox. It has a clean user interface and simple navigation features. Furthermore, Spark supports all email services, has a unified inbox, push notifications and so on. Similarly, it also supports wireless printing support.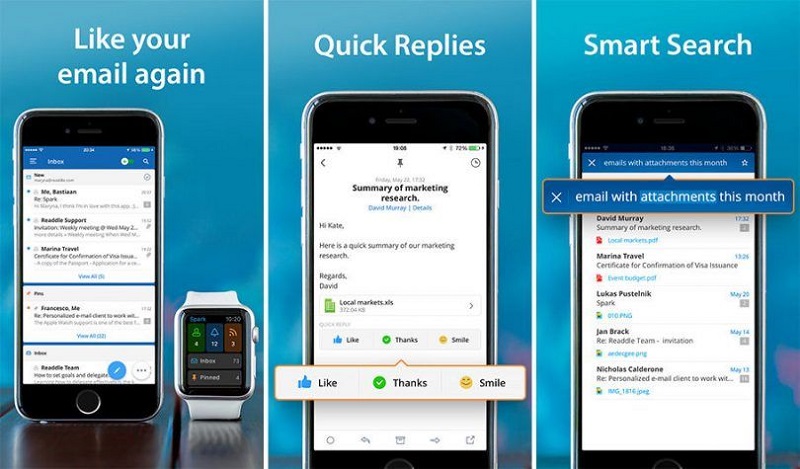 It supports a wide range of devices and also Wear OS. In addition, you also get dark mode and customizable features. It is the best email managing app for teams. Spark app lets you create email together, create links to email, and provides privacy.
Must Read: How to Recover Permanently Deleted Emails in Gmail
It is a fast, clean, and intelligent email client. Moreover, with its modern design and automation features makes it a good app. However, it is going to get more features with future updates. Spark Email is one of the best email managing apps for Android in my opinion.
[googleplay url="https://play.google.com/store/apps/details?id=com.readdle.spark"]
6. TypeApp Email
TypeApp is a one-stop email application that lets you manage all your accounts. Besides, it has a simple and intuitive design. It supports email platforms such as Gmail, Yahoo, Outlook, iCloud, etc.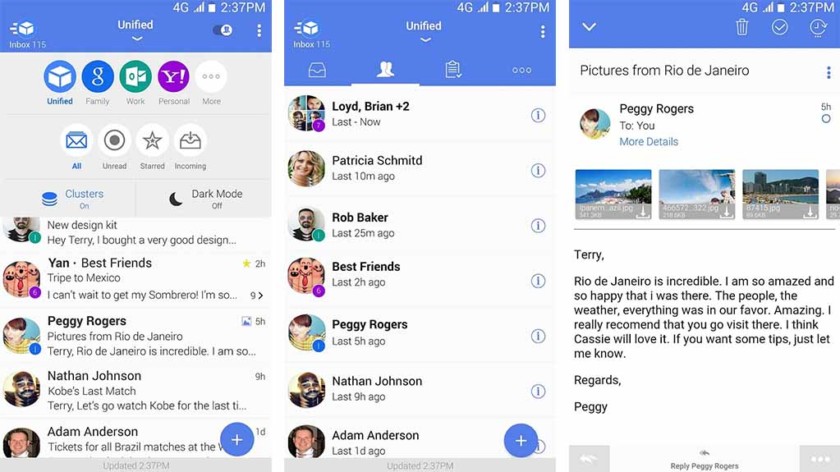 You also get an easy to use "Group Mail" feature. Moreover, its people-centric feature allows you to communicate with important people. Furthermore, other features include smart conversations and push notifications, wireless printing, etc.
Editor's Pick: 5 Best Keyboard Apps for Android – 2019
Besides, it also has a dark mode and other customizable themes. It also has advanced security features. Wear OS support and simple method of switching accounts makes it a good app.
[googleplay url="https://play.google.com/store/apps/details?id=com.trtf.blue"]
7. Unroll.Me
Unroll. Me is an app that lets you maintain a junk-free inbox. It lets you opt-out of all the subscription in your accounts. Moreover, it shows a list of subscribers. You can stay with your important subscriptions from the list.
Besides, you can also add all your subscriptions to the Rollup feature. This lets you see them all at once. It lets you keep the unnecessary junk out of your inbox. Furthermore, it is a good app if you want clear and clutter-free inbox.
[googleplay url="https://play.google.com/store/apps/details?id=com.unrollme"]
8. Aqua Mail
Aqua mail supports all the email service providers. Moreover, it supports internet email protocols like IMAP, POP3, and SMTP. It features tons of customization. You can backup your emails to any of the cloud services. It allows you to set separate network connection settings for WiFi and mobile data. It is helpful for optimizing performance.
Besides, you also get a clean and minimal user interface. The security feature of Aqua mail is also good. Aqua mail supports push notifications. Most of the features are available with the pro version. You also get dark mode along with four other themes.
[googleplay url="https://play.google.com/store/apps/details?id=org.kman.AquaMail"]
9. Email by Edison Software
Email by Edison Software is the universal email managing app. You can manage unlimited email accounts. It supports Yahoo, AOL, Hotmail, Outlook and more. It features auto sorting, configurable swipe, and real-time notifications. You can sort all your emails according to a customizable category.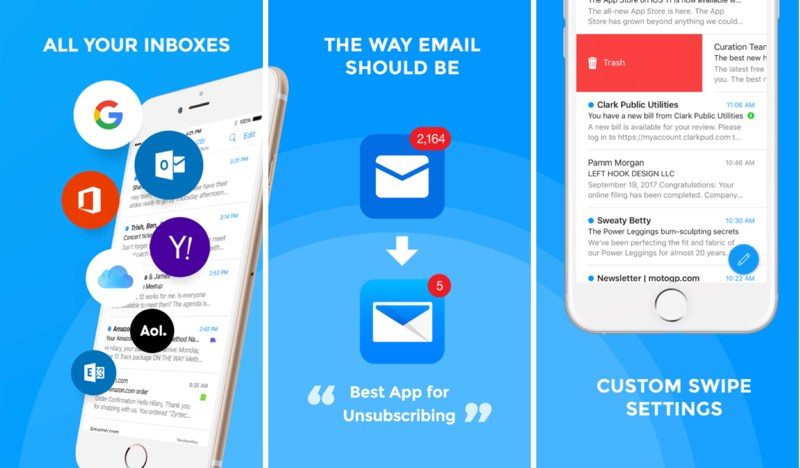 Email provides a clean and elegant user interface. It shows the important content in an attachment. You can interact with the mail without even opening it. It is very fast and also features an assistant.
You can unsubscribe from unwanted emails hassle free. Moreover, you also get personalized notifications.
[googleplay url="https://play.google.com/store/apps/details?id=com.easilydo.mail"]