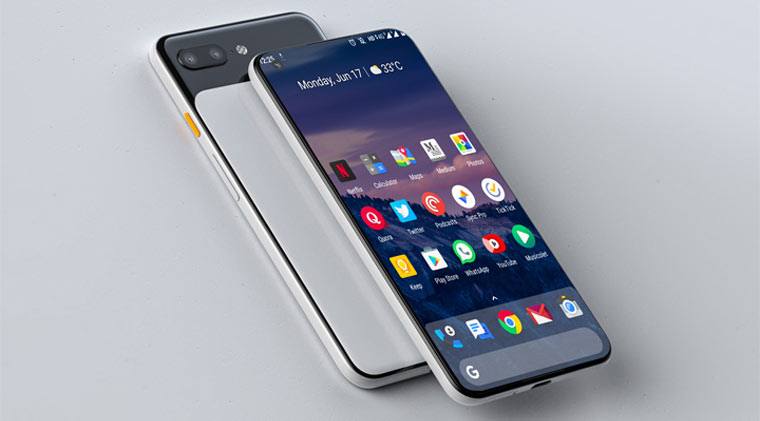 Big smartphones are really great when it comes to viewability experience but sometimes it is really hard to access frequently used options. Well, there is always a workaround for every problem on Android. Today, I have come with some of the best apps for big-screen phones that will make doing things easier.
Over the last few years, smartphones have gotten bigger. A phone with 5.5 inches to 6.5 inches is the norm, no matter what the price segment is. And, as more and more people move their computing needs from desktops to smartphones, having a bigger screen makes much more sense. But, that's not everybody. A large segment of users still prefers a smaller smartphone over a phone with a big screen as smaller phones are easy to operate. Yet, companies keep producing giant smartphones month after month. Seriously, if you check the smartphone market right now, you will scarcely find a smartphone that is below 5.5 inches, sports amazing specifications and is economical in price. Do not forget to our deep analysis of smartphone display and touchscreen technology.
To tackle the problem of large screens a few OEMs have come with their respective solutions in the form of software features. The two most common one being reachability mode on iOS and the One UI on the latest Samsung devices. Now, if you don't have an iPhone/ a Samsung smartphone or giant hands; chances are you face trouble in operating your smartphone. If that's the case, here are some of the best Android apps for big-screen phones that can make this task easier for you.
Best Android Apps for Big-Screen Phones
Without much ado, let's check out the 3 best Android apps for big-screen phones one by one.
Bottom Quick Settings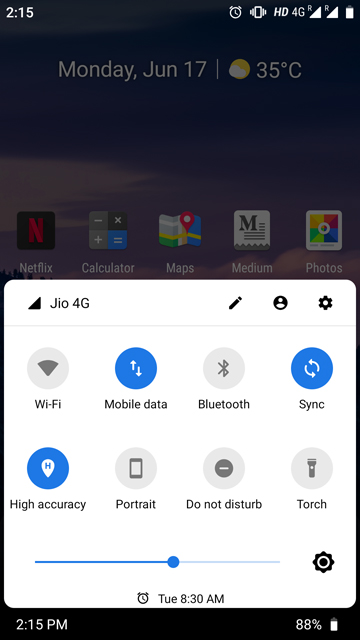 The biggest issue that I've seen people face with the big screen is reaching the top of the screen in order to scroll down the quick settings and notification panel. The perfect solution to this issue is to use a third party app that replicates the quick settings panel at the bottom. And, the best app that performs this exact activity with finesse is called Bottom Quick Settings. Aptly named, isn't it? It's one of the best apps for big-screen phones because you don't have reach out to the top edge of the screen to access the Quick settings panel.
The first thing to do after installing Bottom Quick Settings is to grant it some permissions like drawing over other apps, modify settings, and accessibility service. Nothing to worry about here as all of this is necessary for the app to work smoothly. Next, you will have to turn the toggle next to "Service running" on that is on the main screen of the app. And, now the app is in action. Next comes customizing the app.
Don't Miss: 25 Hidden Android Tricks, Settings You Must Check Out
The app comes with a bunch of customizations that allow you to modify the app according to your requirements. For instance, you can change the width, height, position (bottom, left, and right), number of rows, number of columns, corner radius, panel padding, and a lot more.
Although the app is free to use, there are some extra features that require you to buy the premium version of this app. If you go for the premium version, you will get access to features like showing notifications in the panel, customizing the tiles, adding apps, URLs, and shortcuts in the panel, along with a bunch of theme options.
You can get the premium version of Bottom Quick Settings via In-App Purchase and it costs only a dollar.
[googleplay url="https://play.google.com/store/apps/details?id=com.tombayley.bottomquicksettings"]
Full-Screen Gestures
With phones becoming all screen these days, gestures have quickly become the modern way of navigation. Gestures can also be used to solve the problem of accessibility and reachability of big screen smartphones.
Full-Screen Gestures is my favorite app in this list and it's the one that I use every day. It's extremely easy to install it and set it up. All you have to do is grant necessary permissions for it to work properly. Once done, you can begin customizing it. The app offers actionable gestures on three edges of the smartphone (left, right, and bottom). Each edge can be assigned only one action; except the bottom one. You can assign up to three actions to the bottom edge.
Full-Screen Gestures offers a lot of actions. Some of them are activating Google assistant, capturing screenshots, locking the screen, etc. You can also assign apps instead of shortcuts. You know, whatever suits you.
The cool thing about this app is that you can assign different actions to the different length of swipes. What this means is that you can assign one action to a short swipe and a different action to a longer swipe. The usability of Full-Screen Gestures made me include it in my list of the best Android apps for big-screen phones.
Full-Screen Gestures is free to install from the Google Play Store but it shows ads while using. In order to remove the ads, you will have to make an In-App Purchase of $2.oo.
[googleplay url="https://play.google.com/store/apps/details?id=com.agooday.fullscreengestures"]
Reachability Cursor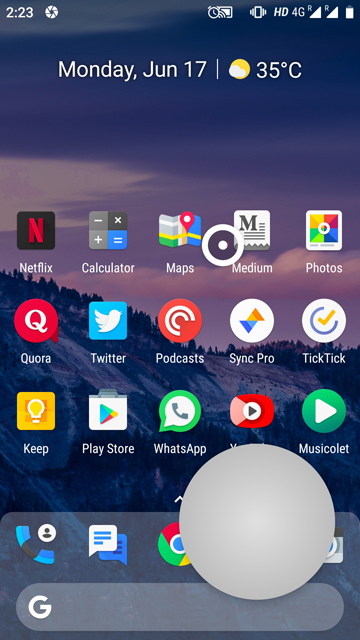 This is the ultimate solution for big-screen phone problems. Setting up the Reachability cursor app is pretty straightforward. Just install it, grant it accessibility permission, enable the trigger (left or right edge swipe), and you are good to go.
Whenever you swipe inwards from the left or right edge, a cursor and a control pad will appear on the screen. You can use the controller to move the cursor around. Just hover your cursor to the desired area on the screen and tap on the controller to replicate a normal tap on the screen. Once the action is completed (like clicking an app o open it or clicking at the top of the screen to scroll the quick settings panel down), both the cursor and the controller will disappear from the screen.
[googleplay url="https://play.google.com/store/apps/details?id=com.niftyui.reachability"]
So, how do you like the apps for big-screen phones mentioned in this article? Are there any other apps that solve such problem and you prefer over these apps? Lastly, what are your thoughts on smartphones getting bigger and bigger? Tell us what you think in the comments below.
Read next: Get Edge Lighting Border Around Screen on Any Android