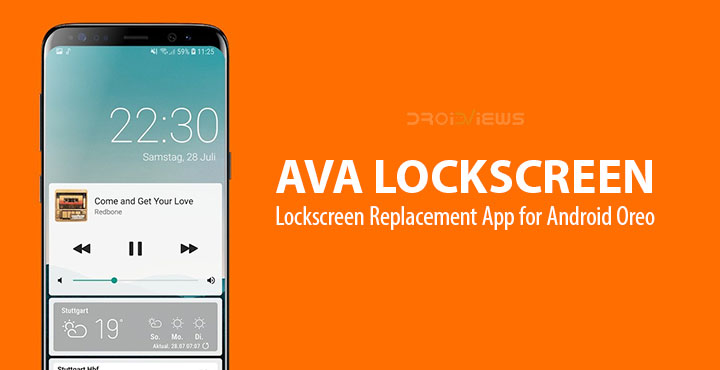 Remember those early days of Android when you were just discovering things out and thought Go Launcher was the best? If you do, you'll also remember the amazing lockscreen replacement app from the same devs. There were almost as many lockscreen apps on the Play Store as Home screen apps (Launchers). Even Microsoft jumped in with the Next Lock screen. Most of these apps drew over the system UI in order to replace the lock screen. Starting with Android 8.0 oreo, Google blocked most lockscreen apps as well as any other apps that worked by drawing over the system UI. As such, Ava Lockscreen is the first lockscreen replacement app in quite a while to land on the Google Play Store.
From the developer of Floatify, Ava brings widgets back to the Android lockscreen and also adds notification replies. Even if you weren't around since the days of Android Gingerbread, you probably remember Android 4.2 Jellybean and the short-lived glory of lockscreen widgets. They were so popular that apps like DashClock Widget were almost as popular as Nova Launcher. Lockscreen widgets did not make it very far and the only solution after that was to entirely replace the default lock screen with a third-party lock screen which does support widgets. Now that many lockscreen apps don't exactly work with Android Oreo, Ava Lockscreen is a breath of fresh air.
Install Ava Lockscreen
[googleplay url = "https://play.google.com/store/apps/details?id=com.jamworks.alpha"]
Useful tip: 5 Ways to Read WhatsApp Messages without Alerting the Sender
Features
Ava lockscreen has a lot going for it and all of that starts with the unlocking methods. Features are one thing but a lockscreen also needs to be convenient. Apart from the usual PIN, pattern, etc. Ava works with all biometric unlock methods available on Android devices. These include not only Fingerprint scanners but also Face unlock or Iris scanners whatever hardware your device boasts of. Clearly, convenience isn't an issue so we can look towards the features because that's the whole point in replacing something that already works pretty fine.
Custom wallpaper / live wallpaper
Blurred wallpaper
Custom shortcuts
Lockscreen widgets
Send direct replies
Different notification themes
Smart notification grouping
Wake screen on notifications
Runs on Android security (Fingerprint, pin, pattern..)
No annoying ads!
How well does Ava Lockscreen work?
Like most third-party apps that replace a system app or feature, Ava Lockscreen has its limitations in terms of integration with the OS. Ava still manages to impress and it actually integrates better than most lockscreen replacements I've used. Unlike the actual Android lockscreen, Ava doesn't have any security features built-in. It depends on the Android lock screen for that. This means to enter your PIN, password, unlock with your face, fingerprint, etc. first you have to swipe up on the lockscreen. This brings forth your device's actual lockscreen which then handles the PIN, pattern, fingerprint or whatever you have set up. Nothing works until you swipe up on the lockscreen first. It's a compromise and an extra step but some people might find the added functionality makes up for it.
One of the most exciting of those functionalities are the widgets. Apart from the music widget, every other widget that you add gets its own space unlike the implementation of earlier versions of Android. Meaning there's a separate lockscreen page for widgets which can be accessed with a right swipe on the lockscreen. Also unlike lockscreen widgets on Android Jellybean to KitKat, widgets don't have to compatible with Ava and just about any widget that works on a third-party launcher will work with Ava. There's no "Add widget" button on the lockscreen so any widget you want to add will have to be added using the Ava Lockscreen app.
You may also like: Elixir 2: A Powerful System Information App for Android
Speaking of the app, when you launch it for the first time it guides you through the setup process. The process is fairly simple and there's not much to discuss. On the app's main page, you can select between the Lockscreen, Notifications, and Widgets if you're looking to customize your lockscreen. Widgets is where you can add the widgets you want on your lockscreen.
Ava lockscreen pro
Most of the fancy features we've talked about above aren't really very useful if you don't end up buying the full version for more than $2.99 (₹190). For instance, you cannot add more than two widgets with the free version. Not only that, the free version doesn't even show the music widget when music is playing. Similarly, you'll need the pro version if you want to change the wallpaper, add more than one shortcuts, change clock settings, etc.
Don't miss: 5 Best GIF Creator Apps for Android