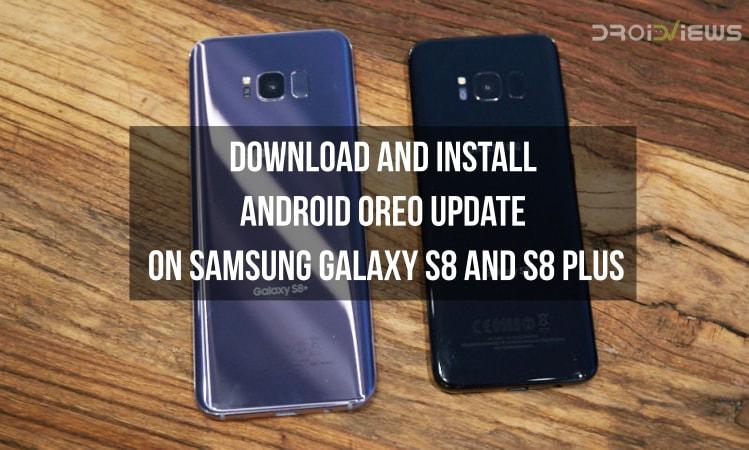 Samsung released the latest flagship smartphones from the company in the beginning of last year which were also the latest smartphones from Samsung in the Galaxy S series after the launch of the Galaxy S7 and S7 Edge in 2016. These smartphones were the Galaxy S8 and the Galaxy S8 Plus which were the latest smartphones in the flagship Galaxy S series from Samsung which has become massively popular from the company after each passing year. Also, we have seen that the Galaxy S8 and the S8 Plus have been very successful in most of the international markets including its home country, South Korea.
Now, we also know that all the Samsung smartphones that have been released till date come with the custom skin of Android developed by Samsung in-house which has been named as TouchWiz UI. Recently, Samsung introduced a new version of its TouchWiz UI which has been named as Samsung Experience and this version is the lighter version of TouchWiz as the company felt that the TouchWiz UI was a bit heavy. Now, it is also understood that the smartphones were released with the latest version of Android available at the time of launch which was Android Nougat.
The Samsung Galaxy S8 and the S8 Plus come with a difference in screen size where the S8 Plus has a larger display than its younger sibling. Apart from that, both the smartphone come with Snapdragon's latest flagship processor, Snapdragon 835 processor. Also, we have known that Android Oreo, successor to Android Nougat, was released by Google recently and the Samsung Galaxy S8 was remaining to get the latest update
We also know that the beta version of Android Oreo for Galaxy S8 and S8 Plus was released by Samsung earlier for its beta testers. Now, Samsung has rolled out the official version of Android Oreo for the Galaxy S8 and S8 Plus. This update installs Android 8.0 Oreo on both the smartphones. Apart from that, this update installs Samsung Experience 9.0 on the smartphones, the latest version of Samsung's custom skin. Also, this update installs the latest February security patch on both the devices.
Now, if you are one of the users of the Galaxy S8 and S8 Plus and you want to install this latest update on your smartphone then you can head below to follow the complete tutorial to install the update on your smartphone. Note that this tutorial only works on the Exynos variant of the Galaxy S8 and S8 Plus and this should not be tried on Snapdragon variants of Galaxy S8/S8 Plus.
Prerequisites
First of all, you need to download Odin3 v3.13.1 which is the official tool from Samsung to install updates on Samsung smartphones onto your PC/Laptop.
Enable USB debugging on your Galaxy S8.
Make sure to have at least 50% battery or more to proceed with this installation on your Galaxy S8 and S8 Plus.
We recommend you to take a backup of important data on your smartphone before beginning the update installation process
You need to have an SD card on your device to continue with the process of installing this update
Download Oreo Firmware for Galaxy S8/S8 Plus
The firmwares listed below are only for the single-SIM models of the Samsung Galaxy S8 and Galaxy S8 Plus but they will also work for the dual-SIM models SM-G950FD and SM-G955FD.
Samsung Galaxy S8 SM-G950FD
Nordic Countries (NEE): G950FXXU1CRAP
Spain (PHE): G950FXXU1CRAP
Germany (DBT): G950FXXU1CRAP
France (XEF): G950FXXU1CRAP
Turkey (TUR): G950FXXU1CRAP
Poland (XEO): G950FXXU1CRAP
Samsung Galaxy S8 Plus SM-G955FD
Nordic Countries (NEE): G955FXXU1CRAP
Spain (PHE): G955FXXU1CRAP
Germany (DBT): G955FXXU1CRAP
France (XEF): G955FXXU1CRAP
Turkey (TUR): G955FXXU1CRAP
Poland (XEO): G955FXXU1CRAP
United Arab Emirates (XSG): G955FXXU1CRAP
Note:
If you having issues installing the Android 8.0 stock Oreo firmware on your Samsung Galaxy S8 or S8 Plus, please follow this tutorial to fix it.
Steps to install Android Oreo update on Samsung Galaxy S8 and S8 Plus
Before beginning the installation process, check your device's model number and make sure you have G950F or G955F for Samsung Galaxy S8 and S8 Plus respectively. If you have any other variant, do not proceed any further as this will not be compatible on your device
After this, you need to download and install ODIN v3.12.10.zip from the link mentioned in Prerequisites section and open the ODIN application on your PC
After this, reboot your smartphone in download mode by long pressing Bixby+Volume Down+Power button.
Once in download mode, connect your phone to PC via USB cable and make sure that ODIN application is open on your computer.
Inside ODIN, you will see 4 section named as BL, AP, CP and CSC as seen from the screenshot attached below.

odin3.12.5

Now, extract the file downloaded from Downloads section available for the Galaxy S8 or S8 Plus on your PC according to your region and open the folder where you will see respective files starting with BL, AP, CP, and CSC. Now, click on the 4 buttons in ODIN and select the appropriate files from the extracted file downloaded from the Downloads section.
After this, click on Start button inside ODIN as seen from the above screenshot once all the files have been added.
Now, wait for your device to flash the firmware.
After this, you need to reboot your phone and you will have Android Oreo update installed on both the Galaxy S8 and S8 Plus.
Follow the steps mentioned in the above tutorial properly and mention any of your queries in the comments section below in order to get them solved.