When first I was asked to write about this title I was a bit confused as what it really meant. So I kept on researching for hours and hours in hunt of some valuable information to sort the apps into the top 5 categories. So, here I'm ready to deliver to you the valuable information you just came looking for.
Now, many of us love to tune into the radio at some point of the day. Music has always touched the heart of many people. We all at some point in our life remember a music or just a part of the lyrics but couldn't remember the song. Well, I'm glad to tell that there are a few handful of apps which have given a perfect solution of this problem. This review is all about the apps who truly serve their purpose of music recognition.
SoundHound
SoundHound is the most popular music recognition app with over 50 million downloads. The app features quick sound recognition, hands-free mode ("Ok Hound"..), live lyrics and videos. The flexibility of this app has made it so much popular. This app can identify music even if someone sings or hums it. So, there isn't any need to remember the lyrics just a little humming will do the trick.
SoundHound also has its own widget which removes the hassle of using the app every time to search for a music. The ability to share the song with friends makes this app even more irresistible. This app also has a paid version named SoundHound∞.
These apps have their own playlists, daily and weekly updates and an organized playlist to choose and move on. This app has been honored many times by some well-known newspapers and blogs. Trust me this is the music recognition app you're probably looking for.
Shazam
Next on the list is Shazam because of it's easy to use user interface. The interface is clean and blue. This app also has hot word feature ("Ok Google, Shazam This Song"..). New songs are added daily. For searching a song place it near an audio device and the app will identify the song in seconds. However, the app will give you a preview of that song and then will take you to the site where you can buy that song.
Like, SoundHound this app also allows you to share songs on facebook and twitter. This is an app for those who want perfect identification of music. If you like this app there is a paid version which is worth checking out. Even the extreme difficult songs(Sway by Antonio Nasca on Volare..in swing 2006) were identified within seconds. That's why they say, Let's Shazam.
Musixmatch
Despite being a lyrics app Musixmatch music recognition feature is beyond praise. In general and moderate testing this app shows no sign of failure or lag. The app also allows users to play songs from their device and plays floating lyrics along with it in real-time.
Musixmatch surely has some interesting features to look upon. This is generally used with Spotify for lyrics based purposes but serves much more than that if used as a music recognition app. Try it, you will feel the difference.
MusicID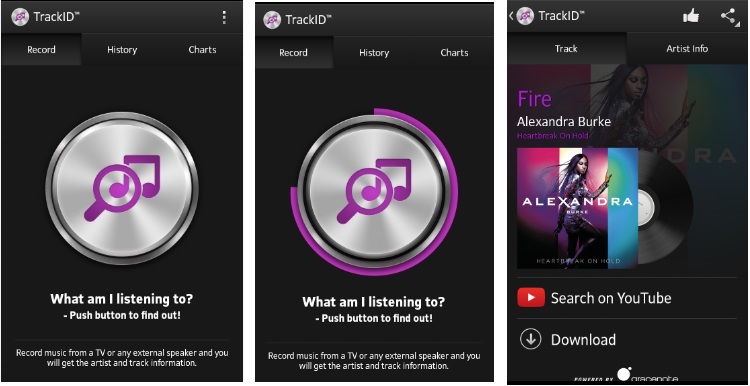 Music recognition feels so good with this app. This app can instantly identify music however not so accurately. We tested a few songs which were easily identified by the above three apps but this one didn't do so well. The app supports more than 60 languages and allows exploring artists biographies and a few sneak peeks to ear-catching tunes. The songs can be added to Spotify's playlist, even downloaded or be watched on Youtube.
The app has an offline mode and a MusicID chart to check out the top hit songs. With this app, sharing is allowed both on Facebook as well as WhatsApp. Some features like the hands-free mode are still lacking.
SoundCloud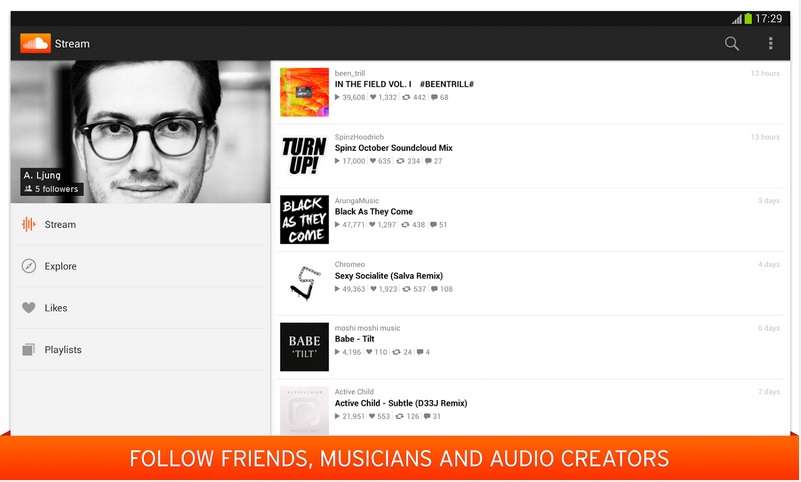 Last but not the least is SoundCloud. I know most people would say that this isn't a music recognition app. That's true, I know this ain't. Nut the reason this app is here is because of its rich and different varieties. The app has almost everything, jazz, pop, electronic, classical, audio books and so on.
SoudCloud currently possesses over 135 million songs to search through which made this app so unique and a must have on our list. Search experience is n't that great but with the help of a few keywords, one might find what he is looking for. This app also has a creator feature (SoundCloud Pulse) which allows one to create music and podcasts and upload to SoudCloud.
All the apps mentioned above are great and can blend into your daily use of music recognition. However, the combination of any of these apps with Musixmatch will bring out the most out of these apps. So, if you think I have missed any app that should have been found a place in our list, please let us know in the comments section below.
Editor's Picks for You