Different people have different ways of listening music – some use music streaming services and some keep a list of their favourite songs on their smartphones. I belong to the latter category. If you too fit in it then you'll like Stellio a lot.
Local music players, like Stellio, not only help you in managing your music collection but also make sure you get the best experience while listening favourite songs.
When it comes to managing music Stellio has everything one can expect from a music player be it free or paid.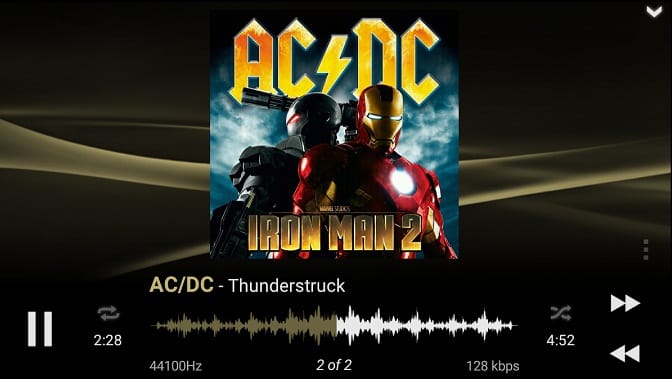 I'll begin with how it looks as that is the only thing which I did not like about it. I won't say it has the best design because it just does not. However, that doesn't mean it's ugly. The default theme is a bit dull for my taste and you may like it. It's a good thing that it offers two different themes (flat and material) which can be downloaded from Google play store.
Upon the first launch, it will load all your songs which was done pretty fast. I have around 450+ songs and it took merely 3-4 seconds to completely load it. The main page contains all of your songs along with artist name and song duration. Pull down from this page to refresh your songs list.
Swipe to right to access the sidebar which contains quick links to albums, artists, genre, playlist, folders, equalizer, and app settings. What I want to say is that it has everything that an average user looks for in a music player.
The equalizer that comes with Stellio is powerful. I'm not even embarrassed in admitting that I could not understand or use this equalizer properly. It is for those advanced users who want complete control over their equalizer. For basic and average users it has some built-in equalizer presets like flat, rock, electro, rap, pop, and a few more. I am happy with these presets and did not felt like creating new ones.
From app settings you can access options like a sleep timer, crossfade, themes, etc.. It also has two plugins for Dropbox and VKontakete. Power-saving mode, when enabled, turns off animations and automatic cover download to reduce some battery drain. Features like lock screen and notification controls are also given. Notification controls can be customized i.e. colours of background and texts can be changed.
It has almost all functions that one can expect from a music player be it an average or advanced user. I didn't manage to find any negative point about it. It is perfect. However, there is a catch. Stellio comes as a ten days demo option. After ten days, you have to spend around Rs. 40 (which is less than a dollar) to keep using it.
Do check out Stellio once. You'll love it for sure. It's not even expensive if you feel like buying it. Do let us know your experience with it in the comments section below!
Update: The app is not available anymore. You can try these music apps instead.