The word "Keylogger" might be something very complex for many users. This article will tell you all about keylogger along with the top 10 best keyloggers for Android without root. Now, before we head straight into the article, you must understand what is a keylogger. Moreover, you should also know how it may help you.
What is Keylogger?
You can understand keylogger in a very simple way. Just reverse the word keylogger and divide them. It will become, "logger" + "key". Now, you may be able to get a little bit of sense what it is. Keylogger is a very crucial app tool with which you can find out all the buttons pressed in a target device.
Moreover, it can also be used as a spy tool. You can install the keylogger app on someone else's phone and get info about passwords, debit/credit card, etc. Besides, an Android keylogger lets you hack anyone's smartphone. Anything that is typed on the device can be recorded and viewed later.
How to Choose a Good Keylogger
Now as this app is very crucial and can be used for spying (by anyone) so, there are some criteria to choose the best keylogger. Moreover, you should be able to use keylogger very easily. Let us take a look at the criteria for choosing the best keylogger;
Installation: A keylogger being a crucial spying app must be very easy to install. Moreover, you should be able to install it remotely without the need to be present near the target device.
Stealth: Keylogger must not be detected by any means. It should work smoothly and as discreet as possible. The app must not get detected on the target device.
Functionality: Different keyloggers have different functionality. Some have limited functions and some have more. You should use the keylogger according to your preferences.
Ease of Use: The instructions and features on the keylogger should be easy. Besides, it should be easy for you to understand how it works.
Don't Miss: 10 Best Gallery Apps for Android in 2019
Best Keyloggers for Android (No Root)
In this article, I have compiled a list of 5 best Android Keyloggers that can run without root privilege on your device. Let us get in the details of each of them one-by-one.
1. Cocospy Keylogger
Cocospy is one of the best keyloggers available for Android. You should be using a well-reputed keylogger if you want to spy on someone. Moreover, you do not need to root the target device in order for this keylogger to work. You just have to install the app on the target device and hide the icon within the app. After which this app will work in stealth mode.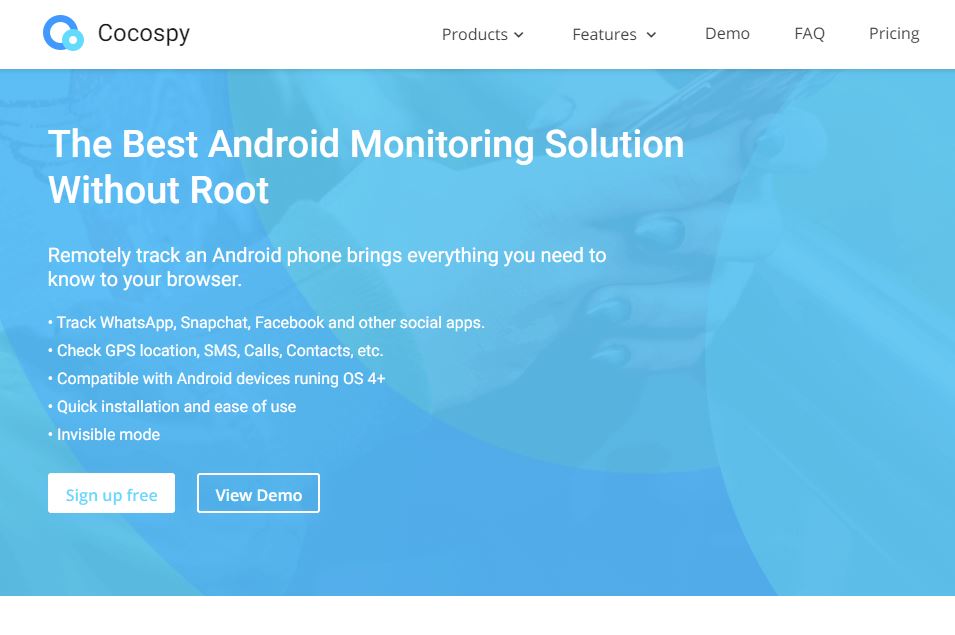 Besides, Cocospy keylogger has many features. It offers the user to keylogging, social media tracking, SMS spy, track calls, track photos/videos, and GPS tracking. With the keylogging, you can easily get information about any button that has been pressed on the target device.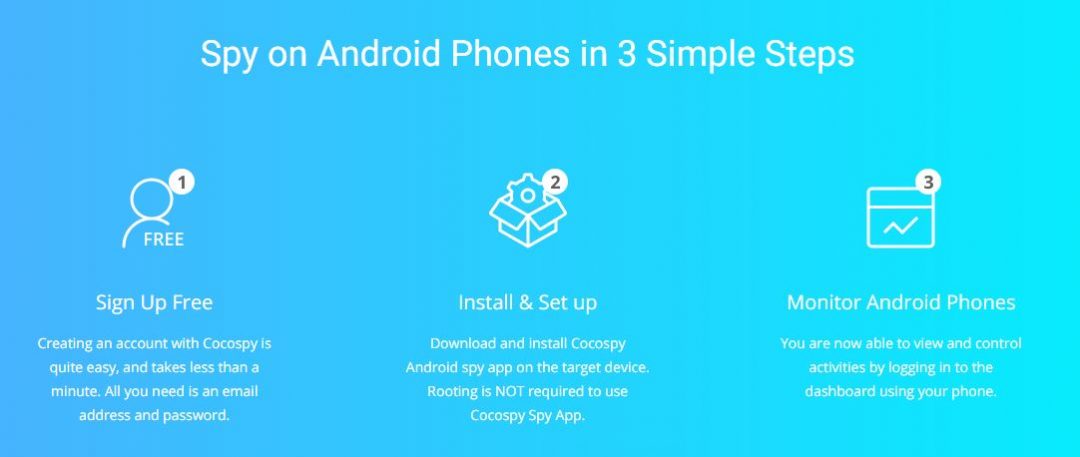 Social media tracking helps you to get all the information about the target's social media accounts. GPS tracking is useful in many situations. You can use this to track your kids, wife or someone beloved. Besides, Cocospy gives you real-time GPS tracking.
Website: Cocospy
2. mSpy Keylogger
mSpy keylogger is another best one on the list. This gives you advanced features to take control of the target device. The main features of the app include keystrokes tracking (even if it is cleared), track text messages, browser history, and Social media apps.
Moreover, you can extend your tracking over to Windows PC/laptops. You can buy this keylogger for $69.99/month. It is expensive than Cocospy but the features are almost similar. Moreover, you can track real-time GPS, and almost every social media apps can be monitored.
Website: mSpy
Must Read: XNSPY, the Mobile Spy App You've Been Hearing About
3. Spyzie
Spyzie is one of the best and affordable keyloggers available. It has an easy to use interface. Moreover, you can use this app like all other keyloggers without rooting the target device. You can use this for Android keylogging, tracking call logs, GPS tracking, and more.
Besides this, you can also use this keylogger to spy on photos/videos of the target user, browser history, and text or notes. It supports Android devices that are running Android OS 4.0 or above. You just have to install the app on the target device and delete the icon. And, you are good to go. It costs you $39.99 for a monthly license and $49.99 for three months access.
Website: Spyzie
4. Hoverwatch Keylogger
Most of you might be wondering if there is a free keylogger in this list or not. Hoverwatch is the best keyloggers for Android that available for free that you can use to spy on another device. you just have to purchase a license for how many devices you want to track. It is also a reliable keylogger like other apps on this list.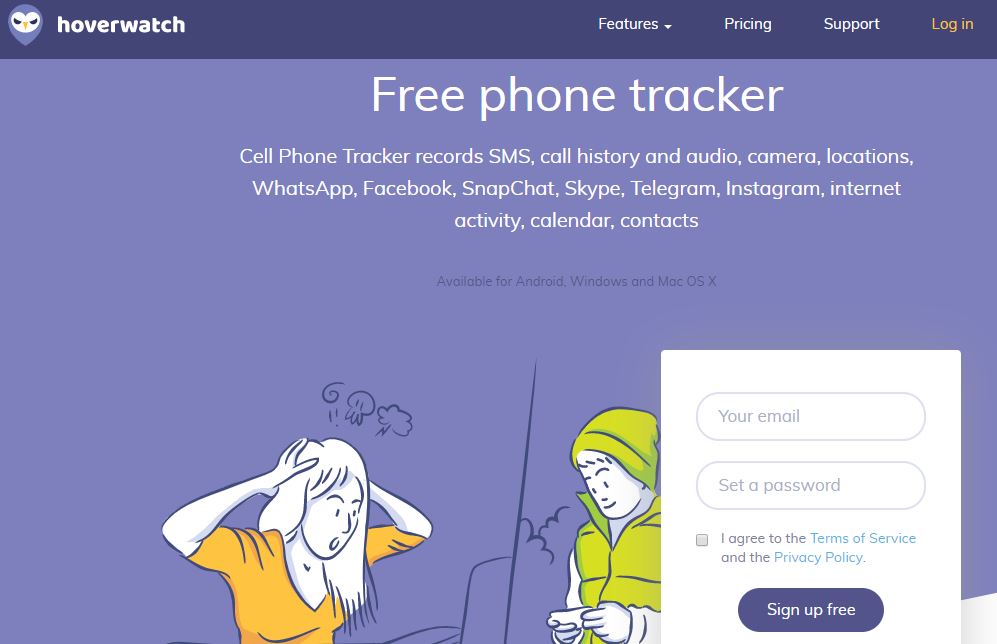 Moreover, you can track social media, call recording, GPS tracking and more. Hoverwatch is an invisible keylogger and does not require root to work. Overall a great keylogger app to spy on someone. You can also take a photo of the target user. Every time the target device is unlocked, this keylogger takes a photo of the user. It uses the front camera for this operation.
Moreover, you can continue to track the device even if the sim card has been changed. The list keeps on increasing as it also lets you track the to-do list of the target. This keylogger app takes periodic screenshots so to track for what purpose the device was used most for. Hoverwatch is definitely is one of the best keyloggers for Android devices.
Website: Hoverwatch
Editor's Pick: 3 Best Event Organizers for Android
5. Flexispy
Flexispy is one of the best and powerful keyloggers for monitoring and tracking. However, for using the advanced features of this keylogger, you have to pay a good price. It is the most expensive keylogger out there. But, it is more reliable than any other keyloggers as well.
It offers you call recording, call interception, keylogging, social media monitoring and more. With the call interception feature, you can listen to the conversations in real-time. But, there is a big downside to use this app. Other features include managing installed apps, view media, manage internet usage, listen to the environment, etc.
You need to have the target device rooted in order for this app to work. Moreover, you also need to physically install the app on the target device. The two are the reason that I have put this device at the bottom of the list.
Website: Flexispy
Conclusion
There are other keyloggers available on the internet. But, the ones listed above are the best keyloggers for android that are reliable and offer amazing features. You should also keep in mind that spying on someone is a punishable offense if the intentions are wrong. You should also choose keyloggers according to your needs and requirements. let us know in the comments section if you used any of the above-listed keyloggers.