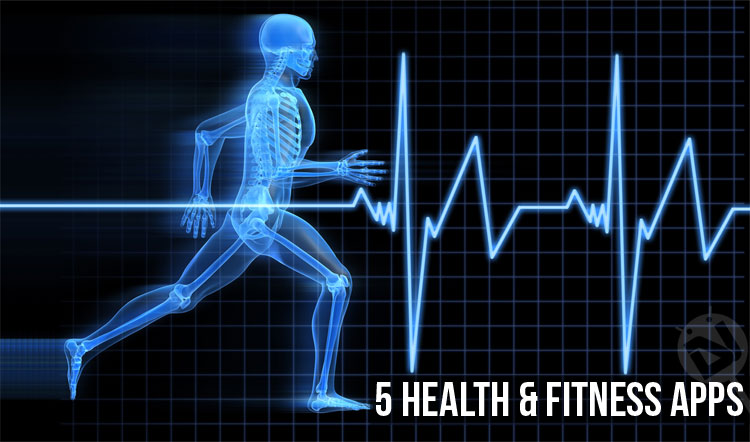 When you are in your early 20s it's very important to workout and avoid junk food as much as possible. You may feel energetic now but that won't be the case as you grow old. However, continuous workouts and healthy eating habits will keep you energetic 20 years down the road. And, to stay healthy you don't even have to go to the gym regularly; you can just do some basic physical activity at your home. Here are 5 apps that will help you stay fit and active without going to the gym.
7 Minute Workout
7 Minute Workout is, well, exactly like it sounds. Now, if you don't have time to go to the gym every day, then following the 7 minute workout is the best thing you can do to make sure your body gets the required physical movement. The app is based on the activities as specified in High-Intensity Interval Training.
The good thing about this whole 7 minute workout routine is that you really don't need any equipment, other than the ones which are available at your home.
You should also read: 3 Android Apps to Help You Sleep Better
At first, working out every day, even for just 7 minutes will feel like a drag. In order to keep you motivated, the developers have tried to follow the gamification approach i.e. just like in a video game, you start with 3 lives. If you skip a day, you lose a life. Miss three workouts in a month and the game is over. Whatever progress you've done resets to zero. Other than that, you can also unlock some achievements, earn rewards and health-related giveaways, set up daily reminders, etc. The only thing to keep in mind is to be regular.
[googleplay url="https://play.google.com/store/apps/details?id=com.popularapp.sevenmins"/]
Runtastic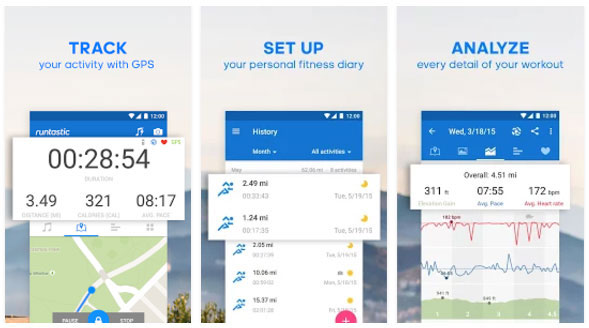 Running is the best exercise you can do that impacts your whole body at once. And, the best app to track your run is Runtastic. I've used this app for more than 2 years – on and off. Now, you may wonder why one should track their run? For me, the main reason to track my runs is motivation. I mean, waking up at 5 in the morning every day to run 4-5 kilometers require motivation. Runtastic tells me how many kilometers I covered and in what time. The thought of covering the same distance next day in less time is all the motivation I need to wake up early. Plus, you know, you stay healthy and energized.
[googleplay url="https://play.google.com/store/apps/details?id=com.runtastic.android"/]
MyFitnessPal
You must know that staying healthy is a two step process – 1. Exercise 2. Diet. While the above-mentioned apps focus on physical workouts, MyFitnessPal is a must have for making sure that what you are eating is actually good for you. I've been using this app for more than 2 years now and it's just amazing.
Don't miss: 5 Must-Have Utility Apps for Android
First, you have to setup your profile by inputting basic information about yourself like your age, height, current weight, and target weight. On the basis of that information, it will form a daily calorie intake for you. Just make sure that you form the habit of logging in everything you eat and stick by the amount of calorie you require each day.
[googleplay url="https://play.google.com/store/apps/details?id=com.myfitnesspal.android"/]
Water Drink Reminder
Experts say that an average human being must consume at least 8 glasses of water every day. Water is not only helpful for weight loss but it is also very good for your skin.
If you have a busy schedule to stick to, then you must often forget to consume the right amount of water. Hence, you need this amazing app called Water Drink Reminder that will remind you to drink water in a set interval of time.
Must read: Picking Best Fitness Trackers for Different Activities
The first thing to do upon installing the app is to enter your weight and the level of your daily physical activity, and it will calculate the amount of water that you need to consume every day in order to stay properly hydrated. Once the basics are fine, you can go to the settings and adjust options like the climate around you, the size of the cup or glass you'll be using for drinking water, time for reminders, etc.
[googleplay url="https://play.google.com/store/apps/details?id=com.northpark.drinkwater"/]
Twilight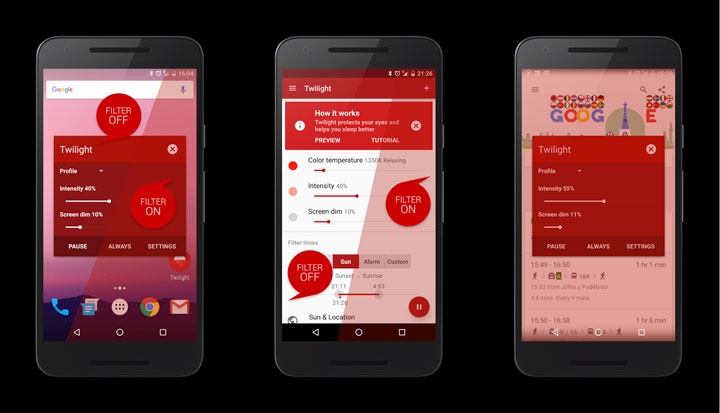 The importance of a blue light filter on digital screens can't be stressed enough. The blue lights emitting from your device's screen are harmful. Using your device before sleeping affects your sleeping pattern. It may lead to staying awake late at the night and waking up feeling dull and unenergized. And, when you are trying to live a healthy life, getting proper sleep is very important. That's why it's recommended to not stare at your smartphone or any other digital screen at least one hour before going to bed.
Related post: Top 5 Fitness Apps to Track Health Activities
Twilight is one of the best blue light filtering app for Android. Using this app will reduce the effect of blue light on your eyes and will help you get an effective sleep.
[googleplay url="https://play.google.com/store/apps/details?id=com.urbandroid.lux"/]
Except for 7 Minute Workout and Runtastic, I personally use all of the apps mentioned above on daily basis. And, trust me, once you move past that "developing the habit" phase, which is generally 21 days, using these services will become a basic daily activity.