The internet has been abuzz with countless mentions of 'Bitcoin wallets' on various online platforms for the last couple of years, but I am willing to bet that there is a sizable portion of the populace that still doesn't really know or understand what they really are. In this article, we list the best Bitcoin wallets out there right now. But first, let's briefly cover a few basics pertaining to Bitcoin.
What is Bitcoin?
Bitcoin is a digital currency that employs a decentralized technology for storing money and making secure and safe payments without needing names of banks or people involved.
Invented by an unknown programmer/group of programmers under the name Satoshi Nakamoto and subsequently released as an open-source software in 2009, Bitcoin can not only be used to make purchases with a number of online retailers but can also be used to send real money anywhere in the world!
What is a Bitcoin Wallet?
A Bitcoin wallet is a software program which stores the information necessary to transact bitcoins. It's the first step in using bitcoins. Although it's often said that a wallet stores bitcoins, but actually, a Bitcoin wallet stores 'private keys' (super-complex passwords that only digital systems can understand) that give its users access to bitcoins that can be used for monetary transactions. Think of a Bitcoin wallet as an interface that connects you to the Bitcoin network. Long story short, a Bitcoin wallet is an absolute must for you to be able to store, receive and spend bitcoins.
Bitcoin wallets are of a few types, including hardware wallets, desktop wallets, web wallets and mobile wallets. Now, let's take a look at some of the best Bitcoin wallets for Android right now.
Also read: Android 8.0 Oreo: 8 New Features to Get Excited About
The best Bitcoin wallets of 2017
MyCelium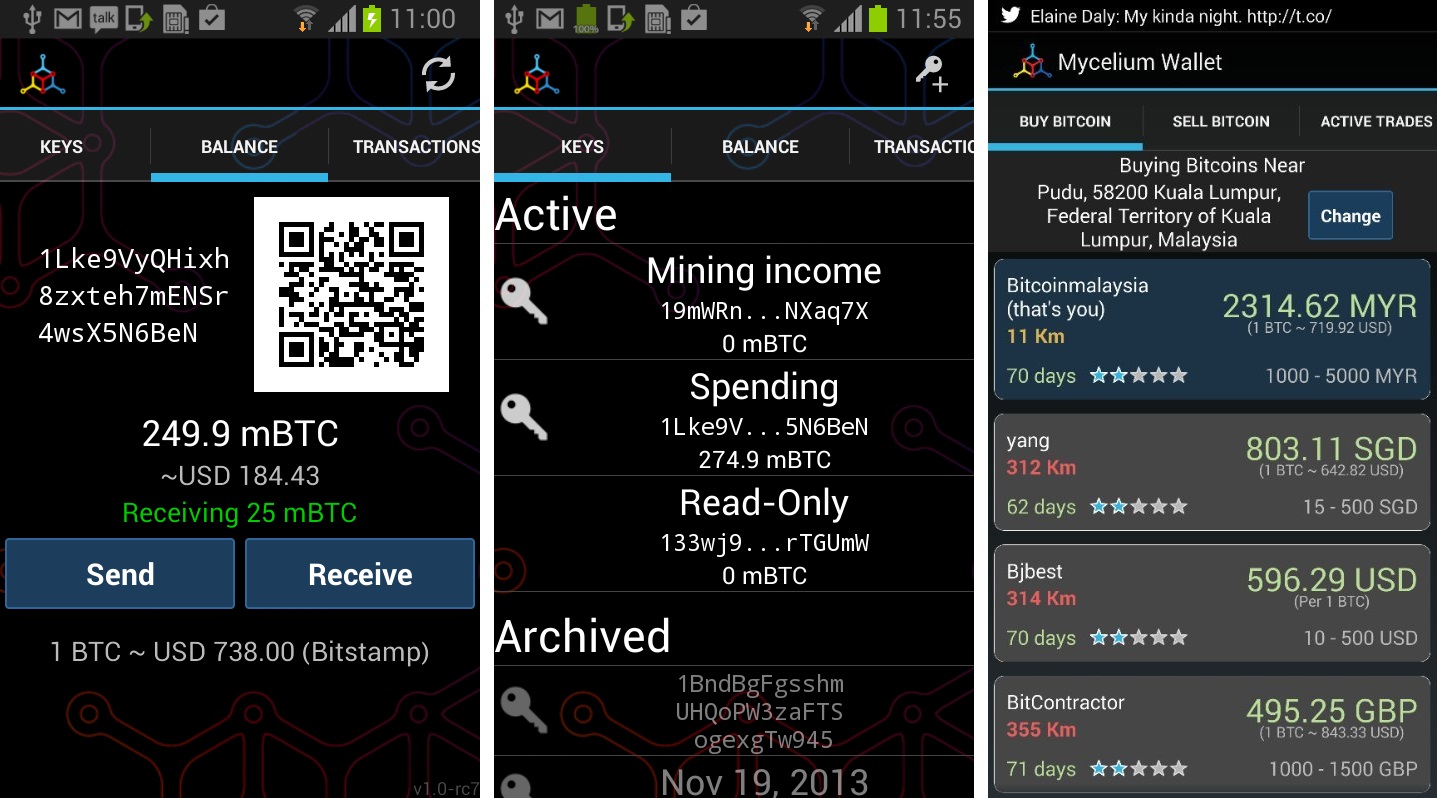 As of now, MyCelium is the most popular Bitcoin wallet for Android users. It is incredibly simple to use, lets you store your bitcoins, manage multiple accounts and create backups. Its wallet is HD enabled (Hierarchical Deterministic wallet), which means that it uses a 'master seed' to derive all future Bitcoin addresses sequentially and never reuses addresses. It also offers GPS-assisted local Bitcoin trading, which basically lets you see people who want to sell or buy bitcoins in your area.
Coinbase
Coinbase is a great Bitcoin app, especially for those who are new to the world of bitcoins and just want to get a hang of it. It boasts of a simple, easy-to-use interface which lets you convert bitcoins into good old dollars with the tap of a few buttons. One of the best things about Coinbase is that it employs an extensive, deep verification process when a user signs up, which affords it an air of legitimacy – a highly desirable trait in the world of cryptocurrency. However, it should be noted that Coinbase doesn't give you access to your own private keys.
Copay
If you want access to your Bitcoin wallet across multiple devices, then Copay is a neat option. The app securely stores distinct, multiple Bitcoin wallets, which allows privacy-conscious and business users to keep their funds appropriately segregated. In simple words, it means that on Copay, you can have multiple people sign off on every transaction. It also happens to be one of the first Bitcoin wallets to support the full Bitcoin Payment Protocol (BIP), a relatively recent payment protocol designed by its developers to improve the security of Bitcoin.
Don't miss: Secure Your Messages with Signal Private Messenger
Airbitz
If you use Bitcoin very frequently to make payments, then Airbitz is a great option. Its user interface is elegantly designed and simple to use and offers users to take control of their private keys with the simplicity of running an internet banking app. As a bonus, it comes with a host of plugins (Fold Integration, Bitrefill Integration etc.) that facilitates spending bitcoins. The app has also integrated broker service which facilitates offering Bitcoins for purchase in EUR or USD. All in all, Airbitz is a really innovative, admirable and ambitious Bitcoin wallet that offer a plethora of features wrapped up in a well-designed app.
Breadwallet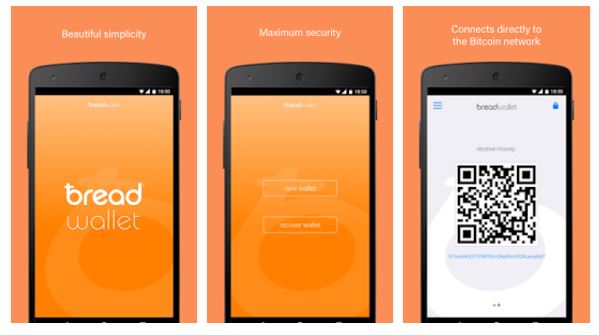 Breadwallet is arguably one of the simplest Bitcoin wallets to use on your Android phone. After seeing much success in its iOS version, Breadwallet has launched its Android app some time ago. It boasts of a few noteworthy features, like App sandboxing, built-in AES hardware encryption and one-button payments. It's available for users in no less than 19 languages. An important trait which stands it apart from other apps is that it offers a direct connection to the Bitcoin network, so there are no intermediary servers involved. While this app may not consist of some advanced features that pro Bitcoin users covet, it really comes highly recommended for beginners.
Must read: Which Android Launcher is Best for You?
It should be noted that when it comes to Bitcoin wallet apps for Android, there is no one-size-fits-all app; every user is different, and so are their requirements. So, it's best if you first understand your requirements thoroughly before you head to the Play Store and get yourself a nifty Bitcoin wallet.