Changing wallpapers is the quickest way to freshen up a dull device, and finding a good wallpaper is not a difficult task too. Just perform an image search on Google and you'll come up with tons of good wallpapers. But they are just good, and why settle for good when you can have better, right? It's 2017 and there is an app for everything including wallpapers. So instead of searching for them in the image searches or internet communities, just head to the Google Play Store and grab yourself one of the 4 awesome wallpaper apps we are about to mention.
Absolutely Wallpapers
Absolutely Wallpapers is a collection of 200+ wallpapers which are of very high quality (2K resolution) and are handpicked by the developer of the app. Hence, you can be assured that each wallpaper is beautiful and highly detailed. With this app, you can directly set the wallpaper on your home screen or download it on your device. You can also crop the wallpaper right within the app. If you are running Android Nougat, the app also supports setting different wallpapers for the home screen and lock screen.
Don't miss: 4 Awesome Wallpaper Apps for Android [#5]
Wallify – 4k, HD Wallpapers & Backgrounds
Wallify is a mobile client for the website of the same name. Via this app, you can browse all the amazing images saved on the website and set them as your smartphone's wallpaper. Some of the features include – availability of HD, QHD, and 4K wallpapers, wallpaper search, filtering, pinch to zoom, share, etc.
PureEarth Wallpapers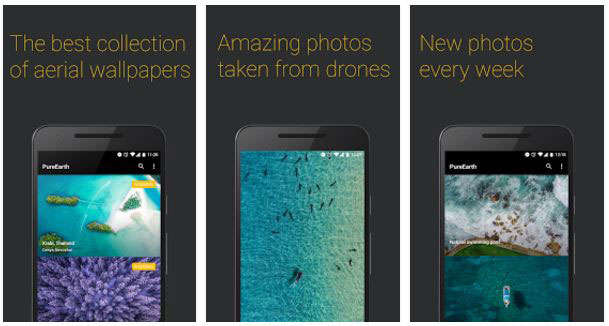 PureEarth Wallpapers, as the name suggests, offers wonderful wallpapers from our planet, just like Google earth wallpapers. It hosts a bunch of amazing aerial images taken from drones. New photos are added every week in the database. You can edit the images before setting them as your device's wallpaper within the app. You can also submit your own images for others to see and use.
Also check out: 4 Awesome Wallpaper Apps for Android [#4]
PureEarth is completely free to download and does not show any ads. However, it does offer in-app purchase in the form of donations.
Wallpapers by Sublime Stills
Wallpapers by Sublime Stills is a wallpaper discovery app that shows you tons of high-quality wallpapers from Unspalsh.com. Upon installing the app, you'll be asked to pick a few collections (patterns, black and white, textures, etc.) to get started. After that, you'll be shown wallpapers from your selection only.
Must read: 4 Awesome Wallpaper Apps for Android [#2]
The app has a clean and minimal UI and is easy to browse. Although it has lots of awesome wallpapers, you cannot download them on your device. But, you can set them as your device's wallpaper from the app itself.