Did you know that more videos are watched on mobile devices than on desktops? That has been the case ever since mid-2016, and the share of mobile views just keeps increasing. If you love watching videos on your phone, here are 3 ways to edit and optimize videos easily.
If you're creating videos or distributing them, you need to take into account this fact and edit and optimize your videos so that they are suitable for mobile devices. That can take several forms, and there are a few ways that you can start to go about it:
Make sure all the text is big
One of the main problems that some videos face when they are viewed on mobile devices is that the text size was based on the assumption that it would be watched on a desktop screen. Because mobile screens are significantly smaller, it can be difficult to make out the text – or in some cases, it may be entirely unreadable.
If your video includes any kind of text such as a splash page, titles, captions, or subtitles – you need to go over them and make sure that mobile viewers are able to see them. In the event that they aren't that you will need to edit your video to replace the text with a larger version.
In some cases, it may be preferable to trim out the parts that contain text and re-record them instead. It is easy to trim MP4 video in no time with a good video editor, and you could try Movavi Video Editor for example.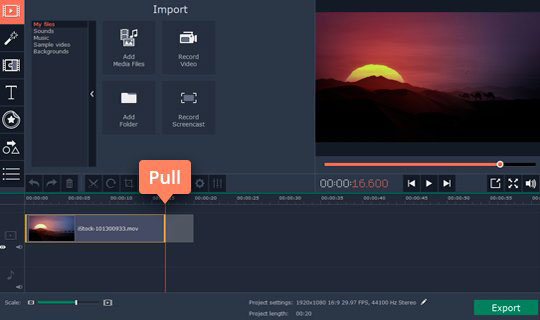 Try to use a mobile-friendly aspect ratio
While this may not be possible for all videos, one of the best ways to optimize videos for mobile devices is to use a mobile-friendly aspect ratio so that viewers don't need to rotate their phone to watch it (as is the case with the standard 16:9).
The two mobile-friendly aspect ratios that you may want to consider are 9:16 (i.e. vertical) or 1:1 (i.e. square).
Although vertical videos are perfect for mobile, it may be difficult to alter a horizontal video and make it vertical. On the other hand, horizontal videos can often be easily converted to square videos by cropping and resizing them.
Export videos in the right format and settings
Mobile devices tend to support a narrower range of formats compared to desktops – and you should remember that when you're exporting your video. If you intend to publish it online then this may not be much of a concern, but if you're going to be distributing the file then it certainly is.
As a rule, it is best to opt for formats that are widely-supported, such as MP4 with H.264 and AAC audio. Newer mobile devices may support HEVC (i.e. MKV with H.265), but it won't be as widely-supported for a number of years.
Another factor to consider when exporting videos is the file size, seeing as mobile devices have limited storage. In some cases, you may want to consider reducing the bitrate so that the video is able to be stored more easily on mobile devices.
Now that you know the three main ways to edit and optimize videos for mobile devices, you should be able to take steps to ensure that yours are as optimized as possible. In some cases, it may be easy to edit and optimize your videos, but in others, it won't be.
As a final step, you should always make it a habit to preview your videos on mobile devices prior to publishing or distributing them. That way you can see exactly how they'll look on smaller screens, and make any last minute adjustments if necessary.