Happy holidays! With 2016 coming to an end, it's time to list out the best apps of the year. This was quite a year as dozens of awesome apps were doled out in the Google play store. We saw the rise of messaging apps with the likes of Signal and Google Allo. Virtual Reality and smart watch apps also got reasonable attention throughout the year. But for this list, we are taking into account only those apps that run on a smartphone and don't require any other device to function.
16 Best Android Apps of 2016
We are including only those apps that were launched in the year 2016 or the ones that got revamped or got a major design and functionality overhaul this year. At last, we are not including any games in this list as we think they require their own separate list.
1. All Google Goodies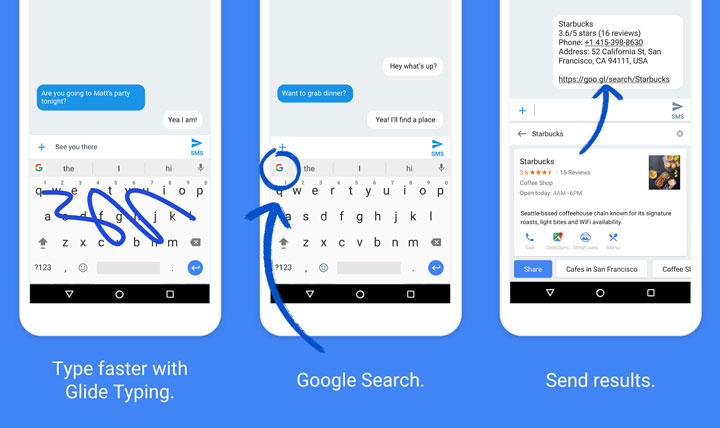 Let's get this one out of the way first, most of the apps that come out of the Google factory are pretty awesome. This year we got multiple awesome apps by Google.
While it's pretty understandable that nobody needs another messaging app, Google Allo is worth the extra effort. It has all the functionalities of a standard messaging app, like voice messages, stickers, etc. But what makes it worth your time is the Google assistant. Although Google assistant officially comes with Android Nougat, you can use it right inside Allo. I know it's not going to be as awesome as the one that comes with a Pixel smartphone, but it is still worth trying. With Allo, you can chat with the assistant and ask it for various information like calendar appointments, weather, etc.
I think everyone knows it by now that Google Duo is Google's answer to Apple's FaceTime. Duo is a super simple video calling app. With Duo, video calls are just one tap away.
Gboard, on the other hand, is no new app, it's a redesigned version of the already awesome Google keyboard. This year Google made some changes to its keyboard app along with adding some extra features – the major one being the ability to perform Google search right from the keyboard.
While the above-mentioned apps were the best one by Google, Photoscan and Google Trips could very well be considered two of the best apps of the year.
2. Prisma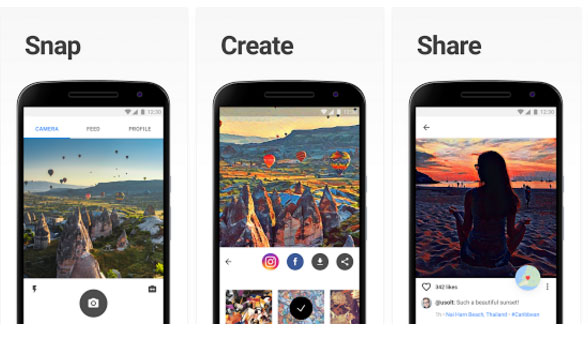 Prisma, the ultimate photo editing app, was an instant hit. Judging by its popularity, it could really be THE app of the year. With Prisma, you just don't edit photos, you turn it into awesome artworks. It has some of the best and modern filters to work with. Since it was first launched on iOS, it was the most anticipated Android app of the year.
3. Reddit: The Official App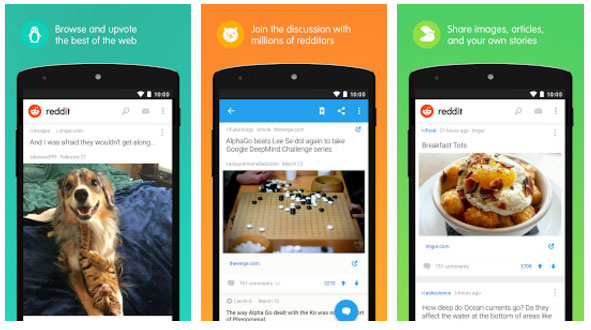 Oh, Reddit! It is easily one of my favorite website on the Internet and I am on it every day for quite some time. Before 2016, Android had no official app for Reddit, and due to that everybody relied on third-party apps to browse Reddit on their smartphones. Although my favorite third-party Reddit app is Sync pro, the official Reddit app is pretty awesome. With Reddit, you get access to tons of awesome and active communities, and the official app, which is free BTW, only makes it easier for everyone.
4. Signal Private Messenger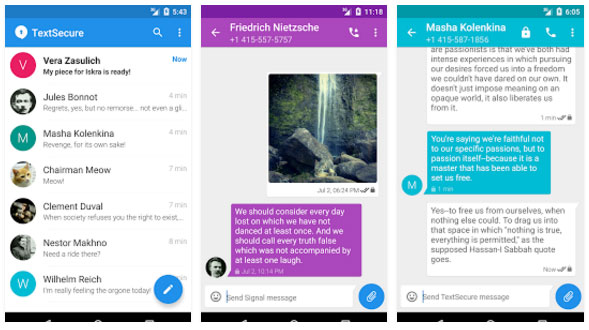 Signal is the easiest way to send encrypted text messages on Android. It works as a complete replacement for your existing messaging app. Using Signal, you can communicate instantly while avoiding SMS fees, create groups so that you can chat in real time with all your friends at once, and share media or attachments all with complete privacy. The server never has access to any of your communication and never stores any of your data.
5. Flamingo for Twitter
The official Twitter client is just okay, that's why its third-party clients are quite popular. Flamingo is one such app. It is created by none other than the awesome devs of my favorite weather app – weather timeline. It is a bright and colorful Twitter client, with a simple and greatly customizable interface. It provides you with an awesome Twitter experience that you'll love and has a beautiful material design. You can easily switch between several accounts, and individually theme those accounts. It also has cool features like image previews, GIF support, background syncing, scheduled tweet, etc.
6. Substratum
In 2016, Substratum took off where the popular theming app Layers Manager left. Earlier this year, Layers Manager got deprecated in favor of Substratum. It is a bit complicated app to explain, so to put it in simple words, Substratum is a theming app that allows you to theme various aspects of you Android device as well as some popular apps to the core, once you root your device and grant it required permissions and it has dozens of awesome themes.
7. Parallel Space
With Parallel Space you can create multiple accounts of the same app and run these accounts simultaneously on a single Android device. With this account cloning app, you can run multiple Instagram, WhatsApp, Facebook, Snapchat, or any other account at the same time and switching between these accounts is as easy as it can be.
8. Contextual App Folder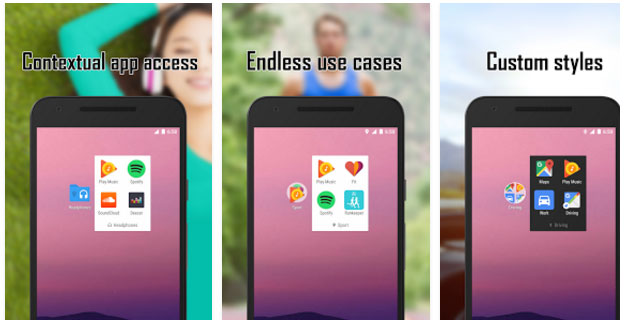 Even though this app is still in beta and is considered unreleased, it has been available to use on the Google play store for a month or two. Contextual App Folder, as the name suggests, uses context to determine which app to show you and at what time. Earlier, we have had some home replacement apps based on the same concept, but since C.A.F is a widget, it will work with your existing launcher. It works as a 1X1 widget and you can set up various trigger for various folders to show up at a certain time. Although these folders look like the ones from Google's stock launcher, they can be easily customized.
9. Slash Keyboard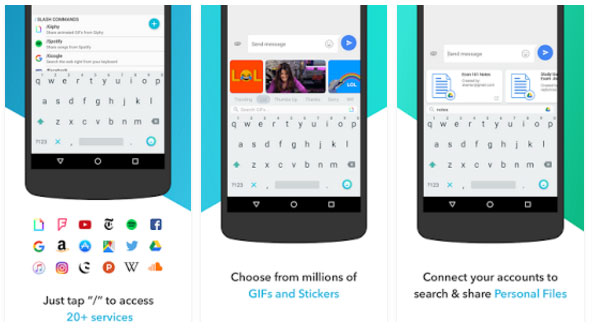 Slash Keyboard is probably the most powerful third-party keyboard ever to grace the Google play store. It's the ultimate multitasking keyboard that allows you to access lots of services, like Google search, contacts sharing, location or file sharing, etc., right from your keyboard without leaving the app in use.
10. Hound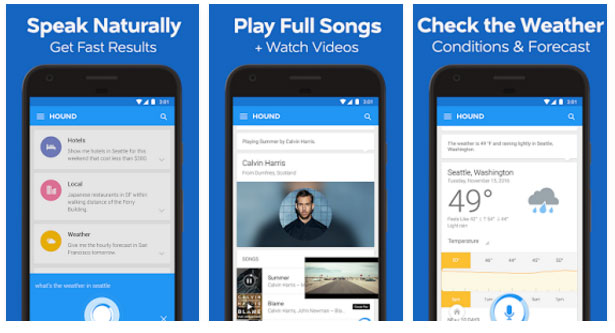 The developers of the very popular music recognition app SoundHound launched an awesome digital assistant app named Hound this year, putting its voice recognition abilities to new use. With hound, you can perform all the activities that you would with any other digital assistant as well as ask it answers to complex questions, but it does all that a bit better and accurately than any other existing digital assistant app I have used.
11. Boomerang
Boomerang, by Instagram, allows you to record mini videos and run it in a never ending loop which then later can be shared on various social networking platforms.
12. Newton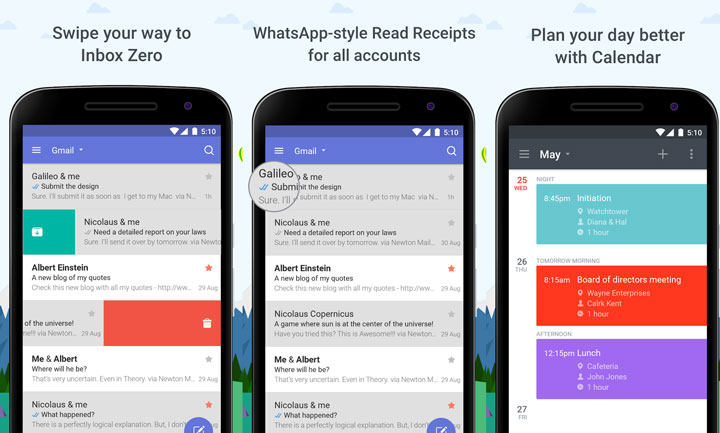 This year, Cloudmagic, a popular email client, got rebranded as Newton Mail with some extra features. It comes with power features like read receipts, snooze, send later, undo send, sender profile, connected apps, etc. and works with multiple email services like Gmail, Yahoo, Hotmail, etc. It also comes with a 14 days trial period. After 14 days, you got to pay $50/year to use its premium features. Even though the subscription price is a bit high, I can't deny the fact that it is a pretty awesome app and definitely deserves to be on this list.
13. MSQRD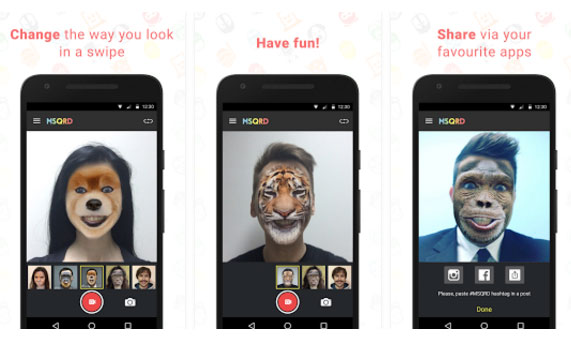 MSQRD, acquired by Facebook earlier this year, is a video filtering app that allows you to record video selfie animations, change the way you look and send it to friends via your favorite messengers and social networks.
14. Bitmoji
In the beginning of this year, Bitmoji made the news as it was acquired by Snapchat for the speculated amount of $100 million. What this app does is let you create your own emoji. After the acquisition, Snapchat added the ability to send your own bitmojis via chat or snaps.
15. Flychat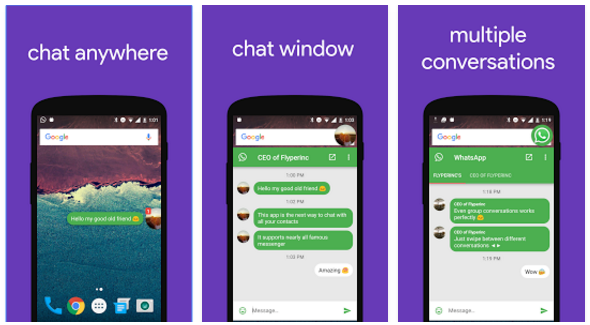 Even though Facebook's Messenger app is quite good, it is not liked by many. But if there is one thing that I like the most about this app, it's the chat bubbles. The small bubbles via which you receive texts and works as an overlay on any app. Flychat brings this chat bubble to multiple messaging apps like WhatsApp, Telegram, Hangouts, Line, Textra, Slack, Google Messenger, etc. It's probably one of the few apps that I installed in 2016 for regular use and I think I'll be keeping it for a very long time.
16. Fingerprint Gestures
There are so many things to like about the new Google Pixel, but if I have to name one, I'll go with Fingerprint gestures. I don't know if you knew this or not but Google Pixel's fingerprint scanner can be used to perform some extra function other than unlocking the device. On a Pixel, you can swipe down your finger on the scanner to pull down the notification panel.
Fingerprint gestures bring this functionality to any device with a fingerprint gesture running at least Android 6.0 and add something extra to it. With this app, you can configure tapping, double-tapping, or swiping on your device's fingerprint reader to perform a variety of functions like opening quick settings, media controls, opening an app and much more.
Phew..! Finally, we are done. Are you happy with the list? What apps do you think should have made the list? Shout out in the comments below!