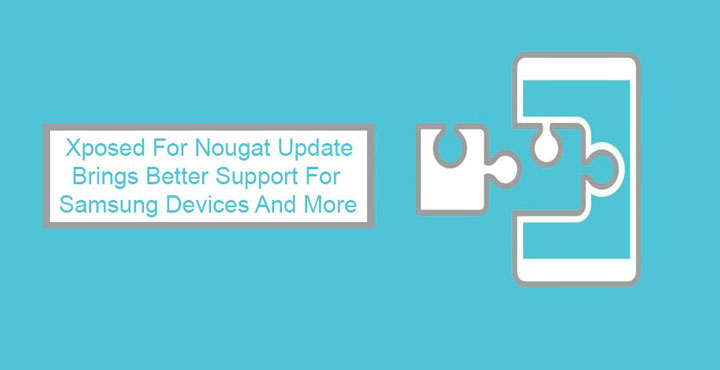 After a long wait of more than 365 days, developer rovo89 was finally able to release a fully working version of Xposed for Nougat. This is something that happened only a couple of days ago and we already have an update to the Xposed Framework for Android Nougat. This was the first ever release of Xposed for Nougat hence some bugs were expected. The new Xposed Installer has supposedly been downloaded more than a hundred thousand times already in a span of a few days. Surely, there are many users counting on the developer. Considering that, rovo89 released version 88.1 of the beloved Xposed Framework. The update brings better support for Samsung devices among other changes.
What's new?
The developer believes this new update will improve the experience for Samsung users, though he does not specifically say how. Some users were experiencing boot-loop issues or
a slowdown in overall performance with the previous version of Xposed. The new version seemingly fixes those problems as well as brings compatibility with MIUI ROMs. MIUI has always been a sore spot regarding the near-universal compatibility of the Xposed Framework. Though rovo89 says he does not care much about compatibility with MIUI, he believes this update should fix the incompatibility. The claim is untested for now.
Bugs
The update fixes some bugs but it is far from perfect yet. That is not surprising considering Xposed for Android Nougat is still less than a week old. What's promising is that the developer acknowledges those bugs and says he is working on fixing them so expect another update in the near future. It should be noted that all the bugs that you might see being reported on the development thread might not really be an issue for you. Most of these bugs are probably due to incompatible modules rather than the framework itself.
As it stands now, many Xposed Modules don't fully support Android Nougat as you would expect. The developers of these modules are currently working as the Xposed framework is being developed. If you do face an issue that you know for sure is an issue with the framework rather than a module, you can use the GitHub page to report bugs. rovo89 stresses that any users reporting bugs should provide a full device log when reporting an issue.
Downloads
Android 7.0
Android 7.1
If you have not installed Xposed on your Android Nougat device yet but want to, you can check out our guide here. It contains download links for the Xposed Installer APK as well. Remember to download the updated Xposed Framework zips with version number 88.1. We've added the links in the download section above for your convenience.
source: xda