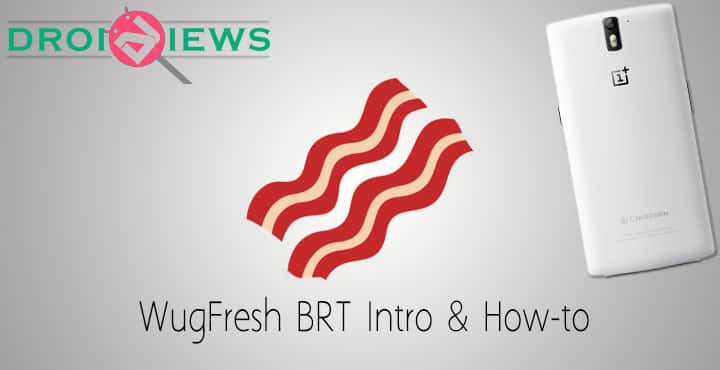 For those who read my post about the WugFresh Nexus Root Toolkit but don't have a Nexus device; need not be disheartened. Provided if you own a Oneplus One.
Yes it's true, towards the end of 2014, WugFresh released a Toolkit for this bright new entrant in the Android market. It's surprising actually, that a smartphone manufacturer that is only 1.5 years old has been able to attain so much commercial success, community interest and feats with just one phone; while several older counterparts still lag far behind [Oppo, Huawei, etc].
Anyhow, for those already familiar with the toolkit, the interface and usage is much the same. For new folks, here's a brief set of advantages of using this particular toolkit as compared to conventional methods:
It's simple & easy [I'm a noob, you can count on me]
With the toolkit in place you can bid adieu to the Terminal/Command prompt complexities, the kit does everything for you, with simple clicks.
The toolkit can fetch software update images, custom recoveries, and modified boot images for your respective devices.
It's possible to root & unroot, unlock & relock the bootloader, and flash custom recoveries; all with simple clicks
Worried that you need to claim a warranty? WugFresh can bring your device to factory state in a jiffy
Bricked your OPO? WugFresh claims to recover both soft bricked and hard bricked devices.
If that wasn't enough, it also has a Live Log that shows you the status at each step of the process.
Note: Do have a backup in place before you proceed.
What you need?
The latest version of WugFresh Bacon Root Toolkit. Yes that is what the device codename of Oneplus One is, in case you are not already aware. [download links below]
USB Debugging enabled on your OPO device
USB drivers installed on your PC for the OPO device [if not, WugFresh USB guide will enlighten your path]
Tested on:
Oneplus One 16GB JBL Edition
Oneplus One 16GB Intl edition
Oneplus One 64GB
It worked well for all tasks [rooting, unrooting, unlocking bootloader, relocking bootloader, flashing custom recovery, factory state]. Do make sure Factory State with this phone means bringing it back to Cyanogen which was its shipped ROM and not Oxygen OS which has lately become the stock ROM. For some reason, you cannot flash Oxygen OS with it.
Go ahead, try a hand at the toolkit if you already know your way around Android or are willing to give it a go. Give us your feedback, share your experiences. Above all, pass this on to those you know in the Android community [Bacon to be precise]
Cheers!
Screenshot: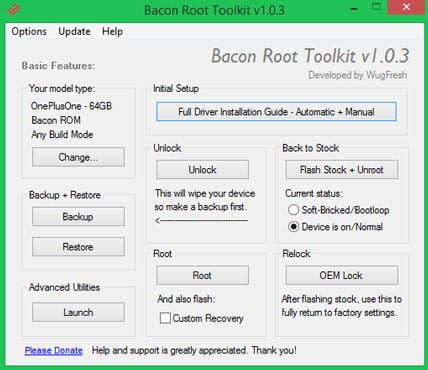 Download links: