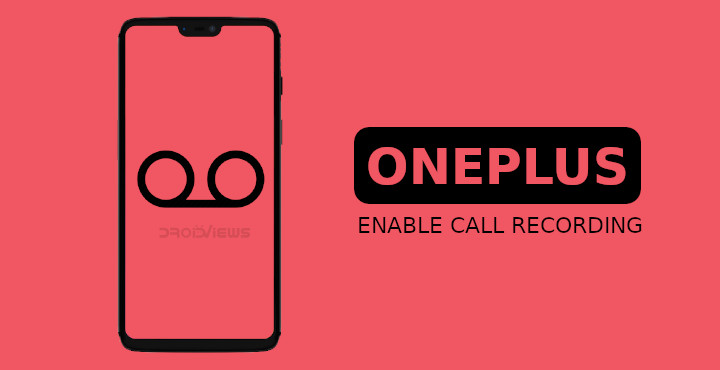 OxygenOS, the OnePlus version of Android that ships on all OnePlus devices, does have a call-recording option built-in. Depending on where you live though, or where you buy your device from, you may not get the same call recording feature that other OnePlus users have. But if you really want something, especially on Android, there's almost always a way. You can enable call recording on OnePlus devices in a safe and simple way as long as your device is rooted. Before we start with that though, it is important to understand why OnePlus, and some other OEMs disable the feature in certain regions.
This is done by the company to avoid any lawsuits since different countries have different laws regarding call recording. Some allow secret call recording, some allow it only if the other parties know the call is being recorded and some just don't. You may have heard this message somewhere if you have called any kind of customer service, "Your call may be recorded for quality and training purposes." It is the company letting you know that the call is being recorded because the law in your country most probably requires that. In many cases, calls recorded illegally are not even admissible in a court of law. All OnePlus devices coming out of the factory have the call recording feature enabled. Based on information about the region they're being shipped to, the feature is disabled or even completely removed.
Note
For reasons mentioned above, before you enable call recording with the mod mentioned below, please make sure you know the laws in your region regarding the same. If you land yourself in any legal troubles, you'll be the one to blame. As a general rule of thumb, you shouldn't run into any legal trouble if you capture both parties verbally consenting to the recording.
Requirements
A OnePlus device.
The device must be rooted via Magisk, and the Magisk version should be v17.1 or above.
Sometimes, enabling or disabling Magisk mods can trap you in a bootloop, It is safer to first create a complete NANDroid backup of your device. You can also take a NANDroid backup via your PC if you don't have enough storage space on your device.
How to enable call recording on OnePlus devices
Assuming you already have your OnePlus devices rooted, launch Magisk Manager. You can check for a root method for your device on our website if you haven't already rooted it.
Pull the side menu drawer by swiping from the left edge of the screen or tapping the hamburger menu button in the top-left and head over to the Downloads section.

Tap on the search button at the top right and search for OOS Native Call Recording Enabler. You'll find it way before you can even type half of that name. When you do, tap on the download button next to it.
Select INSTALL on the popup card that appears and then tap REBOOT when the installation is complete.
Toggle on call recording in settings
Now that you have enabled call recording, launch the OnePlus dialer app and go to the Settings by tapping on the three-dot menu button in the top-right. Select Call Record and then toggle on Call Record. When you toggle it on, you'll notice you get another option labeled Auto-record calls.
As the name suggests, enabling it will automatically record all your calls. If you enable this, you can also configure a couple of things about it. From now on, anytime you're on a call, you'll notice the record button along with the other call controls. Tap on it to record the call and tap on it again to pause the recording. The recording automatically ends when you disconnect the call. When you do, you'll get a notification letting you know that the recording has been saved to your device. You can view it using the built-in recorder app.
The recordings are saved in the /Record/Phonerecord/ folder on your internal storage by default.
Read next: Does Lowering Screen Resolution Increase Battery Life?