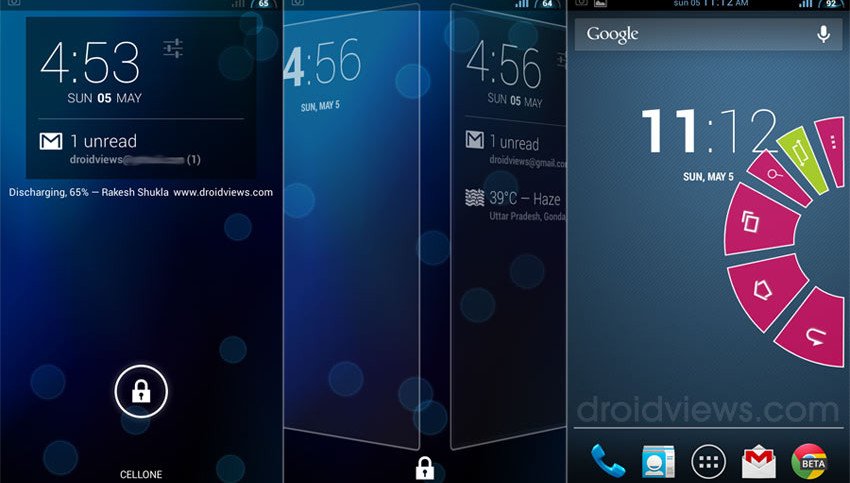 The beauty of Android lies in the freedom that it lets you enjoy on your phone − it's the freedom to customize your phone in your own way, the freedom to have the features that do not come with your phone, and the freedom to extend its capability. Thousands of developers work day and night to make our mobile experience better and even better.
There is hardly a single day when some new ROM for one or more smartphones does not hit the shores. While many of these ROMs are lost in the world of the unknown before getting recognized, some of them stay because they really have the power to attract users.
The ROM that I am going to talk about today is rather a new arrival but it has all the elements that go into the making of a star ROM. The Carbon ROM is still in beta and it needs more polish but its features and flexibility are so rich that you are but forced to ignore the drawbacks. You cannot expect perfection in a ROM that is just born! But quite amazingly, the Carbon ROM is very stable, smooth, fast and a ROM with killer intent. There is no reason why it will not get better with time. And it's high time that you should give it a try.
The Carbon ROM is available for twenty-four Android devices and this expanse shows that the ROM project is very ambitious. To be honest, I was very hesitant before installing it on my Galaxy S3 but once I flashed it, I was amazed to see the options for customization that this ROM offers. Testing different ROMs is part of my profession but I have not seen any custom ROM for Android that has such a versatile list of options under device settings.
Here is the list of devices currently supported by the Carbon ROM. You can download the ROM by clicking on the device name itself. We also have a Best Custom ROMs Series for most of the devices listed below. Please do not forget to take a tour before you leave this page.
To install the Android 4.2 Photo Sphere camera on Carbon ROM read my article.
Carbon ROM Review
Carbon ROM is an AOSP  (Android Open Source Project) based ROM that features the latest version of Android 4.2.2. The guiding principles behind its making are performance, speed, and customization. Let's make a brief tour inside the ROM and try to find out its pros and cons.
It is a very light-weight ROM with zero bloats. The complete ROM consists of only 127 MB (Galaxy S3 version) which is lighter than even CM 10 and PA 3+ ROMs. After flashing the GApps package, I saw only 22 app icons at the app drawer. The performance is lightning fast and smooth. I have been using the ROM for the last 3 days and found the battery life to be better than CyanogenMod, SuperNexus, ParanoidAndroid and the stock ROM.
The Carbon ROM has all the goodness of Android 4.2.2 and it adds a number of new things to it. It has customization lockscreen with 3D effect on pages carousal. Just as you open device Settings panel, you will come across three pages of options from where you can customize and configure your phones as per your preference.
As you can see, the real strength of this ROM lies in its settings options. The Interface settings options lets you experiment with your phone's layout and it is very similar to the Hybrid settings found in ParanoidAndroid ROMs. Here you can set up the notification drawer style, the number of toggles, transparency level, Pie control, Dual panel mode, framework, and modules, per-app DPI settings and lots more.
Going to Navigation settings, you can enable the nav bar at the screen's bottom and configure the size of icons, color, add more shortcut buttons and set transparency. Another nice feature is the availability of Performance options that let you decide the speed of CPU, Voltage settings, and more. Thus you are in full control on how your phone performs and how much battery life you want to have (to a certain limit, of course).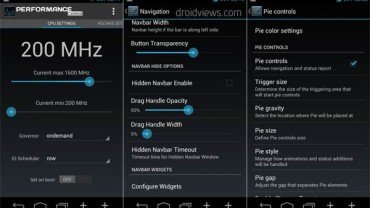 Another interesting setting is related to the customization of the status bar where you can choose from a number of styles of the battery icon and bar. Next, you can choose whether to show clock and date or not-  if showing, you can change its location on the status bar. Besides, you can also set up to 3 shortcuts to be launched when you tap the clock in different ways.
The Carbon ROM also supports themes. All themes that support CM 10 can be applied with this ROM. You can find hundreds of themes at the Play Store.
Not able to access your phone's external SD card storage on Carbon ROM?
Final Words
If you love the AOSP look and feel and want to have a ROM that lets you customize every bit and byte, you must give Carbon ROM a try. Though the ROM is in beta now it feels so mature, smooth and fast. It is fast, responsive, customizable, performance-oriented and also battery-friendly!