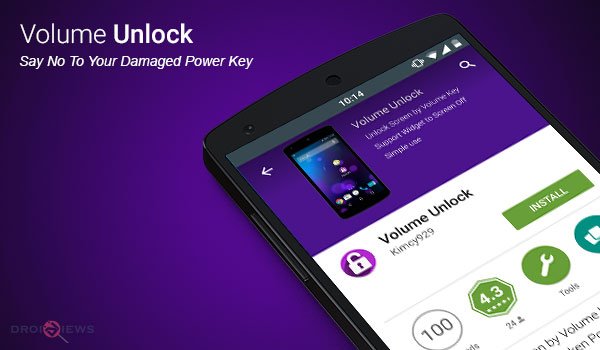 At some point of time,  we all have suffered from a common issue which is irrelevant of the device manufacturer. Guess what is it related to? – the power button. All our devices may or may not have physical navigation keys,  but there is one thing that follows common in all,  which also tends to get lousy with time. All of it is dependent on how you operate it or for how long it has been put to use. And if your device's power button has been damaged,  you might find yourself almost helpless to lock or unlock your device and even to shut it down.
I personally prefer to balance my usage over Volume keys and power buttons,  by distributing the work equally, which decreases the approximation of a damaged power button. Now the question arises "how do i do it?",  most custom ROMs offer a feature named "Volume wake control" or similar,  which enables device wake by pressing the volume key, which does this exactly. Now,  what if your are not a regular custom user or may be your custom ROM does not contain that specific mod, and your power button is damaged. You are practically stuck in this situation,  you cannot power on or off your device,  moreover you can't even switch on the display.
TIP: There is a pretty simple workaround to switch on your device's display without using the power button, just plug in a charger cable.
About Volume UnLock
Another great option,  that we will discuss today,  is the use of an app called Volume UnLock. XDA member kimcy929 has done the brilliant job of developing this app. The App user interface is quite simple and follows the material design guidelines, moreover it doesn't require your device to be rooted. It also offers a Screen Off notification option, tapping on which, will put the screen off. If you're using this for the first time, you will be prompted to give it device administrative permissions, tap on ACTIVATE. So now, you don't need any power button to lock/unlock your screen. You can also use Set on boot option if you want the app to start on every reboot. Ads are what will follow in the app interface, but they do not obstruct any view of functionality.
The app is simple to use, but if you still might want to uninstall it, you can do it from within the app itself, by pressing on UNINSTALL APPLICATION and then tapping on OK to confirm the uninstall. Note that, if you have used the notification widget, you will first need to disable it under Settings >> Security >> Device Administrators, and then follow the uninstall process.
I personally have an old LG Optimus One which has a ruined power key, and this app has been a life savior. I didn't find any need to get the button repaired now, Volume UnLock app does it free for me. I hope it will do the same for you. Let us know how this app has benefited you and your device with broken or faulty power button. Not just my broken device, but i have also installed Volume UnLock app on all my devices to balance out the power button usage on each one of them. Click on the app box below to download the app to your device.
[googleplay url="https://play.google.com/store/apps/details?id=com.kimcy92.volumeunlock"]
Your feedback is valuable to us and help us build a better community.