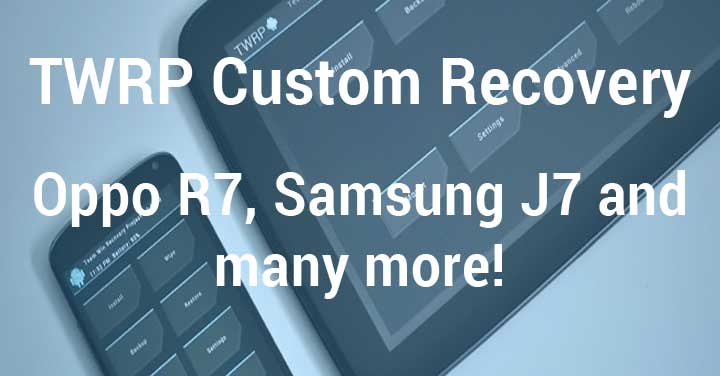 Its always good for Android smartphone owners nowadays when a certain popular custom recovery developer announces that their device also supports it. Many of us are usually hesitant for this particular reason while buying a new smartphone is whether our device will have the capabilities to be modded or rooted to further enhance its functionalities.
Team Win Recovery Project or TWRP for short, is one such popular open source custom recovery developers who currently have a large database of  supported smartphones. And the list keeps on increasing everyday. Now for many first time Android owners they might not know what exactly a custom recovery is or what it does.
A custom recovery is a third-party recovery environment. A custom recovery does the same things as the stock recovery along with additional features. Custom recoveries often have the ability to create and restore device backups.
TWRP recovery provides the most impressive user interface we've seen in recovery mode, making it a very easy-to-navigate GUI . And the interface is just the icing, the tons of handy features offered by TWRP  are nowhere to be found anywhere near the other custom recoveries which makes it the best custom recovery currently available for Android.
It also allows users to theme it to their liking by editing an XML file, and fully conforms to the OpenRecovery standard for its recovery operations, rather than going for its own non-standard ways.
Owing to its ever growing database, TWRP head developer Ethan Yonker also known as  Dees Troy on xda-developers annouced today that the TWRP custom recovery has been spread to devices such as the Oppo R7, Samsung Galaxy J7, Sony Z3 Compact, Oppo R7 Plus and lesser known Cat B15q.
So if you own any of these devices go ahead and download the recovery .img files for your respective device from below.
Just be careful while flashing it onto your device as the procedure is highly complicated and risky. For any more questions do let us know in the comments below.