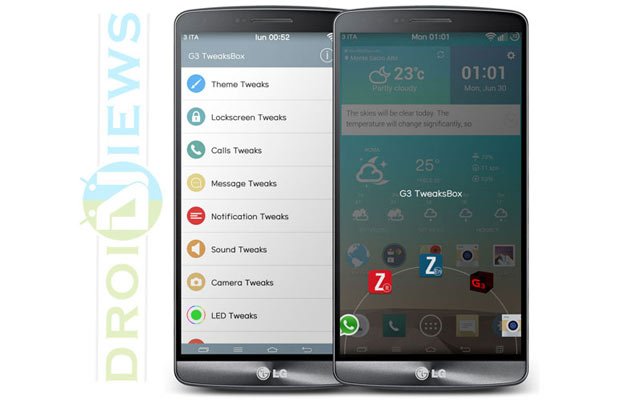 Android currently shares about the 75 percent of smartphone market share in the world and the biggest factor that makes it so lovable is its capability of customization. Having once obtained root access on an Android device you can not only boost its performance and customize it in different ways, but can also tweak and customize it your needs.
There was a time when we had to flash a custom ROMs and mods to enjoy system optimizations, added features and visual tweaks. However, after the introduction of  rovo89's Xposed Framework, things have changed drastically for good. Xposed is a custom framework for Android that requires root access and can do wonders with the help of custom modules.
You can find a number of Xposed modules for major smartphones and popular ROMs and there's no surprise that the power of Xposed has now made its way to the all new LG G3. If you have already got the LG G3 and are now thinking of enjoying comprehensive UI customization to get better experience. Xposed brings out the flexibility Android can offer and with the help of P_Toti's G3 TweaksBox module, you can satisfy your hunger for extreme customization on your LG G3.
Features of G3 TweaksBox
G3 TweaksBox offers a hundreds of tweaking options that can take a few hours to play around with each and every option. Below is a list of the aspects of your LG G3 that can be customized using this wonderful Xposed module:
Tinted Bars Mods
Status Bar Tweaks
Navigation Bar Tweaks
Ring Pad Tweaks
Notification Panel Tweaks
Quick Settings Panel Tweaks
Recent Apps Window Tweaks
Other UI Tweaks
Calls tweaks
Messages tweaks
Lockscreen tweaks
Notification tweaks
Camera Tweaks
Sound tweaks
LED Tweaks
Launcher Tweaks
Miscellaneous tweaks
How to Install
If you want to enjoy immense customization on your LG G3 using G3 TweaksBox, here is what you need to do:
Make sure your LG G3 is rooted. In case you have rooted it yet, follow this easy rooting tutorial.
Install the Xposed Framework installer app on your LG G3 and do the initial setup. You can read our guide for detailed instructions.
Install G3 TweaksBox app from the Play Store: [appbox googleplay it.ptoti.g3_tweaksbox]
Open Xposed Framework on your phone, tap Modules and enable G3 TweaksBox.
Reboot your device.
Open G3 TweaksBox and start playing with its options to customize your phone the way you like.